Sir Henry Russell (1783-1852)
George Richmond RA (Brompton 1809 – London 1896)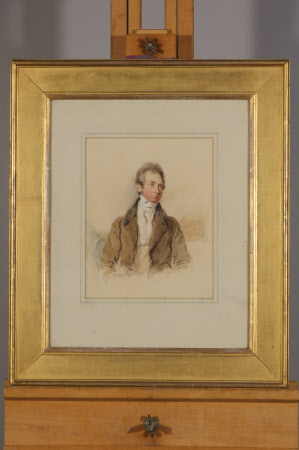 Category
Art / Drawings and watercolours
Date
1882
Materials
Watercolour on paper.
Measurements
253 x 200 mm
Order this image
Collection
Florence Court, County Fermanagh (Accredited Museum)
NT 630552
Summary
Watercolour on paper, Sir Henry Russell (1783-1852) by George Richmond RA (Brompton 1809 – London 1896). Inscr.(back): Sir Henry Russell, Bart./ Swallowfield Hall / Reading/drawn by ...mond, RA ...?.../ m. 1882. Sir Henry Russell was born on 27 May 1783. He was the son of Sir Henry Russell, 1st Bt. and Anne Skinner. Sir Henry married, as his first wife, in October 1808, Jane Amelia, 2nd daughter of James Henry Casamajor of Madras, and was thus related by marriage to the 3rd Earl of Enniskillen, whose wife, Jane, was his eldest daughter. Jane Russell died after only two months of marriage, and the future Sir Henry (his father, also Henry, the former Chief of the Supreme Court of Justice in Bengal, was only created baronet in 1812, and did not die until 1836) married in 1816, as his second wife, Marie-Clotilde Mottet de la Fontaine (d.31 January,1872) the daughter of Benoit Mottet de la Fontaine, Baron fieffé de St Corneille, Seigneur de la Motte et de la Fontaine, Picardy. Sir Henry was for many years British Resident at the Court of Hyderabad. Swallowfield was originally built by William Talman for the 2nd Earl of Clarendon in 1689-91, but subsequently became a nabob's house, being remodelled by John James for Thomas Pitt c.1720-22, and by William Atkinson for Sir Henry Russell, 1st Bt., in 1820. The future Sir Henry, 1st Bt.'s first wife only survived their marriage a year, and was buried with her infant son, Henry. He married secondly, in 1782, Anne Whitworth (d.1814), sister of Charles, Earl Whitworth, of Knole, who bore him six sons and five daughters, the eldest son of which, the subject of this portrait, was described by Lord Wellesley as the most promising young man he knew. His son, Sir Charles, 3rd Bt., was one of the first recipients of the V.C., for his actions during the Battle of Inkerman (1857). Walter Savage Landor's Rose Aylmer was a niece of the 2nd Baronet's mother. Sir Henry died on 19 April 1852 at age 68. .
Marks and inscriptions
Sir Henry Gillfoett Bart Swallowfield Hall Reading illegible drawn by hand RA .. illegible .. 1882 (on reverse)
Makers and roles
George Richmond RA (Brompton 1809 – London 1896), artist
View more details