Elizabeth Read, Lady Elton (1725-1755)
Thomas Hudson (Devonshire 1701 – Twickenham 1779)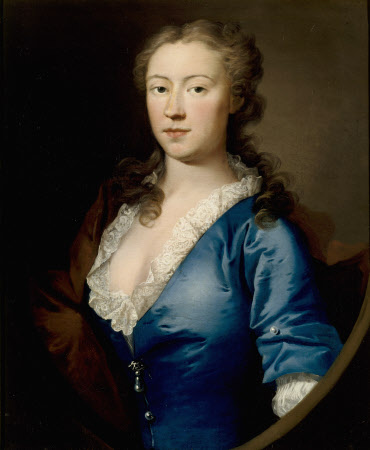 Summary
Oil painting on canvas, Elizabeth Read, Lady Elton (1725-1755) by Thomas Hudson (1701-1779), circa 1747, the year of her marriage. A portrait of the wife of Sir Abraham Elton 4th Bt, in a painted oval of a young woman, half-length, turned to the left, gazing at spectator, long brown hair with ringlets falling on both shoulders, wearing a blue silk dress over a white chemise with frilled lace collar, the dress is fastened at the bosom with a drop pearl, and pearls are shown as fastenings at the waist and on her left sleeve, a brown silk shawl is draped over her right shoulder. She was the daughter of James Read; married Sir Abraham Isaac Elton, 4th Bt., (1718-1790), son of Sir Abraham Elton 2nd Bt. (1679-1741) and Abigail Bayly (1723/4).
Provenance
Purchased from Lady Margaret Ann Elton (1915 – 1995), 1981 with the help of grants from the V&A Purchase Fund and the NHMF
Makers and roles
Thomas Hudson (Devonshire 1701 – Twickenham 1779), artist
References
Clevedon Court [The National Trust] revised 1972, 1974, 1977, 1979, p.26: "...the Great Hall ....To the left of the [screen] door, Sir Abraham Elton II's third son, Sir Abraham IV, wears a bag wig, next to his handsome wife, Elizabeth, in blue satin with a drop pearl at her breast."
View more details