Le Feu
Aubusson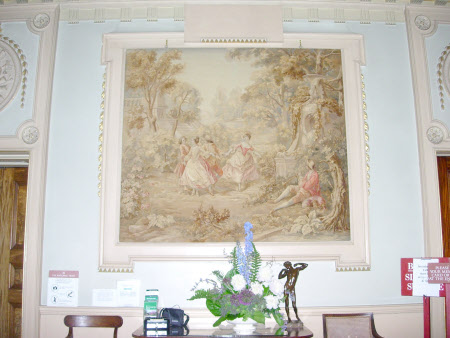 Category
Textiles
Date
Unknown
Materials
Tapestry, cotton
Measurements
1760 x 1990 mm
Order this image
Collection
Berrington Hall, Herefordshire (Accredited Museum)
NT 618153.1
Caption
This tapestry is one of four at Berrington commissioned by the 1st Lord Cawley around 1901 from the Aubusson-Felletin factory in France. They were to replace paintings sold by the 7th Lord Rodney in the late 19th Century and were based on paintings by the French artist Nicolas Lancret.
Summary
One of a set of four Aubusson tapestry panels after Lancret. Approx 70:30 wool: silk. 20 ends per inch. Unusually the warp hangs vertically. The tapestry is stretched over a padded frame, lined with a heavy weight cotton fabric, the edges turned and nailed to the frame on the back. It hangs from two chains fixed to the top edge. The scene is pastoral, of a group of young women in 18thC dress playing and dancing while a young man plays a pipe. Based on a painting by Nicolas Lancret (1690-1743).
Provenance
The fixed frames within which the tapestries sit were designed to hold paintings. The paintings were sold by the 7th Lord Rodney in the late 19th century. In 1901 the 1st Lord Cawley commissioned tapestries to replace thee paintings from the Ambusson-Felletin factory based on the paintings by the French artists Nicolas Lancret (1690-1743). Amongst the chattels collected by 1st Lord Cawley for Berrington Hall. Purchased by the National Trust from Sir Frederick Lee Cawley, 3rd Baron Cawley in 1998.
Makers and roles
Aubusson, maker
View more details