The Battle of the Saints, 12th April 1782, 6.30 p.m.: The 'Ville de Paris' striking her Colours
Thomas Luny (London 1759 – Teignmouth 1837)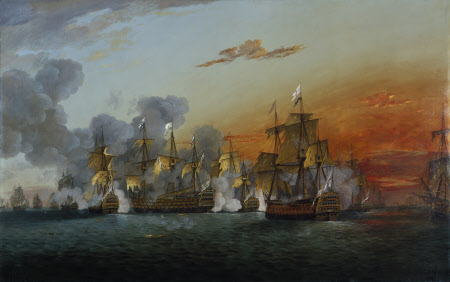 Category
Art / Oil paintings
Date
1785 (signed and dated)
Materials
Oil on canvas
Measurements
1486 x 2400 mm (58 ½ x 94 ½ in)
Place of origin
Cornwall
Order this image
Collection
Berrington Hall, Herefordshire (Accredited Museum)
NT 618103
Caption
This battle picture is one of four that depict episodes in The American War of Independence in which Admiral Rodney played a prominent role by defeating the French and Spanish fleets who were supporting the rebellious American colonists. The victory earned Rodney his peerage
Summary
Oil painting on canvas, The Battle of the Saints, 12th April 1782, 6.30 pm, The 'Ville de Paris' striking her Colours by Thomas Luny (London 1759–Teignmouth 1837), signed on a spar, bottom left: T. Luny.1785. The Ville de Paris, flying the St. Andrew's Cross and [? – a white rectangle within blue borders], is running up the white flag, flanked by two British warships, the Namur and the Canada. Rodney's flagship, the Formidable, astern of them.
Provenance
This, the two other pictures by Luny, and the copy of Paton's painting, were acquired with the house when it was bought from Lord Rodney by the 1st Lord Cawley in 1900. (For further details, see Country Life, CXVI, December 1954, p.2182). Accepted in part-payment of death-duties in 1954 and transferred to the National Trust in 1959.
Makers and roles
Thomas Luny (London 1759 – Teignmouth 1837), artist
References
Hussey 1954 Christopher Hussey, 'Berrington Hall, Herefordshire - III', Country Life, vol.CXVI, 16 Dec.1954, p.2185 & fig.6, p.2183.
View more details