The Battle of the Saints, 12th April 1782: Rodney in the Formidable breaking the French Line, around 9.30 am
Thomas Luny (London 1759 – Teignmouth 1837)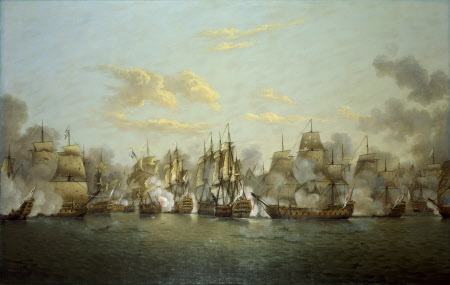 Summary
Oil painting on canvas, The Battle of the Saints, 12th April 1782: Rodney in the Formidable breaking the French Line, around 9.30 am, by Thomas Luny (London 1759–Teignmouth 1837), signed and dated: on a spar, bottom left: T. Luny.1785 and inscribed, on shell on frame: The Engagement on the 12th of April, 1782, with ye Formidable Breaking the Enem ys Line. This composition, like most of Luny's other paintings of the battle (but unlike either of the two pictures at Berrington), shows the Formidable exchanging broadsides with the Ville de Paris in the centre of the picture. Rodney in the Formidable breaking the French line, 12th April 1782. The 98-gun Formidable is the three-decker slightly to the left of centre, with her name given twice upon her stern: once (correctly) in the form of gilt carvings, the second time (incorrectly, and hence later half-effaced) painted in white. The Glorieux is (presumably) the French ship (of 74 guns) to port of her. To starboard, and astern, are, first the 90-gun three-decker, the Namur (her stern invisible), followed by the 64-gun two-decker, the St Albans. Luny evidently originally got the line of battle wrong, and inscribed this ship as the Canada (which is actually the 74-gun two-decker shown abeam to the right of her). Either he or another artist (almost certainly the latter, since the name appears to be in the same paint as the redundant second name on the Formidable) subsequently effaced this, and corrected this name, to the - misspelled - St Alban.
Provenance
This, the two other pictures by Luny, and the copy of Paton's painting, were acquired with the house when it was bought from Lord Rodney by the 1st Lord Cawley in 1901. (For further details, see Country Life, CXVI, December 1954, p.2182); Accepted in part-payment of death-duties in 1954 and transferred to the National Trust in 1959.
Makers and roles
Thomas Luny (London 1759 – Teignmouth 1837), artist
References
Hussey 1954 Christopher Hussey, 'Berrington Hall, Herefordshire - III', Country Life, vol.CXVI, 16 Dec.1954, p.2184 & fig.7 Trew 2003 Peter Trew, 'Rodney and the Breaking of the Line', in Nicholas Tracy & Martin Robson, eds., The Age of Sail, vol.2, 2003, illus. p.124.
View more details