Minerva
William Barret, or George Barret the elder (Dublin 1732 - Paddington 1784) or George Barret the younger (London c.1767 - London 1842)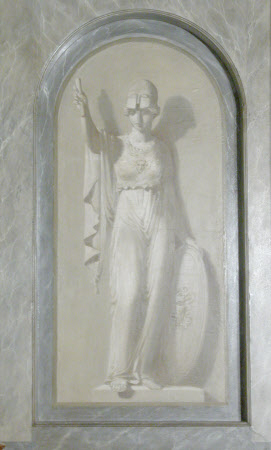 Category
Art / Oil paintings
Date
circa 1795
Materials
Oil on canvas
Measurements
2007 x 917 mm (79 x 36 1/2 in)
Place of origin
England
Order this image
Collection
Attingham Park, Shropshire (Accredited Museum)
NT 609088
Caption
This is one of three grisailles (monochrome painting simulating sculpture), which were all later additions to the Entrance Hall at Attingham. When the painted marbling of the Entrance Hall was restored, two concealed signatures of W & G Barret were discovered. It is not clear whether these were two sons of the popular Irish-born landscape painter George Barret Senior (1728/32 – 1784), or two decorative painters, of which otherwise nothing is known. Since the feigned sculptures are not signed, it seems fairly clear that they are by the same hand(s) as the marbling. Minerva, shown in her armour, with a spear, shield and helmet, was the goddess of learning and the patroness of institutions and the arts. She is shown with weapons due to her early form as a goddess of war.
Summary
Oil painting on canvas, Minerva by William Barret, or George Barret the elder (Dublin 1732 - Paddington 1784) or George Barret the younger (London c.1767 - London 1842), circa 1795. An arched grisaille panel with the full-length figure of Minerva standing on a plinth wearing a helmet and a simple classical robe and cloak, in her left hand she holds a shield which rests on the plinth and in her right hand she holds a baton.
Provenance
Attingham collection; bequeathed to the National Trust with the estate, house and contents of Attingham by Thomas Henry Noel-Hill, 8th Baron Berwick (1877-1947) on 15th May 1953.
Credit line
Attingham Park, The Berwick Collection (National Trust)
Makers and roles
William Barret, or George Barret the elder (Dublin 1732 - Paddington 1784) or George Barret the younger (London c.1767 - London 1842), artist
View more details