Dining chair
possibly John Davis (fl. 1822)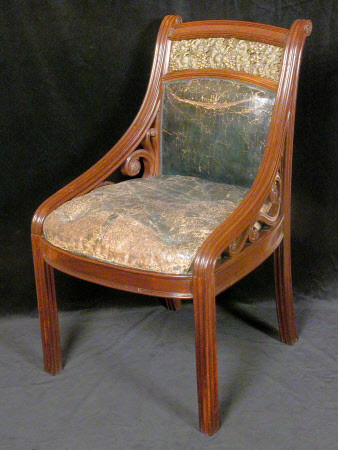 Category
Furniture
Date
circa 1825
Materials
Mahogany, beech, ormolu, leather, hessian, webbing
Measurements
92.3 x 55.8 x 64.3 cm
Place of origin
20 Lower Brook Street
Order this image
Collection
Attingham Park, Shropshire (Accredited Museum)
NT 608217.1
Summary
A mahogany and ormolu dining chair, English, circa 1825, possibly supplied by John Davis of Lower Brook Street, London (fl. 1822). One of a set of twenty-four (originally thirty-six) chairs. With a moulded frame, topped by an ormolu panel cast with grapes and vine leaves above a leather-upholstered padded half-back and between uprights carved to their scroll-over terminals with patera. The downswept moulded arms filled with open scroll-work, the scrolls with conforming paterae terminals and carved with honeysuckle. The seat stuffed and tufted and upholstered in original green leather (once blue). The bow-fronted front seat rail 'tablet'-carved, the side seat rails conforming. On moulded square-section legs and outswept rear legs.
Full description
No bills survive to prove who made these chairs for Attingham Park. However, their resemblance to a pair of Gothic bergere chairs once at Eaton Hall, the mansion modified by the 2nd Earl Grosvenor (1767 - 1845), and believed to have been designed by the architect William Porden (1755 - 1822) and made by Gillows of Lancaster, has led to their attribution to this famous firm of cabinet-makers. Other furniture bought from Gillows in the first quarter of the 19th century has bolstered this attribution. Recent research, however, has elucidated the chronology of refurbishments at Eaton, and suggests that the closest documented parallels to the Attingham chairs were, in fact, made by the London cabinet-maker and upholsterer John Davis. The pair of Gothic bergeres made for the Drawing Room at Eaton Hall (one of which is in the Victoria and Albert Museum, Museum number: W.22:1 & 2-1959) were made by Gillows circa 1812 - 1814. The set of chairs made for the Dining Room at Eaton Hall, during a later phase of re-decoration, and which are a much closer match for the dining chairs at Attingham Park, were billed for by the little-known cabinet-maker and upholsterer John Davis of 20 Lower Brook Street, London who - having taken over from William Porden - charged Lord Grosvenor a remarkable £14,491 10s 6d for furniture supplied between 1822 and 1825. An entry in Davis' account book records that he supplied '12 handsome Spanish Mahogany State Chairs for Dining Room richly carved all over with a solid chased vine leaf at the back. Stuffed Back & seat tufted and covered in purple morocco leather with a brass moulding at the back...15GN 15.15.0...189.0.0' which were supplied with '12 loose cotton throwover cases to do. 20.10.0.' These chairs were recorded by J. C. Buckler in a view of the Dining Room at Eaton Hall in 1826. Albeit carved beneath the arms with open Gothic fretwork, rather than the classical scrollwork to the Attingham chairs, the brass panel to the back appears so similar that 'a common authorship' has been suggested. The chairs at Attingham Park survived the sale of 1827 (where they were catalogued as Lots 119, 120 and 149 - 152) but, originally a set of thirty-six, twelve were sold by Lady Berwick at the Sotheby's sale of 25th July 1947, Lot 152. Recorded in an 1840 watercolour by Lady Hester Leeke of the Dining Room at Attingham Park. The 1861 Inventory taken at Attingham park lists them on p. 102. The 1913 Inventory records them as '36 Dining chairs with moulded mahogany frame, scroll-work sides, seats and half-backs upholstered in green Morocco, ormolu vine leaf design panels in backs' (p. 83). They were listed in the Probate Valuation of 1947 as heirlooms (p. 12). (Megan Wheeler, 2017, adapted from Peter N. Lindfield-Ott, 'The Furnishing of a Gothic Fantasy 1803 - 1825: Eaton Hall, Cheshire', in Furniture History XLVIII (2012), 155 - 180.)
Provenance
2nd Lord Berwick collection: Thomas Noel Hill, 2nd Baron Berwick (1770 – 1832). By descent bequeathed with the estate, house and contents of Attingham by Thomas Henry Noel-Hill, 8th Baron Berwick (1877-1947) and transferred to the National Trust on 15th May 1953.
Marks and inscriptions
A-Q (omitting I,J and O) (ATT/F/112/K-X each carved with letter)
Makers and roles
possibly John Davis (fl. 1822), cabinet maker and upholsterer possibly Gillows of Lancaster , cabinet-maker after William Porden (c.1755–1822), designer
References
Lindfield-Ott (2012): 'The Furnishing of a Gothic Fantasy 1803 - 1825: Eaton Hall, Cheshire' in Furniture History XLVIII (2012), 155 - 180
View more details