Dining chair
Gillows of Lancaster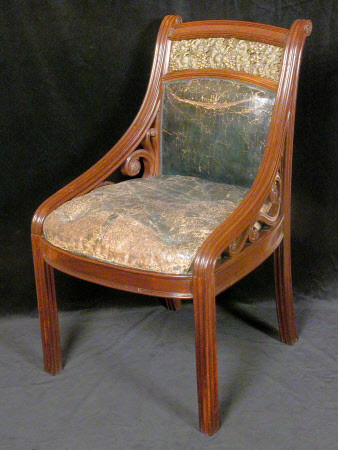 Caption
Gillows of Lancaster were well-known in the Regency period for their interior designs and furniture production. 2nd Lord Berwick spent a fortune on Gillows furniture. These chairs were originally upholstered in purple leather. The marks caused by the footmen's knees can be seen on the back of the chairs.
Summary
One of a set of twenty-four mahogany Grecian-back dining chairs, circa 1823, with scroll open-work sides carved with honeysuckle and paterae ornaments. Ormolu frieze of grapes and vine leaves set in the top rail. Deep buttoned back and seat upholstered in blue leather, on square moulded legs. This set of chairs survived the 1827 sale and remained at Attingham. They resemble a set designed for Eaton Hall in Cheshire by William Porden and made by Gillows of Lancaster, which is shown in J.C. Buckler's illustration of the Drawing Room published in his Views of Eaton Hall, 1826. The Victoria and Albert Museum in London has a similar chair in the gothic revival taste (Ref. No. O53108), upholstered in modern red and gold upholstery based on original fragments found on the chair and using the Buckler illustration of Eaton Hall. The V & A attributes the design to Augustus Charles Pugin. Whereas the Cecil Higgins Museum in Bedford attributes the design to William Porden, who had been appointed in 1784 as Estate Surveyor for the 1st Earl Grosvenor's Mayfair estate and some twenty years later was appointed to reconstruct the Grosvenor country seat at Eaton Hall in Cheshire.
Provenance
2nd Lord Berwick collection: Thomas Noel Hill, 2nd Baron Berwick (1770 – 1832). By descent bequeathed to the National Trust with the estate, house and contents of Attingham by Thomas Henry Noel-Hill, 8th Baron Berwick (1877-1947) on 15th May 1953.
Marks and inscriptions
A-Q (omitting I,J) and O) (ATT/F/112/K-X each carved with letter)
Makers and roles
Gillows of Lancaster , cabinet maker William Porden (c.1755–1822), designer
View more details