Table base
workshop of Thomas Donaldson (d. 1857)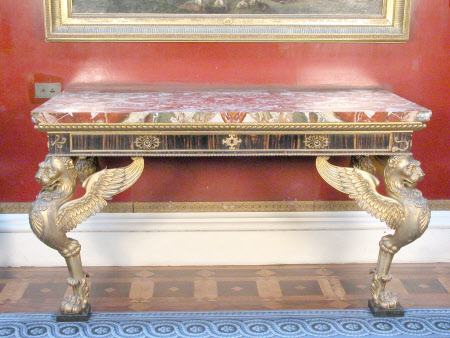 Category
Furniture
Date
1811
Materials
Coromandel, oak, mahogany (drawer linings), gesso, giltwood, gilt bronze (drawer handles), nero di belge marble (plinths for legs)
Measurements
96cm x 190cm x 93.5cm (base only)
Place of origin
Shrewsbury
Order this image
Collection
Attingham Park, Shropshire (Accredited Museum)
NT 608144.1.1
Summary
A coromandel, giltwood and gilt bronze mounted console table base, made by Thomas Donaldson (d. 1857), carver and gilder of Shrewsbury in 1811. One of a pair [its pair NT 608144.2.1]. Supporting a Sicilian jasper-veneered top [NT 608144.1.2], also one of a pair. Topped by a run of gadrooned giltwood moulding, above a drawer with giltwood mouldings and applied anthemion decorations, another run of rope-twist moulding to the bottom edge of the frieze. The handles of gilt bronze. The front legs carved in the solid, and gilt, and in the form of chimera, scrolling truss-like legs with a lion's head, wings and a leafy paw foot. An anthemion carved to the beast's breast. These front legs raised on shallow nero di belgo marble plinths. The rear legs, which were supplied in 1814 and probably replaced plainer brackets, carved in the form of a lion's head with flowing mane.
Full description
Thomas Donaldson was a cabinet-maker, carver and gilder of Shrewsbury, and worked extensively at Attingham Park, supplying furniture, hanging pictures, and carving and gilding metres and metres of decorative woodwork, These tables were supplied by him for the Picture Gallery at Attingham, built to designs of John Nash between 1805 and 1808. The tables are very close to the designs of Thomas Hope and of Charles Percier and Pierre-Francois-Leonard-Fontaine, and are drawn in the popular 'Grecian' style. They are rare as console tables in that they are both fitted with a drawer in the frieze, presumably to hold unframed engravings and drawings. Delivered to Attingham in 1811, they cost £290. Donaldson's bill for them describes them as: 'a Pair of Elegant Tables for Jasper tops of fine Coromandel wood. The Cornice} & Ornaments of the Frieze, and the winged Chimeare Legs Carved out of the Solid} and double gilded in Burnish'd Gold in the richest manner} £290. *Exclusive of Brackets since order'd} 4 Namur Plinths for feet to rest on. £1 10s 2 Patent Locks for D[itt]o £1 6s Paid Chairmen taking to Attingham £1 1s Self and Men fixing D[itt]o in Gallery £2 10s Both were originally supplied with green baize and leather covers, which are now lost. In 1814, they were modified by Donaldson, with the addition of 'Chimera Back legs carv'd out of Solid wood and doubly gilt for Chimera Tables in gallery' which suggests that plainer rear supports were replaced. When the 8th Lord Berwick went bankrupt in 1827, they were included in the dispersal sale of Attingham's contents. They were listed in the 1827 Attingham sale catalogue as: 'Lot 125. A magnificent two-inch Sicilian Jasper Console Side Table, on an elegant coromandel-wood square panelled frame, and drawer in ditto, With rich carved and gilt knurled and twisted Mouldings, Supported by splendid massive Chimera figures, with extended Wings, Lion's Heads, and Paw Feet, on square marble plinths, Exquisitely carved and gilt in burnish and mat Gold, Honeysuckle, Scroll-leaf, and other Ornaments, and massive Scroll Truss Lion's Head Brackets at the Back, 5-Feet-10 by 2-Feet-11, and 3-Feet-4 High; Green Baize and Leather Covers. Lot 126. A magnificent Console Side Table, en Suite.' The survival of the tables at Attingham suggests that they were bought in at the auction, at which they were noted as selling for £52 10s and £56 14s. Inexplicably, they were listed identically in the auction catalogue of 1829. It is possible that they were purchased in 1827 by the 2nd Lord Berwick's younger brother, William Noel-Hill, 3rd Lord Berwick (1773 – 1842). (Megan Wheeler, January 2018, adapted from Rowell 2015).
Provenance
The table tops possibly acquired by Thomas Noel-Hill, 2nd Lord Berwick (1770 – 1832) during his Grand Tour in 1793 -5. The tables, made for the Picture Gallery at Attingham Park, were purchased by the 2nd Lord Berwick from Thomas Donaldson (d. 1857), carver and gilder of Shrewsbury, in 1811 and altered in 1814. Listed in the catalogue of a dispersal sale in both 1827 (30th July) as Lots 125 and 126 and 1829 (July and August) as Lots 78 and 79, both held by George Robins. Possibly purchased by the 2nd Lord Berwick's younger brother, William Noel-Hill, 3rd Lord Berwick (1773 – 1842). Listed in the Inventory taken at Attingham in 1863 (p. 102) and the Inventory taken there in 1913 (p. 59). Thence by descent, and bequeathed to the National Trust with the estate, house and partial contents of Attingham by Thomas Henry Noel-Hill, 8th Lord Berwick (1877-1947) and transferred to the National Trust on 15th May 1953.
Makers and roles
workshop of Thomas Donaldson (d. 1857), carver and gilder
References
Rowell, 2015: Christopher Rowell, 'Furniture, Carving and Gilding at Attingham Park by Thomas Donaldson of Shrewsbury', in National Trust Historic Houses & Collections Annual 2015, 12 - 20
View more details