Thomas Noel-Hill, 2nd Baron Berwick of Attingham, FSA (1770-1832)
John Miers (Leeds 1758 – London 1821)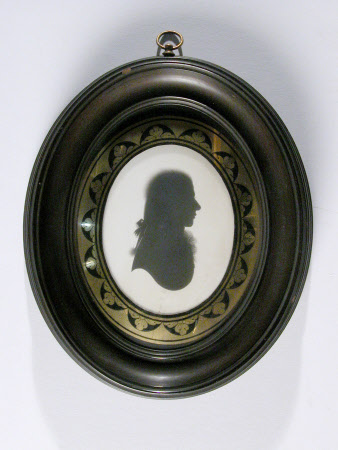 Category
Art / Silhouettes
Date
1790
Materials
Ivory
Measurements
85 x 68 mm
Order this image
Collection
Attingham Park, Shropshire (Accredited Museum)
On show at
Not on show
NT 607949
Summary
Silhouette, Thomas Noel-Hill, 2nd Baron Berwick of Attingham, FSA (1770-1832) by John Miers (Leeds 1758 – London 1821). 1790. Oval. Head and shoulders silhouette, in profile to the right, wearing a long wig tied at the back with a ribbon, a coat and ruffled shirt. Thomas Noel Hill, 2nd Baron Berwick of Attingham was born on 21 October 1770. He was the eldest son of Noel Hill, 1st Baron Berwick of Attingham and Anna Vernon. He was baptised at Atcham, Shropshire, England. He married Sophia Dubochet, daughter of John James Dubochet, on 8 February 1812 at St. Marylebone Church, Marylebone, London, England. He died on 3 November 1832 at age 62 at Naples, Italy, without issue. He was buried at Naples, Italy. His will was probated in August 1833. He succeeded to the title of 2nd Baron Berwick of Attingham,on 6 January 1789.He was educated at Cambridge University, Cambridge, Cambridgeshire, England. He was invested as a Fellow, Society of Antiquaries (F.S.A.) on 4 June 1801. As he had no children the title passed to his brother William. He travelled extensively in Italy, and while he was in Rome with Edward Clarke the latter recorded that "Lord Berwick is employing Angelica Kauffmann in painting and I am now selecting passages from the poets for her to paint for his house at Attingham." .. ' he has left me to follow my own taste in painting and sculpture. I have ordered for him two superb copies of the Venus de Medici and the Belvedere Apollo [from John Deare?] as large as the originals. ..... In painting, I have selected two passages from Euripides, to be executed by Grignon; Freedom, from Chatterton's Ode, by Angelica Kauffmann; his portrait [m.u.], and another allegorical painting by the same artist ....." (William Otter, The Life and Remains of Edward Daniel Clarke, 1825, vol.I, pp.131-32). By 1794 when he returned to England with Clarke he had already amassed a considerable collection of pictures and was contemplating alterations to the house in order to hang them. By 1827 his extravagance forced him to sell the complete contents of Attingham, and this included all the pictures except for family portraits. Picture sales took place at Christie's, 17 and 30 November and 1 December 1827 and by Robins (Contents of Attingham) on 30 July. The extent of his collection, which was catalogued anonymously ('Property of a gentleman lately bought from a palace in Italy .... who has resided thirty years in Italy') can be seen from the fact that the sales at Christie's alone comprised 326 lots.
Provenance
Probably 2nd Lord Berwick collection. By descent Attingham collection; bequeathed to the National Trust with the estate, house and contents of Attingham by Thomas Henry Noel-Hill, 8th Baron Berwick (1877-1947) on 15th May 1953.
Marks and inscriptions
Original Miers label pasted on reverse.
Makers and roles
John Miers (Leeds 1758 – London 1821), artist
View more details