Hercules
John Michael Rysbrack (Antwerp 1694 – London 1770)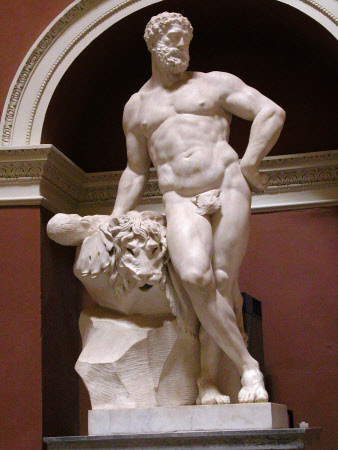 Category
Art / Sculpture
Date
1756 (signed and dated)
Materials
Marble
Measurements
1855 mm
Place of origin
London
Order this image
Collection
Stourhead, Wiltshire (Accredited Museum)
NT 562911.1
Summary
Marble on marble pedestal, Hercules, John Michael Rysbrack (1694-1770), 1756, signed and dated 'Mich. Rysbrack 1756'. Hercules, nude with the exception of a fig leaf, in contrapposto, leaning on a club which is placed on the pelt of the Nemean lion draped over a boulder. His proper left hand is positioned on his left hip; he looks out to left.
Full description
Described by Horace Walpole as Rysbrack's 'chef d'oevre', Hercules was ordered by Henry Hoare II (1705-85), the sculptor's life-long patron, in 1747 and mounted as 'the principal ornament' in the Pantheon at Stourhead (Walpole quoted in Webb 1950, p.311). It originated from a terracotta model of 1744 (NT 732894), bronze-like in the finesse of its modelling and finishing, exhibited at the Society of Artists in 1763 and bequeathed to Hoare in the sculptor's will. The model features in the famous portrait of Rysbrack by Andrea Soldi, 1753 (Yale Center for British Art, Paul Mellon Collection, B1976.7.75). A paper agreement of July 1747 records the terms under which the great marble was commissioned. It shows that Rysbrack and his patron settled on 'the sum of three hundred pounds' for a 'Hercules in statuary marble six feet three inches high', with plinth, 'finish'd according to the model agreed on' (the terracotta). A deposit of 'one Hundred and fifty pounds' was paid at the start, 'seventy five pounds' was promised half-way through, and the 'remaining seventy five pounds' payable when the statue was finished. A note inscribed on the same piece of paper, but dated July 1752, shows that work had only then begun, five years after the agreement had been established. Hercules is signed and dated 'Mich. Rysbrack 1756' and there is a separate bill in Hoare's Bank ledger for £83 14s. 6d. for the pedestal. Despite waiting nine years for his Hercules, Hoare was pleased with the final result, paying the sculptor a further £50 'beyond ye Contract' in July 1757. In 1760 Rysbrack completed a companion statue of the Farnese Flora at the cost of £200 (NT 562912.1, the terracotta model is in the Victoria and Albert Museum, London, inv.no. A.9-1961). The sculpture is a composite, Horace Walpole writes, of 'the head of Farnesian god' and the 'various parts and limbs of seven or eight of the strongest and best made men in London', chiefly 'bruisers and boxers' (Walpole quoted in Webb 1950, p.311). 'The arms were Broughton's [i.e. Jack Broughton (1703/4-89), the English bare-knuckle boxer], the breast a celebrated coachman's, a bruiser, and the legs were those of Ellis the painter', a 'great frequenter' of a London 'gymnasium' (ibid). Rysbrack's artistic sources were the Farnese Hercules (Museo Archeologico Nazionale, Naples; see Haskell and Penny 1981, pp.229-32), from which he produced a full-size terracotta bust (Yale Center for British Art, Paul Mellon Collection, B1977.14.28), and a depiction of Hercules by Pietro da Cortona (1596/7-1669) known only in an engraving by J.F. Greuter published in Rome, 1646, as the frontispiece to Padre G. B. Ferrari's Hesperides sive Malorum Aureorum Cultura et Usus (British Museum, London, 1872,0511.1154). See Kenworthy-Brown 1983, pp.216-9. Alice Rylance-Watson December 2018
Provenance
Acquired 1756 by Henry Hoare II (1705-85) for £300 (see agreement dated 1 July 1747, Wiltshire Record Office, and four payments made by Henry Hoare between July 1747 and February 1758, Hoare's Bank ledgers).
Credit line
Stourhead, The Hoare Collection (National Trust)
Marks and inscriptions
Mich. Rysbrack 1756
Makers and roles
John Michael Rysbrack (Antwerp 1694 – London 1770), sculptor
References
Haskell and Penny 1981: Francis Haskell and Nicholas Penny, Taste and the Antique, The Lure of Classical Sculpture 1500 - 1900, New Haven and London, 1981, pp.229-32 Kenworthy-Browne 1983: John Kenworthy-Browne, 'Rysbrack, "Hercules", and Pietro da Cortona', The Burlington Magazine, vol.125, no.961 (April 1983), pp.216-19 Webb 1950: Marjorie Isabel Webb, 'Sculpture by Rysbrack at Stourhead', Burlington Magazine, 92, November 1950, pp.307-15
View more details