An oak tester bed, English, made up from 17th century parts, The crewelwork 18th century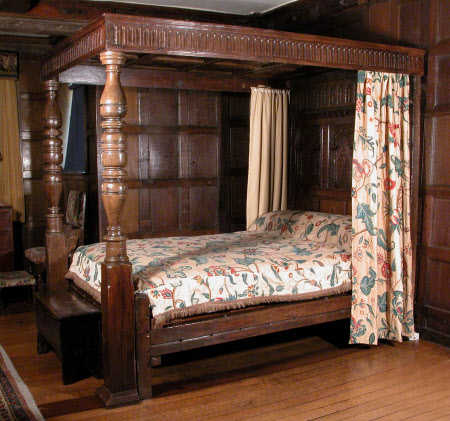 Category
Textiles
Date
circa 1650
Materials
Oak, crewelwork
Place of origin
England
Order this image
Collection
Packwood House, Warwickshire (Accredited Museum)
NT 557643
Caption
This early 17th century bed is a 'marriage' of two different beds. The bed is in the 'Ireton Bedroom' where General Ireton was said to have slept before the Battle of Edgehill in 1642. It has holes for ropes to hold the mattress, which could be tightened in order to make the bed more comfortable. This is the origin of the phrase 'Good-night, sleep tight'.
Summary
An oak tester bed, English, made up from 17th century parts, the crewelwork 18th century. The triple-panel head-board carved with lozenge-filled arcades below a row of dentil-mouldings and an arcaded frieze, the twelve-panel roof carved with rosette-centred quatrefoil motifs within guilloche framing and an outer arcaded frieze, raised on bulbous ring-turned columns (one a later copy) and square base posts, the separate bedstock with end posts and side rails drilled with holes for rope, now having a bedspread and hung with curtains, both of 18th century floral crewel-work.
Full description
Although the various parts of this bed did not begin life together, but were probably assembled in the early 1900s, they do all date from the 17th century, apart from one of the columns which is a faithful copy of it's period counterpart. Both the roof panelling and the head-board have carved decoration which is typically characteristic of the West Country. The former has a distinctive four-prong leaf motif centred with a rosette carved on each of the twelve panels; the latter has uprights of guilloche between the panels, here carved onto a convex surface, a feature seen sometimes on Gloucester furniture. The crewelwork bedspread and curtains date from the early 18th century.