The Hume / Beckford Cabinet
attributed to Robert Hume Junior (fl.1815-1850)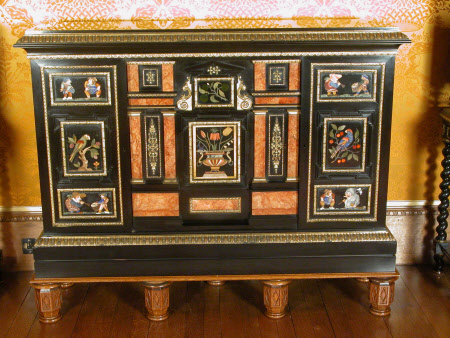 Category
Furniture
Date
circa 1815 - 1820
Materials
Oak carcass, ebony veneer, hardstones or "pietre dure" plaques, brocatello, black marble top, gilt bronze mounts
Measurements
154.5 x 104 x 45.7 cm
Place of origin
London
Order this image
Collection
Charlecote Park, Warwickshire (Accredited Museum)
NT 533017
Summary
A pietra dura side cabinet or "commode", in oak, veneered with ebony, mounted with japanned panels, gilt bronzes and inlaid with pietra dura plaques. The top and base are lined with indented brass. Three doors that open to reveal three cupboards, large central cupboard. Inside of the doors and back of the cabinets have plain panels. Metal hinges and lock plate. The centre of the pietra dura cabinet follows an architectural composition consisting of a pediment supported by scrolling brackets that can also be found on 17th century Florentine and Roman cabinets, above a central plaque depicting a bouquet of flowers in a vase and flanked to each side by a pair of pilasters above and surmounted by plaques of the same marble. Each side panel is mounted with three plaques; the central pietra dura composition depicting a bird on branches, and the top and bottom ones with typical dwarfs caricatures in the style of "Bacio del Bianco" (1604-1654) based on engravings published by Jacques Callot in Varie Figure Gobbi (Florence, 1616). Bacio del Bianco worked for the Grand Ducal Manufactory in Florence during the reign of Ferdinando II de Medici and similar plaques can be found on a table at the Château de Versailles described as 17th century Florentine. The flowers of the central panel are comparable in style to the side panels on a commode by Adam Weisweiler in the Royal Collection (RCIN 2593), also thought to be 17th century Florentine. The birds are more "generic" in style but also most probably of Florentine manufacture. The cabinet is raised on an oak low base with 8 feet carved in a similar fashion as the "Fonthill Abbey" tables in the Great Hall at Charlecote and made for William Beckford. Cabinet acquired by George Hammond Lucy (1789-1845) for 195g 10s at the legendary William Beckford's Fonthill Abbey sale held by Harry Phillips in 1823. It was described in the catalogue as follows (lot 1138): "An ebony commode with mosaic panels, architectural centre and wings, richly ornamented with or-moulu, 5 feet 3 long, with black marble slab". In her biography of the Lucy Family Mary Elizabeth Lucy describes it as 'A superb ebony commode, with panels of the fine ancient Florentine Pietre Commesse, architectural centre and wings richly ornamented with ormolu in the finest taste.' It now stands at the lower end of the drawing room.' (1862). In a letter dated 22 November 1815, William Beckford wrote that it took "taste and real art" for "the man who plans cabinets like my ebony and Florentine ones". It may have referred to the present cabinet which suggests it had companions. Robert Hume & Son seem to have specialised in the 1820s with the manufacture of furniture mounted with pietra dura. Some correspondence (dated 1824-1830) between William Beckford and Robert Hume Junior relative to other pieces of furniture in his collection have survived and confirm their collaboration, as for the 10th Duke of Hamilton. It is not known if the pietre dure panels were provided by Hume as an agent or supplied by Beckford's companion and agent Gregorio Franchi who was interested in hard stones. It is believed that the pietra dura panels were purchased by him and date circa 1620. Gregorio Franchi had purchased in Italy some of the pietra dura used in a pair of side cabinets made for Beckford in Paris, circa 1825 after the Fonthill Abbey sale (see Ostergard, cat no 160). Camille Mestdagh (2016) notes that 'The cabinet is recorded in the Dining room at Fonthill in John Rutter's "Declinations" (1823). Listed in the "crimson Drawing room" at the 1823 Fonthill Abbey sale where acquired by George Lucy (lot no. 1138). It was placed in the Drawing room at Charlecote where it still stands today'
Full description
A pietre dure side cabinet or "commode", in oak veneered with ebony, mounted with japanned panels, gilt bronzes and pietre dure plaques, English, circa 1815, attributed to Robert Hume Junior (fl.1815-1850), made for William Beckford (1760-1844) at Fonthill Abbey. The centre follows an architectural composition consisting of a pediment supported by scrolling brackets that can be found in seventeenth century Florentine and Roman cabinets, above a central plaque depicting a bouquet of flowers in a vase, flanked to each side by a pair of pilasters above and surmounted by plaques of the same marble, each side panel is mounted with three plaques, the central pietre dure composition depicting a bird on branches, the top and bottom with typical dwarfs caricatures in the style of "Bacio del Bianco" (1604-1654) based on engravings published by Jacques Callot in Varie Figure Gobbi (Florence, 1616). Bacio del Bianco worked for the Grand Ducal Manufactory in Florence during the reign of Ferdinando II de Medici and similar plaques can be found on a table at the Château de Versailles described as seventeenth century Florentine. The flowers of the central panel are comparable in style to the side panels on a commode by Adam Weisweiler in the Royal Collection (RCIN 2593), also thought to be Florentine 17th century. The birds are more "generic" in style but also most probably of Florentine manufacture. The cabinet is raised on a low base with feet carved in a similar fashion as the "Fonthill Abbey" tables in the Great Hall at Charlecote, possibly made for William Beckford or added later for George Lucy. Acquired by George Hammond Lucy (1789-1845) for £156.10.0 at the legendary William Beckford's Fonthill Abbey sale held by Harry Phillips in 1823. It was described in the catalogue as follows (lot 1138): "An ebony commode with mosaic panels, architectural centre and wings, richly ornamented with or-moulu, 5 feet 3 long, with black marble slab". In her biography of the Lucy Family Mary Elizabeth Lucy describes it as 'A superb ebony commode, with panels of the fine ancient Florentine Pietre Commesse, architectural centre and wings richly ornamented with ormolu in the finest taste' It now stands at the lower end of the drawing room.' (1862). In a letter dated 22 November 1815, William Beckford wrote that it took "taste and real art" for "the man who plans cabinets like my ebony and Florentine ones". It may have referred to the present cabinet which suggests it had companions. Indeed, one pietre-dure cabinet with an upper vitrine section was also recorded in the Drawing room and sold at the Fonthill Abbey sale (lot 1347) to Robert Hume as an agent for Robert, 2nd Earl Grosvenor, for Eaton Hall (sold at auction in 2012). These pieces are related to a group of commodes and cabinets mounted with pietre-dure and also attributed to Robert Hume Junior: a "clock cabinet" made for the 10th Duke of Hamilton in 1824 (Victoria and Albert Museum, loan Gilbert 204-2008), a large and a small side cabinets made for George Watson Taylor and purchased at his sale on 28 May1825 by George IV (Royal Collection (RCIN 31306-31307), a pair of side cabinets also made for Watson Taylor, sold in 1832, bought for Hamilton Palace, one now in the Brooklyn Museum, New York (inv. 1989.104.15). Robert Hume & Son seem to have specialised with the manufacture of furniture mounted with pietra dura in the 1820s. The link between Hume and Watson Taylor has been first noted in an account of the Erlestoke sale (July-August 1832). Some correspondence (dated 1824-1830) between William Beckford and Robert Hume Junior relative to other pieces of furniture in his collection have survived and confirm their collaboration, as for the 10th Duke of Hamilton. It is not known if the pietre dure panels were provided by Hume as an agent or supplied by Beckford's companion and agent Gregorio Franchi who was interested in hard stones. He purchased in Italy some of the pietre dure used in a pair of side cabinets made for Beckford in Paris, circa 1825 after the Fonthill Abbey sale (see Ostergard, cat no 160). Camille Mestdagh (2016)
Provenance
The cabinet is recorded in the Dining room at Fonthill in John Rutter 's "Declinations" (1823). Listed in the "crimson Drawing room" at the 1823 Fonthill Abbey sale where acquired by George Lucy (lot no. 1138).It was placed in the Drawing room at Charlecote where it still stands today. Presented to the National Trust by Sir Montgomerie Fairfax-Lucy (1896 – 1965), two years after the death of his father, Sir Henry Ramsay-Fairfax, 3rd Bt (1870 – 1944), with Charlecote Park and its chief contents, in 1946.
Makers and roles
attributed to Robert Hume Junior (fl.1815-1850), cabinet maker and designer
References
Ostergard 2001 : D.E Ostergard, B.McLeod, A. Turpin (and other contributors) : William Beckford, 1760-1844 : An Eye for the Magnificent, Exhibition October 2001-April 2002, The Bard Graduate Center, New York and The Dulwich Picture Gallery, London, 2001, p.p.191-193 cat. 86 Wainwright, 1989: Clive Wainwright, The romantic interior: the British collector at home, 1750-1850. Studies in British Art. New Haven; London: Paul Mellon Centre for Studies in British Art by Yale University Press, 1989. [Charlecote pp.208-240] Roberts 2000: Hugh Roberts, Quite appropriate for Windsor castle : George IV and George Watson Taylor, Furniture History, vol.36, 2000, pp.115-137. McLeod, 2002: Bet McLeod, Philip Hewat- Jaboor, Cabinets for William Beckford: Gregorio Franchi's role, Furniture History, vol.38, 2002, pp.135-143.
View more details