Heads of persons in 'Death of General Wolfe'
attributed to Benjamin West PRA (Swarthmore 1738 - London 1820)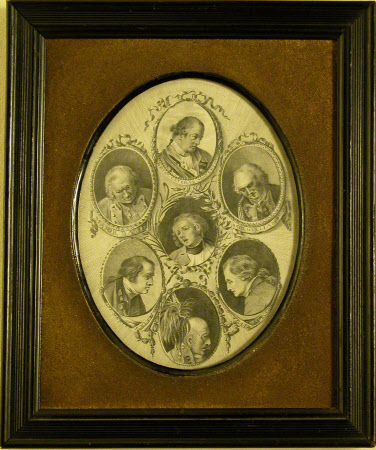 Category
Art / Drawings and watercolours
Date
1760 - 1767
Materials
Paper
Measurements
280 x 222 mm
Order this image
Collection
Quebec House, Kent (Accredited Museum)
NT 528899
Caption
A print showing the main people in Benjamin West's famous painting of the 'Death of General Wolfe' at the Battle of Quebec in September 1759. Central is Wolfe himself surrounded by Major Barre, General Monckton, Captain Hervey Smyth, Captain Williamson and Surgeon Adair and the American Indian Chief.
Summary
Heads of principal persons shown in West's 'Death of General Wolfe'. Drawing in plumbago.
Full description
The reverse of this drawing bears an old label – 'Benjamin West, PRA. Portraits in plumbago of the Heads of General Wolfe, Major Barre, General Monckton, Captain Hervey Smyth, Capt Williamson and surgeon Adair + the American Chief Indian' It is believed that this drawing was executed in plumbago on parchment as a frontispiece to Wollett's engraving after Benjamin West's 'Death of General Wolfe'. This version varies significantly from the publish frontispiece; the key published in 1776 is of much simpler design, the heads are posed in a different manner and only six people, Monkton, Williamson, Barre, Debbieg, Smyth and Adair are included. Debbieg is absent from the plumbago sketch and Wolfe and the 'American Chief Indian' are missing from the published version. Historians have sought to identify the figures in West's masterpiece but controversy has always surrounded the image. Writing in 1847 John Hale's daughter complained 'General Hale is not inserted in that fine print of Wolfe's death, and why? Because he would not give the printer the sum of £100, which he demanded as the price of placing on a piece of paper what his own country knew so very well, viz.: that he fought in the hottest of the battle of Quebec, whether the printer thought fit to record it or not"
Provenance
Formerly part of the Wolfe-Aylward Collection.
Makers and roles
attributed to Benjamin West PRA (Swarthmore 1738 - London 1820), original artist
View more details