Two sportsmen in a landscape
British (English) School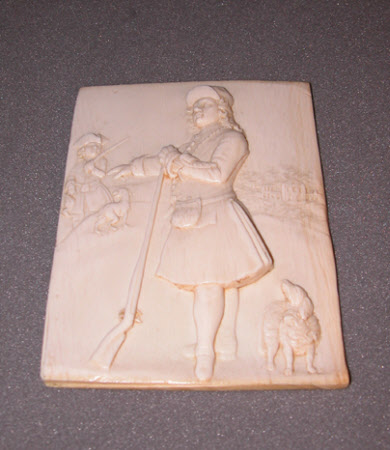 Category
Art / Sculpture
Date
circa 1740 - circa 1750
Materials
Ivory
Measurements
141.5 x 105.8 mm
Place of origin
England
Order this image
Collection
Anglesey Abbey, Cambridgeshire (Accredited Museum)
NT 517360
Summary
Ivory, Two sportsmen in a landscape, British (English) School, after Joseph Highmore (1692-1780) or John Faber the Younger (c.1684-1756), c. 1740-50. A sculpted ivory relief of Nathaniel Oldham (fl. c. 1728-1747) and a companion, after a lost painting by Joseph Highmore (1692-1780) or, more probably, the mezzotint engraving of that picture by John Faber the Younger (c.1684-1756). Oldham stands in the foreground in hunting dress, accompanied by his hound, and points with his right hand towards another man in the background left, also accompanied by a hound, who has a dead bird in his right hand. A Palladian house in the distant background, at right. The panel is bevelled at bottom, to allow the relief to be fitted within a frame.
Full description
This small relief would originally have been framed and would probably have hung on a wall like a painting. It is derived from a lost painting, by the English artist Joseph Highmore, of his friend Nathaniel Oldham (fl. 1728-c. 1747). As a young man, Oldham had served in India in the army of the East India Company. He inherited a fortune said to be £100,000, allowing him to retire and to pursue his interests as a scientist and a collector. By 1728 he owned Ealing House in Middlesex, which may be the house seen in the background of the relief, although Oldham also owned another country house, in Witton, near Hounslow. Oldham was a friend of major contemporary collectors such as Sir Hans Sloane and Sir Richard Mead. He is said to have dissipated his fortune and ended his days in poverty, much to the disapproval of Mark Noble, who included him in his 1806 expanded edition of James Granger's Biographical History of England: 'Nathaniel Oldham, Esq. of Ealing in Middlesex, the son of a dissenting minister, obtained a very considerable fortune from a relation, which he spent in the utmost frivolity, but chiefly in purchasing all sorts of curiosities; though, having little or no taste, his collection was a set of whimsical gimcracks, more than an assemblage of rarities deserving the attention of men of science. This folly ruined him; and he perceived his error when too late to amend it. He had entertained the singular idea of commencing the sale of toys, with a label over his door, "Oldham's last Shift", but an unrelenting creditor sent him to the King's Bench prison, where, I suppose, he died a melancholy example of a misapplication of talents.' (James Granger, and Mark Noble, A Biographical History of England, 4 vols., London 1806, III, p. 349). However, this story is unverified; neither the precise circumstances nor the date of Oldham's death are known. On 1 January 1745, The Daily Advertiser reported the death of Oldham's 'Lady', 'after a tedious Illness'. On 25 February 1747 Oldham held an auction sale at Cock's in London of his collections of drawings, books and prints. Highmore painted Oldham twice, in a celebrated conversation piece in Tate Britain, Mr Oldham with his Guests, and in the painting on which the ivory relief is based, which is now lost (Alison Shepherd Lewis, Joseph Highmore 1692-1780, PhD dissertation, Harvard University, pub, Ann Arbor 1979, II, pp. 579-80, no. 66). According to another general biographer, James Caulfield, 'Highmore the painter was very intimate, and a great favourite with Mr. Oldham, and has more than once painted his picture. The whole-length of him, after that artist, by Faber, represents him in a green velvet hunting coat (the universal dress of the sporting gentry of that time, since given place to the red-cloth), jockey-cap, and gun.' (Caulfield, Remarkable Persons, II, 1819, pp. 135-6). The mezzotint by John Faber the Younger (John Chaloner Smith, British Mezzotint Portraits, 4 vols., London 1883, II, pp. 402-03, no. 261; examples in the British Museum, e.g. PD 1902.1011.1769), dated to c. 1740 or earlier, may well have been the model for the ivory relief. The biggest difference between the print and the ivory is that in the latter the country house has been brought forward, to become a more prominent part of the scene. Oldham was a passionate huntsman; the story behind the painting of Mr Oldham with his Guests is that Oldham invited three friends, including Highmore, for dinner, 'but being a famous and constant sportsman he did not arrive till they had dined; and then he found them so comfortably seated with their pipes over a bowl of negus, that he commissioned Highmore to paint the scene and desired that he might be introduced in it just as he then appeared.' (J.T. Smith, Nollekens and his Times, London 1829, II, p. 221). Jeremy Warren 2019
Provenance
Purchased by Urban Huttleston Rogers Broughton, 1st Lord Fairhaven (1896-1966), from David Black on 11 June 1958, for £35; bequeathed 1966 to the National Trust by Lord Fairhaven with the house and the rest of the contents.
Credit line
Anglesey Abbey, The Fairhaven Collection (The National Trust)
Makers and roles
British (English) School, sculptor after John Faber the younger (Gravenhage 1684 – London 1756), engraver after Joseph Highmore (London 1692 – Canterbury 1780), artist
View more details