Apollino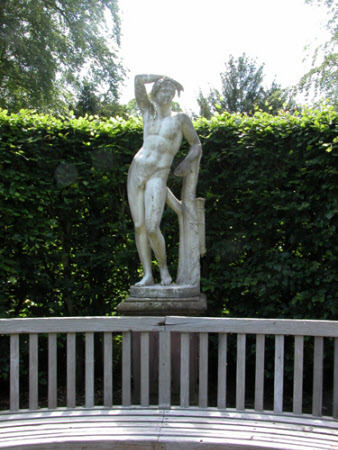 Category
Art / Sculpture
Date
circa 1775 - circa 1850
Materials
Marble
Measurements
254 x 63 x 63 cm
Order this image
Collection
Anglesey Abbey, Cambridgeshire (Accredited Museum)
NT 516619
Summary
Marble, Apollino, Italian or British School, after the antique, c. 1775-1850. A marble copy of the Apollino or Medici Apollo after the antique marble first recorded in the Villa Medici, Rome, 1684 or 1704, and later removed to the Uffizi, Florence (inv. 1914 no. 229). The god Apollo as a young man, nude, leaning in relaxed contrapposto against a tree trunk. The proper right arm is raised and bent at the elbow, the forearm and hand rest on the crown of the head. Apollo's quiver full of arrows is tied to the tree trunk. Mounted on a red sandstone plinth with laurel pendants.
Provenance
Bequeathed to the National Trust by Huttleston Rogers Broughton, 1st Lord Fairhaven (1896-1966) with the house and the rest of the contents.
Credit line
Anglesey Abbey, The Fairhaven Collection (The National Trust)
References
Haskell and Penny 1981: Francis Haskell and Nicholas Penny, Taste and the Antique, The Lure of Classical Sculpture 1500 - 1900, New Haven and London, 1981, pp. 146-8, no. 7, fig. 76 Roper 1964: Lanning Roper, The Gardens of Anglesey Abbey, Cambridgeshire. The Home of Lord Fairhaven, London 1964, p. 66, pls. 43, 45. Christie, Manson & Woods 1971: The National Trust, Anglesey Abbey, Cambridge. Inventory: Furniture, Textiles, Porcelain, Bronzes, Sculpture and Garden Ornaments', 1971, p. 160.
View more details