Sprinter
Robert Tait McKenzie (Almonte, Ontario 1867 - Philadelphia 1938)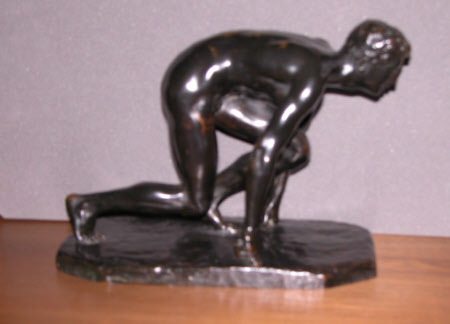 Category
Art / Sculpture
Date
1902 (signed and dated)
Materials
Bronze
Measurements
223 x 291 x 150 mm
Place of origin
United States
Order this image
Collection
Anglesey Abbey, Cambridgeshire (Accredited Museum)
NT 515040
Summary
Bronze, Sprinter, Robert Tait McKenzie (1867-1938), 1902, signed and dated on the base by runner's left hand 'R. Tait McKenzie 1902.' Cast by the Roman Bronze Works, New York City. Bronze sculpture of a naked athlete crouching in the ready position, prior to the signal to the start of a race. Mounted on an octagonal bronze base.
Full description
The Sprinter was the first major work by the physical education pioneer and sculptor Robert Tait McKenzie. Like The Athlete, an example of which is also at Anglesey Abbey (NT 515046), The Sprinter was inspired by Tait McKenzie's membership of a newly-formed Society of College Gymnasium Directors (see NT 515046 for more discussion) and was based on the system of anthropometric measurements pioneered by Dudley Allan Sargent at Harvard University. In this case, Tait McKenzie created the proportions for his figure from the arithmetical mean of the measurements of the 74 best sprinters in the United States, which had been collected by Dr. Paul C. Phillips of Amherst College. Several sprinters from McGill University, among them Frederich J. Tees, also modelled for the figure, which Tait McKenzie worked on for three years and which caused him some difficulties, because of his lack of formal studio training. Although the position for the crouching start is a familiar one today, it had in fact been invented only in 1888 at Yale University, by the future diplomat Charles H. Sherrill. The Sprinter was to become Tait McKenzie's most popular and widely reproduced figure composition. It was exhibited at the Royal Academy in London in 1903 and at the Paris Salon in 1904. Around forty bronze casts are thought to have been made and many more in plaster. One example in plaster was acquired in 1905, along with a plaster of the Athlete, by the Fitzwilliam Museum, Cambridge (Invs. M.1 and 2-1905). A cast had earlier, in 1903, been bought for the White House by President Roosevelt; reporting this, the Boston Globe commented that Tait McKenzie 'combines to a rare and exceptional degree his love for art with his love for science and athletics… He is perhaps the only living exponent in sculpture of the great athletic spirit which has swept over the world within the past decade and which has become such a conspicuous feature of college education.'Jeremy Warren, 2018
Provenance
Acquired by Urban Huttleston Rogers Broughton, 1st Lord Fairhaven (1896-1966) probably from one of Tait McKenzie's Fine Art Society exhibitions, in 1920, 1927 or 1930; identified in an Anglesey Abbey inventory of 1932 (p. 93, 'Monk's Gallery' Bathroom, valued at £18); identified in an Anglesey Abbey inventory of 1940 (p. 152, The Library, valued at £30); bequeathed 1966 to the National Trust by Lord Fairhaven with the house and the rest of the contents.
Credit line
Anglesey Abbey, The Fairhaven Collection (The National Trust)
Marks and inscriptions
On surface of bronze base, by athlete's left hand: R. Tait McKenzie | 1902 On canted edge of base, below signature: Copyright | 1902 On edge of bronze base, at rear: ROMAN BRONZE WORKS N.Y.
Makers and roles
Robert Tait McKenzie (Almonte, Ontario 1867 - Philadelphia 1938), sculptor Roman Bronze Works, foundry
References
'Anglesey Abbey, Lode, Cambridgeshire. An Inventory and Valuation of Furniture, Pictures, Ornamental Objects, Household Effects and A Collection of Miniatures.. prepared for Insurance Purposes', Turner, Lord and Ransom, November 1932, p. 93 'Anglesey Abbey, Lode, Cambridgeshire. An Inventory and Valuation of Furniture, Books, Ornamental Items & Household Effects .. prepared for Insurance Purposes', Turner, Lord and Ransom, April 1940, p. 152 Christie, Manson & Woods 1971: The National Trust, Anglesey Abbey, Cambridge. Inventory: Furniture, Textiles, Porcelain, Bronzes, Sculpture and Garden Ornaments', 1971, p. 136, Silver Strong Room Catalogue of an Exhibition of Bronze Statuettes and Reliefs by R. Tait McKenzie, The Fine Art Society Ltd., 1-26 July 1920, London 1920, no. 10 Exhibition of Sculpture, including Statues, Statuettes, Sketches, Portraits in Low Relief and Medals by R. Tait McKenzie, The Fine Art Society Ltd., London, July 1927, no. 1 Catalogue of an Exhibition of Sculpture by R. Tait McKenzie, R.C.A., The Fine Art Society Ltd., 17 June – 5 July, London 1930, no. 14 Hussey 1929: Christopher Hussey, Tait McKenzie. A Sculptor of Youth, London 1929, pp. 12-15, figs. 7, 9, p. 102. Kozar 1975: Andrew J. Kozar, R. Tait McKenzie. The Sculptor of Athletes, Knoxville 1975, pp. 44-45, no. X McGill 1980: Jean McGill, The Joy of Effort. A biography of R. Tait McKenzie, Bewdley, Ontario 1980, pp. 40-41, 215
View more details