The Javelin Cast
Robert Tait McKenzie (Almonte, Ontario 1867 - Philadelphia 1938)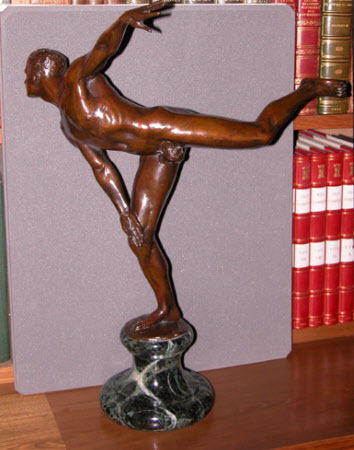 Summary
Bronze, The Javelin Cast, Robert Tait McKenzie (1867-1938), 1923, signed and dated on the base behind athlete's foot 'R. Tait McKenzie 1923'. Cast by the Roman Bronze Works, New York City.The naked athlete leans forward after having thrown his javelin, his weight on his right leg, left leg stretched out behind him, his right arm down and his left held up in the air. Mounted on a small integral circular bronze base, in turn set on a green serpentine circular marble base.
Full description
For the Canadian sculptor, Robert Tait McKenzie, see The Athlete, NT 515046. Javelin Cast was conceived as a pair to the 1920 figure, Flying Sphere, showing an athlete in a very similar pose, throwing the shot. According to Tait McKenzie's biographer Christopher Hussey, when Flying Sphere was exhibited in London in 1920, the entire edition of the bronzes immediately sold out, so it was in response to this demand that Tait McKenzie decided to make the companion piece (Hussey 1929, pp. 31-32). The figure was modelled at Martha's Vineyard during the summer of 1922, the model for it an undergraduate of Penn State University, Mifflin Armstrong. According to Tait McKenzie, the inspiration for the composition came from a sonnet of the same title by the contemporary poet Luella Boynton. The Javelin Cast As spears go down with beauty so you went Shaping the perfect arc in air, O bright And splendid Javelin, with power spent Ceasing its brief, its unretarded flight. Not if I could with pity or with awe, Would I hold back one moment of your day From that half circle drawn without a flaw And ended here. There are unkinder ways For men to travel than your very trek Across the morning. Now the spear is thrust Deep into earth but in that sudden black Descending was no whimpering of dust Safe in the warm brown sheath forever hide Your polished beauty your silver side. Lord Fairhaven seems to have bought several of Robert Tait McKenzie's bronzes at the exhibitions of his work held at the Fine Arts Society in 1920, 1927 and 1930. However, unlike most of the other bronzes at Anglesey Abbey by Tatit McKenzie, Javelin Cast does not appear in the inventories taken in 1932 and in 1940. Jeremy Warren, 2018
Provenance
Acquired at an unknown date by Urban Huttleston Rogers Broughton, 1st Lord Fairhaven (1896-1966); bequeathed to the National Trust by Lord Fairhaven (1896-1966) with the house and the rest of the contents.
Credit line
Anglesey Abbey, The Fairhaven Collection (The National Trust)
Marks and inscriptions
On surface of bronze base, behind athlete's foot: R. Tait McKenzie | 1923 On edge of bronze base, left of foot: ROMAN BRONZE WORKS N.Y.
Makers and roles
Robert Tait McKenzie (Almonte, Ontario 1867 - Philadelphia 1938), sculptor Roman Bronze Works, foundry
References
Christie, Manson & Woods 1971: The National Trust, Anglesey Abbey, Cambridge. Inventory: Furniture, Textiles, Porcelain, Bronzes, Sculpture and Garden Ornaments', 1971, p. 135, Silver Strong Room Exhibition of Sculpture, including Statues, Statuettes, Sketches, Portraits in Low Relief and Medals by R. Tait McKenzie, The Fine Art Society Ltd., London, July 1927, no. 6 Catalogue of an Exhibition of Sculpture by R. Tait McKenzie, R.C.A., The Fine Art Society Ltd., 17 June – 5 July, London 1930, no. 10 Hussey 1929: Christopher Hussey, Tait McKenzie. A Sculptor of Youth, London 1929, p. 32, fig. 25, p. 105 Kozar 1975: Andrew J. Kozar, R. Tait McKenzie. The Sculptor of Athletes, Knoxville 1975, pp. 62-63, no. XIX McGill 1980: Jean McGill, The Joy of Effort. A biography of R. Tait McKenzie, Bewdley, Ontario 1980, p. 220
View more details