'The Linnell Hall Bench'
attributed to John Linnell (London 1729 - 1796)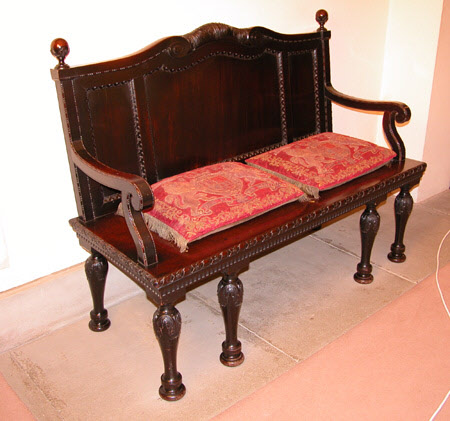 Category
Furniture
Date
circa 1760
Materials
Solid mahogany, carved mahogany
Measurements
101.3 x 136.3 x 55.5 cm
Place of origin
London
Order this image
Collection
Anglesey Abbey, Cambridgeshire (Accredited Museum)
NT 514395
Summary
A mahogany hall bench, attributed to John Linnell, London, circa 1760. With a scroll and leaf carved serpentine toprail surmounted with leaf carved turned spherical finials above a panelled back edged with foliate and bead-and-reel ornament, the scrolled arms with bead-and-reel edging above a solid seat with ribbon-and-rosette carved edge and a fluted frieze, raised on baluster legs headed with foliage and with guilloche carved bun feet.
Full description
This type of solid mahogany hall furniture was created by William Kent (1685 –1748) for the great entrance halls of the newly built Palladian mansions of the 18th century. They were the first furnishings to greet any visitor and, through the use of quality materials, skilled workmanship and exquisite design Kent was able to communicate the grandeur, wealth and taste of his patrons (Susan Weber, William Kent Designing Georgian Britain). The design for these benches is derived from Greek and Roman architecture. This was promoted by Richard Boyle, 3rd Earl of Burlington and his creative partner Kent. The influence of these two men, as well as Inigo Jones, on 18th century English architecture and design was unparalleled. These designs were popularised in John Vardy's 'Some designs of Mr Inigo Jones and Mr William Kent, 1744', the ionic wave-scrolls and the acanthus wrapped volutes seen in Vardy's book clearly evolved into the more soberly designed hall furniture. Such 'Kentian' hall benches appear to have been executed in two distinct periods - the earliest dating from circa 1725 to the 1740s. Apart from those designed by Kent for Chiswick, a set of four settees designed by Henry Flitcroft (d. 1769) and executed by George Nix was supplied in 1728 for John Montagu, 2nd Duke of Montagu for the Banqueting Hall of Montagu House, Whitehall (see T. Murdoch (ed.), Boughton House: The English Versailles, London, 1992, pp. 134-135, pl. 133). A further suite of six settees based on the same pattern was provided for Sir Robert Walpole's Houghton Hall in Norfolk (see J. Cornforth, 'Houghton Hall, Norfolk', Country Life, 28 March 1996, pp. 52-59 and fig. 2) and have been attributed to the workshops of James Richards, who executed numerous architectural carvings as well as furniture for Royal commissions designed by Kent. In 1731 James Moore the Younger (d.1734) supplied '2 Mahogany Settees' that Kent had designed for the Lodge at Sherborne Park, Gloucestershire (C. Gilbert, Furniture at Temple Newsam House and Lotherton Hall, II, London, 1998, p.72 8). These were invoiced as: 'To Mr Moore for 2 Mahogany Settees for ye Dining Room at ye Lodge Carved 30- 0-0'. Finally, a further variant of the model designed by William Kent in around 1725 is at Raynham Hall, Norfolk, and is illustrated in H. Cescinsky, The Old-World House: its Furniture and Decoration, vol.II, New York, 1924, p. 119. This more refined, neo-Classical model of 'Kentian' hall bench - with its sphere-capped pillars, columnar legs, and torus-moulded seats enriched by flowered ribbon-guilloches - belongs to the second group which dates from around 1760. John Linnell (1729-1796) was the son of the established furniture maker William Linnell (c. 1703-1763). Unlike most furniture makers, John Linnell gained a design education at the St. Martin's Lane Academy, which was founded by William Hogarth in 1735. In 1750, aged 21, he joined his father's firm as a designer. On his father's death in 1763, John Linnell took over the family firm and produced high quality furniture, which rivalled that of other leading furniture makers such as Thomas Chippendale, John Cobb and William Ince and John Mayhew. A Miscellaneous Collection of Original Designs, 'made, and for the most part executed, during an extensive Practice of many years in the first line of his Profession, by John Linnell, Upholsterer, Carver & Cabinet Maker.' Selected from his Portfolio's at his Decease, by C. H. Tatham Architect. AD 1800 are in the collection of the V&A museum no. E.94-1929. Included within this collection is a design for a hall seat which bears many similarities to the hall bench at Anglesey Abbey, the detailing to the turned legs being almost identical in form. Susan Weber in her accompanying monograph to the William Kent exhibition at the Victoria & Albert Museum (2014) notes that John Linnell was most likely following a drawing by his father William of a William Kent bench (Weber, op. cit., p. 488) (fig. 2). Hayward and Kirkham posit that both William and John Linnell were employed by Kent as cabinet makers having executed a table for James West (1703-1772) at Alscot Park. This working relationship between the Linnell firm and Kent is further enforced by a set of garden benches at Rousham, Oxfordshire. A further set, formely in Devonshire house, Piccadilly, are now at Chatswortrh House, Derbyshire. Seat Furniture related to their design are also at Raynham Hall and Houghton Hall. A set of six hall benches recorded in the collection of Thomas Villiers, 2nd Earl of Clarendon of the second creation (1753-1824) which are thought to have been commissioned by the Earl's father, Thomas Villiers 1st Earl of Clarendon (1709-1786), for the newly acquired family seat, The Grove in Hertfordshire. They appear in the 1824 Inventory of the Grove taken by J Orchard as '6 carved mahogany Hall Sofas'. The inventory is accompanied by sketches showing all six benches in situ. A pair of benches from the original six commissioned for the Grove was sold at Christie's, London, 11th April 1985, lot 130 and a further pair was sold Sotheby's London, Treasures, 9 July 2014, lot 39. A related pair of hall chairs commissioned by Edwin Lascelles for Harewood House and attributed to William and John Linnell, was sold in the Simon Sainsbury sale Christie's, London, 18th June 2008, lot 10. Four chairs and a single bench of the same suite had previously been offered by the Earl of Harewood at Christie's, London, 28th June, 1951, lot 64. See: Moss Harris and Sons Cat., Old Furniture and Works of Decorative Art from late 16th to early 19th century, London, 1932, vol. II, p. 176, cat. no. F13308, illustrated Susan Weber, William Kent: Designing Georgian Britain, Yale University Press, 2013; Hayward and P. Kirkham, William and John Linnell, vol. II, London, 1980 Orchard, Inventory of sundry furniture and effects at The Grove Hertfordshire, March 1824 Cornforth, 'Houghton Hall, Norfolk', Country Life, 28 March 1996, pp. 52-59 and fig. 2 Cescinsky, The Old-World House: its Furniture and Decoration, vol.II, New York, 1924, p. 119. (James Weedon, October 2017)
Provenance
Solid Mahogany
Makers and roles
attributed to John Linnell (London 1729 - 1796), furniture designer and maker after William Kent (Bridlington 1685 – London 1748), architect and designer
References
William Kent (1686-1748) Designing Georgian Britain, Bard Graduate Center, New York, 20 September 2013 - 9 February 2014 and Victoria and Albert Museum, London, 22 March 14 - 13 July 2014 Hayward and Kirkham, 1980: Helena Hayward and Pat Kirkham. William and John Linnell, eighteenth century London furniture makers. London: Studio Vista in association with Christie's, 1980. Cescinsky, Herbert,. The old-world house: 1924.
View more details