Tabley, Cheshire, the Seat of Sir J.F. Leicester, Bt: Calm Morning
Joseph Mallord William Turner, RA (London 1775 - Chelsea 1851)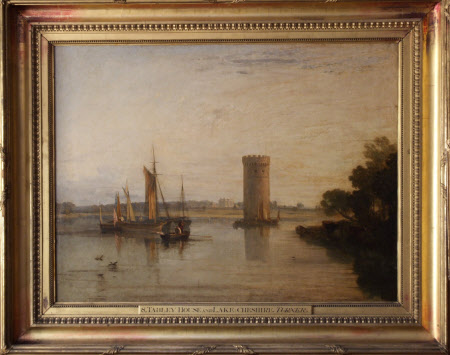 Category
Art / Oil paintings
Date
circa 1808 - 1809 (exh. at RA)
Materials
Oil on canvas
Measurements
914 x 1168 mm (36 x 46 in)
Place of origin
England
Order this image
Collection
Petworth House and Park, West Sussex (Accredited Museum)
NT 486619
Caption
Turner stayed at Tabley in the summer of 1808; but according to a disgruntled fellow-artist there: "His time was occupied in fishing rather than painting." From the visit resulted, nonetheless, this picture and Tabley: Windy Day (Tabley House), painted for the galleries of the Hill Street house of Sir John Fleming Leicester, 5th Bt. (1762 — 1827), and Tabley itself, respectively. Sir John and the 3rd Earl of Egremont (see No.13, Picture Gallery) were close to one another in time and in taste in their patronage of Turner; hence the 3rd Earl buying this at the sale of the Hill Street pictures in 1827.
Summary
Oil painting on canvas, Tabley, Cheshire, the Seat of Sir J.F. Leicester, Bt: Calm Morning by Joseph Mallord William Turner, RA,(London 1775 - Chelsea 1851), signed bottom right: J M W TURNER RA, circa 1808. In the foreground is the lake with cows under the bank and at right, sailing boats and at left a skiff. In the right centre a round tower can be seen with sailing boats beneath and in the centre distance, the house. The Morning Herald (4 May 1809): 'In this felicitous imitation of a calm morning, the Artist has evidently taken Cuyp for his study; and it is but just to aver, that he has preserved the aerial perspective better than any other Artist within our remembrance, at least in this country. There is such repose in the whole composition, each part harmonizes with its adjunct object so happily, that a troubled spirit might dwell upon this picture in contemplation, until the nervous system were re-attuned by quietude, receiving an imperceptible anodyne through the operations of sympathy.'
Full description
Tabley: Calm Morning was painted with its companion Tabley: Windy Day (Tabley House Joint Committee, Tabley House) in the summer of 1808, when Turner was staying at the house, which was the country seat of Sir John Fleming Leicester, 5th Bt (1762 - 1827) created Baron de Tabley in 1826. It was one of ten Turner oils bought or commissioned by Leicester, largely between 1806 and 1809, a period when Egremont was also baying vigorously. Leicester's first attempted direct acquisition from the artist, The Festival upon the Opening of the Vintage of Macon (exh. RA, 1803; Sheffield City Art Galleries) was sold instead to the Earl of Yarborough, but he succeeded in buying The Shipwreck (exh. Turner Gallery, 1805; Tate Gallery) in 1806, though a year later he relinquished it to the artist in a part-exchange for The Fall of the Rhine at Schaffhausen (exh. RA, 1806; Museum of Fine Arts, Boston). His earliest painting by Turner, Kilgarran Castle: Hazy Sunrise previous to a Sultry Day (exh. RA, 1799; Wordsworth House, Cockermouth [National Trust, Lady Mildred Fitzgerald bequest], was not acquired from the artist, but from what was already its second Oxford possibly as early as 1803, or even before. The last of his acquisitions was Sun rising through Vapour, which he bought in 1818, though it had been exhibited at the RA in 1807. This preference for Turner's earlier works was shared by Lord Egremont, and helps to account for his purchase of the present picture. The 3rd Earl of Egremont's first acquisition from Turner was the picture known subsequently as 'The Egremont Sea-Piece' . Turner exhibited this at the Royal Academy in 1802, but it is far from certain that it was acquired then, or even much before 1805. Egremont's subsequent acquisitions extended between that year and 1831, chiefly from Turner's exhibitions at his own Gallery, but mostly fell between 1807 and 1812. It was only in 1809 - the date suggesting that he was inspired by Leicester's example - that he commissioned paintings of his two chief seats, Petworth from the Lake: Dewy Morning and Cockermouth Castle; and there was subsequently a curious and unexplained hiatus between his acquisition of two pictures exhibited by Turner at his Gallery in 1812, and his commissioning of four more pictures - two of Petworth, and two of constructions in which he had had an interest, The Chain-Pier, Brighton and Chichester Canal, in 1828 - 29. Whatever the reason for the interruption in Egremont's patronage of Turner, it seems very likely that it was at the sale of the pictures from Lord de Tabley's London house that the two encountered one another as fellow-bidders, and it only seems to have been after that date that Turner became a regular house-guest at Petworth - given the Old Library to use as a studio, and humoured in every particular. By that time patron and artist matched one another in eccentricity, and the one was as impatient with the formalities of deference as the other was determined not to accord it. Even many years earlier, when painting the present picture, Turner had made a point of appearing to stay at Tabley as a guest, rather than as an artist employed to portray it. Henry Thomson (1773 -1843), Turner's almost exact contemporary, and much patronised both by Sir John Leicester and Sir Richard Colt Hoare, but only once by Lord Egremont, was invited to stay and to make a painting of the lake and tower from an almost identical viewpoint at the same time (Tabley House Joint Committee, Tabley House). Perhaps jaundiced by being forced into this unwanted paragone, he said to A.W. Callcott of Turner: "That His time was occupied in fishing rather than painting" . Since the oil-sketch - which curiously omits both pictures' main motif, the round tower - was cut out of the so-called 'Tabley' sketchbook and folded in four, as if for sending by post to Sir John Leicester for his approval , and Tabley: Windy Day (which was actually sent up to Tabley) has his London address inscribed on the stretcher, it seems clear that Turner did not embark upon the paintings until he returned to London. Sir John Leicester's acquisition of Turners was part and parcel of his patronage of contemporary British artists - the only major ones that he failed to favour being Wilkie and Constable - the latter also passed over by Lord Egremont, despite his once staying at Petworth. Leicester appears to have started collecting in earnest even before he had taken 24, Hill Street as his London house in 1805 and had had the library remodelled as a top-lit picture-gallery; buying paintings by Gainsborough in 1789 and 1797, and commissioning the first of a number of subject pictures from Northcote in 1798/99. By the summer of 1808 he had had the picture gallery at Tabley constructed by Thomas Harrison. Egremont likewise seems to have begun by collecting Gainsboroughs and Reynoldses, and commissioned pictures from Northcote, but he did not build his top-lit addition to the picture and sculpture gallery until 1824. In 1818 Leicester opened the London picture gallery to the public, and in the course of 1819 he had two editions of a catalogue by William Carey of his British pictures at both Hill Street and Tabley published, the second with a foreword by Colt Hoare, who was later to acquire Northcote's Dumb Alphabet from him, and to have his Avalanche by de Loutherbourg (for which Colt Hoare supplied the catalogue entry) copied in watercolour by Francis Nicholson. One of the last of Leicester's commissions for a second, reduced version of The Destruction of Pompeii and Herculaneum from John Martin (final payment, 1826) shows him keeping abreast of the most advanced painting of the day - more so, perhaps, than Lord Egremont, who was a crucial decade older. But by this time, not only was his health failing, his financial affairs were in an appalling state: hence the decision of his executors to sell almost all the paintings in his London house less than three weeks after his death on 18 June 1827, despite the lack of notice, in order to catch the end of the season. It was at this sale that Lord Egremont purchased the present Turner and three pictures by other artists, including the Europa by Hilton that was to be made the central picture in Phillips's posthumous portrait of him, whilst Turner himself bought back his own The Blacksmith's Forge (Tate), and Sun rising through Vapour, which he rated so highly that he paid 140 guineas more than he had sold it to Leicester for, and that he was in turn to leave it to the National Gallery, with the stipulation that it and Dido building Carthage were to be hung between Claude's Seaport and The Mill. Despite their purchase or patronage of so many of the same artists, there does not seem to have been any of the personal rapport and intercourse between Sir John Leicester and the Earl of Egremont that there was between the former and Sir Richard Colt Hoare, even though there appears to have been a greater similarity in their sexual mores. Nor, despite doing so much for so many British (and American) painters and sculptors, does Egremont appear to have had the proselytising or self-publicising concerns of Leicester. He abandoned his London mansion in 1794, and made no attempt to create or open a gallery in his new house. Nor was any catalogue of his collection published in his lifetime. In a way, the most significant factor linking all three collectors was a negative one: despite all the opportunities for the acquisition of major Old Master paintings afforded by the import into Britain of those unloosed from collections on the Continent by the French Revolution, none of the three did anything to take advantage of this. Egremont and Hoare had at least inherited, and even added to, distinguished Old Master collections already, but Leicester had nothing of the kind. It may have been partly for that reason that his patronage of his British contemporaries was the most extensive of the three, and that he made the greatest propaganda for them. There is one further feature in common between Leicester and Egremont, in their patronage of Turner: neither showed any interest in his watercolours . Unlike Colt Hoare in this, they also lacked his interest in the depiction of places. Hence the fact that neither this painting nor its fellow, Windy Day (which never seems to have been intended to hang as a pendant to Calm Morning) is really a view of Tabley as a county house. Instead, as a contemporary review said: "the views of Sir John Leicester's seat, which in any other hands would be mere topography, touched by [Turner's] magic pencil, have assumed a highly poetic character. It is on occasions like this that the superiority of this man's mind displays itself; and in comparison with the production of his hands, not only all the painters of the present-day but all the boasted names to which collectors bow sink into nothing . Notes: (i) For Sir John Leicester as collector and patron, see Douglas Hall, 'The Tabley House Papers', The Walpole Society, vol. XXXVIII, 1962, pp.59-122; Selby Whittingham, 'A Most Liberal Patron: Sir John Fleming Leicester, Bart.', Turner Studies, vi/2 , winter 1986, pp.24 - 36; exh. cat., Paintings from Tabley, Heim Gallery, London, 1989. (ii) See the table and comments in 'Turner and the Third Earl of Egremont' by Evelyn Joll, Apollo, (iii) The Diary of Joseph Farington, New Haven & London. (iv) Butlin & Joll, no.208. (v) exh.cat. Paintings from Tabley, no.20. (vi) The statement that Leicester bought a watercolour from Turner in 1792 appears to rest upon a confusion with a Pocock; cf. Selby Whittingham, Turner Studies, vol.vi/2,1986, pp.24-36. (vii) The Repository of Arts, vol.I (1809), p.490, quoted by Butlin & Joll, op.cit., under no.98. (adapted from author's version/pre-publication, Alastair Laing, In Trust for the Nation, exh. cat., 1995)
Provenance
Painted for Sir John Fleming Leicester, later Lord de Tabley (1762-1827); bought from his sale at Christies, 7 July 1827, lot 34, for 165 guineas by George Wyndham, 3rd Earl of Egremont (1751-1837); thence by descent, until the death in 1952 of the 3rd Lord Leconfield, who had given Petworth to the National Trust in 1947, and whose nephew and heir, John Wyndham, 6th Lord Leconfield and 1st Lord Egremont (1920-72) arranged for the acceptance of the major portion of the collections at Petworth in lieu of death duties (the first ever such arrangement) in 1956 by HM Treasury. Accepted by HM Government in lieu of inheritance tax in 1956, allocated to Tate in 1984 and on long-term loan from Tate to the National Trust at Petworth.
Makers and roles
Joseph Mallord William Turner, RA (London 1775 - Chelsea 1851), artist
Exhibition history
In Trust for the Nation, National Gallery, London, 1995 - 1996, no.32
References
Carey, 1819: William Carey, A Descriptive Catalogue of a Collection of Paintings by British Artists, in the possession of Sir John Fleming Leicester, Bart., 1819, no. 42 Butlin and Joll 1977 & 1984 Martin Butlin & Evelyn Joll, The Paintings of J.M.W. Turner, New Haven and London, 1977 & revised edn., 1984, no.99, vol.I, pp.70 -71, vol.II, pl. 107 Butlin and Warrell, 1989:Martin Butlin, Mollie Luther, & Ian Warrell, Turner at Petworth, The Tate Gallery, 1989, pp.25, 30 -31, 53, 133 & col.fig. 34. Harris 1979 John Harris, The Artist and the Country House. A History of Country House and Garden View Painting in Britain 1540-1870, London 1979, no. 397
View more details