Bust of Flora surrounded by Flowers
Louis Laguerre (Paris 1663 - London 1721)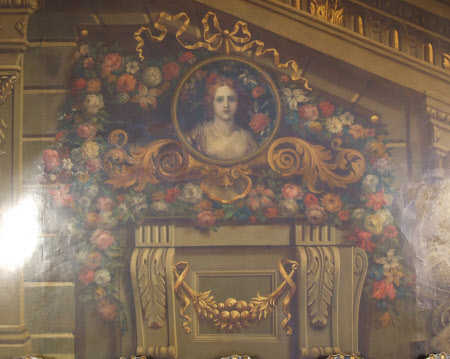 Category
Art / Wall paintings
Date
1718 - 1720
Materials
Oil on plaster
Place of origin
Petworth House
Order this image
Collection
Petworth House and Park, West Sussex (Accredited Museum)
NT 486599
Caption
This was one of Laguerre's last painted scenes and was completed in 1720. It was painted at the same time as his masterpiece at Blenheim. A French painter, he came to England in 1683 and decorated the great houses of the nobility across England. The principal theme of the wall-painting is the story of Prometheus and Pandora. Having stolen fire from the gods, Jupiter chained Prometheus to a rock but he was released by Hercules. He then fashioned men from clay but as further punishment Jupiter caused Pandora to open a box which unleashed all the world's evils but also hope. The choice of subject matter must be an allusion to the disastrous fire of 1714.
Summary
Oil painting on plaster, Bust of Flora surrounded by Flowers, by Louis Laguerre (Paris 1663 - London 1721), 1718/20. Painted roundel on the east wall of a bust of a young girl 'Flora' with flowers in her hair, the roundel is in the form of a picture hanging from an elaborate painted bow of ribbons, the whole background covered with painted flowers.
Provenance
By descent, until the death in 1952 of the 3rd Lord Leconfield, who had given Petworth to the National Trust in 1947, and whose nephew and heir, John Wyndham, 6th Lord Leconfield and 1st Lord Egremont (1920-72) arranged for the acceptance of the major portion of the collections at Petworth in lieu of death duties (the first ever such arrangement) in 1956 by H.M.Treasury.
Credit line
Petworth House, The Egremont Collection (acquired in lieu of tax by HM Treasury in 1956 and subsequently transferred to the National Trust)
Makers and roles
Louis Laguerre (Paris 1663 - London 1721), artist
View more details