The Dream of Horace
Sir Richard Westmacott RA (London 1775 - London 1856)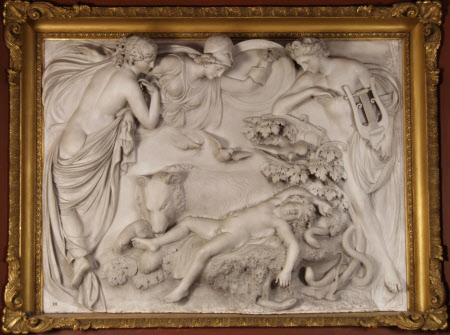 Category
Art / Sculpture
Date
1823 (exh at RA)
Materials
Marble
Measurements
1400 x 1840 mm
Place of origin
England
Order this image
Collection
Petworth House and Park, West Sussex (Accredited Museum)
NT 486415
Caption
Based on a passage in the Roman poet Horace's Odes (III.iv) this neo-antique sculpture relief was favourably compared with the antique when it was exhibited at the Royal Academy in 1823. The sleeping infant is being protected from molestation from his guardians: Apollo, Venus and Minerva. It was installed at Petworth by the 3rd Earl of Egremont in 1824.
Summary
Marble relief sculpture, The Dream of Horace by Sir Richard Westmacott RA (London 1775 - London 1856), 1823. Exhibited at the Royal Academy in 1823, and subsequently installed in its present position within a blocked-up window. Its original gilt frame shown in Mrs Wyndham's view of the gallery (c.1865; no.706) had long disappeared, and its replacement (1993) incorporates elements of two early 19th-century frames. The subject of Westmacott's relief is unusual, and was chosen by the 3rd Earl. Taken from Horace's Ode to Calliope (the Muse of Epic Poetry), Book iii, Ode 4, it depicts a sleeping boy on the hillside of Mount Vultura in Apulia protected by Venus, Minerva and Apollo against wild animals, seen here in the form of twisting serpents, a bear which likes the boy's right ankle resting on its paw and doves that flutter above attempting to cover his nakedness with leaves. Thus protected, writes the Horace, he need not fear the distant barbarians, even 'the cruel race of Britain'. The face of Venus (far left) was taken from 'the mistress of some man about in society', perhaps the 3rd Earl. Sir Richard Westmacott (1775-1856) was an extraordinarily successful figure in early 19th-century England. Between around 1800-1830 he supplied neo-classical works of sculpture for Holkham Hall, Petworth House, Woburn Abbey and Chatsworth House, many of which were displayed in juxtaposition with antique marbles. He also built up an influential role as an advisor and curator of collections of ancient marbles at Chatsworth, at Wilton Abbey and in the new Sculpture Galleries of the British Museum, where he acted as an advisor until the time of his death. He escorted his friend Antonio Canova on his visit to England in 1815, mixed on easy terms with many of his aristocratic patrons, and was knighted in 1837. He owned a notable collection of medals, Etruscan vases, bronzes, marbles, prints and books.
Provenance
Commissioned by the 3rd Earl of Egremont, thence by descent, until the death in 1952 of the 3rd Lord Leconfield, who had given Petworth to the National Trust in 1947, and whose nephew and heir, John Wyndham, 6th Lord Leconfield and 1st Lord Egremont (1920-72) arranged for the acceptance of the major portion of the collections at Petworth in lieu of death duties (the first ever such arrangement) in 1956 by H.M.Treasury.
Marks and inscriptions
111 (painted on left hand bottom )
Makers and roles
Sir Richard Westmacott RA (London 1775 - London 1856), sculptor
References
Busco 1994 Marie Busco Sir Richard Westmacott Sculptor. Cambridge Studies in the History of Art, Cambridge University Press, 1994, fig. 99, p. 110 Guilding 2014 Ruth Guilding, Owning the Past : Why the English collected Antique Sculpture, 1640 - 1840, Paul Mellon Centre for Studies in British Art, Yale University Press, 2014, p. 262, fig. 249
View more details