Arthur Wellesley, 1st Duke of Wellington
Sir Francis Legatt Chantrey RA (Norton, nr. Sheffield 1781 – London 1841)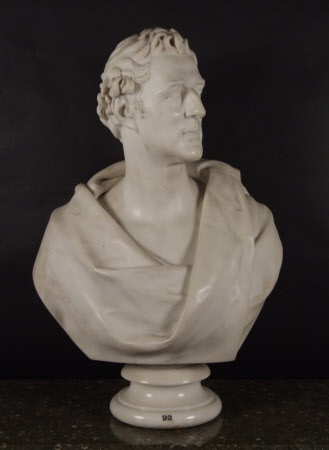 Category
Art / Sculpture
Date
1828 (signed and dated)
Materials
Marble
Measurements
775 x 530 x 295 mm
Place of origin
London
Order this image
Collection
Petworth House and Park, West Sussex (Accredited Museum)
NT 486396
Summary
Marble on marble socle, Arthur Wellesley, 1st Duke of Wellington (1769-1852), Sir Francis Chantrey (1781-1841), 1828, signed and dated 'CHANTREY SC.1828.' A portrait bust of the Duke of Wellington in Roman pose, head turned to one side and wearing a toga. Mounted on a turned marble socle.
Full description
As a patron of art, George Wyndham (1751-1837), 3rd Earl Egremont, is famous for fostering the landscape painter J.M.W Turner, however Turner was just one of a number of artists Wyndham supported. Sir Francis Chantrey was also a close friend, their association beginning in 1819 when Egremont made an incognito visit to the sculptor's studio in London. He asked whether Chantrey would consider modelling 'an ideal subject, or anything from poetry' rather portraiture which was the standard commission for most contemporary sculptors in England. Chantrey replied: 'Our patrons do not give commissions for such subjects, at least not to English artists; the only sculptor among us who has been employed on anything of the kind is Flaxman, who had a commission from Lord Egremont' (Jones 1849, p.198). Here Chantrey refers to John Flaxman's Pastoral Apollo (NT 486405), commissioned by Egremont in 1813-25, and his 1817-26 masterpiece, St Michael overcoming Satan (NT 486401). Egremont would continue to encourage Chantrey in the line of ideal subjects, challenging him at one point also to produce a 'figure of Satan, with something of his original brightness'. Chantrey would never rise to the challenge, which, according to the sculptor's biographer, 'teased' him 'more or less, as long as he lived'. The sculptor became a frequent guest at Petworth, regularly advising the Earl on his collection and projects for 'adorning' his home. Because of his repertoire, however, Chantrey's work at Petworth is limited to this bust of Wellington (1828) and a herm bust of Sir Joseph Banks (ordered in 1837; NT 486422). Of Wellington Chantrey is known to have produced seven, possibly eight, versions of an original bust commissioned in 1820 by the Earl of Liverpool (1770-1828), the Tory Prime Minister in whose Cabinet Wellington was serving (this is now in The Metropolitan Museum of Art, New York, 1994.295a). Other versions include those in the Royal Collection (1828, RCIN 35422; 1837, RCIN 2011) and Belton House (1838, NT 486396). Preliminary drawings are at the National Portrait Gallery, NPG 316a (127–130), the British Museum (1859,0528.87), Stratfield Saye and in the collection of David Bindman, London. Chantrey's original plaster model is in the Ashmolean Museum, Oxford. Alice Rylance-Watson January 2019
Provenance
Commissioned by George, 3rd Earl of Egremont in 1828 (bill payment of £157-10-0 paid in July 1831), thence by descent, until the death in 1952 of the 3rd Lord Leconfield, who had given Petworth to the National Trust in 1947, and whose nephew and heir, John Wyndham, 6th Lord Leconfield and 1st Lord Egremont (1920-72) arranged for the acceptance of the major portion of the collections at Petworth in lieu of death duties (the first ever such arrangement) in 1956 by H.M.Treasury.
Credit line
Petworth House, The Egremont Collection (acquired in lieu of tax by HM Treasury in 1957 and subsequently transferred to the National Trust)
Marks and inscriptions
CHANTREY SC.1828 92 (painted on front of socle)
Makers and roles
Sir Francis Legatt Chantrey RA (Norton, nr. Sheffield 1781 – London 1841), sculptor
Exhibition history
The Treasure Houses of Britain, National Gallery of Art, Washington, USA, 1985 - 1986, no.478
References
Yarrington, Lieberman, Potts and Barker 1991-1992: Alison Yarrington, Ilene D. Lieberman, Alex Potts and Malcolm Barker, 'An Edition of the Ledger of Sir Francis Chantrey R.A., at the Royal Academy, 1809-1841, The Volume of the Walpole Society, 1991-1992, pp.141-2 no.122b
View more details