Nymph and Faun
attributed to Titian (Pieve di Cadore 1488/90 - Venice 1576)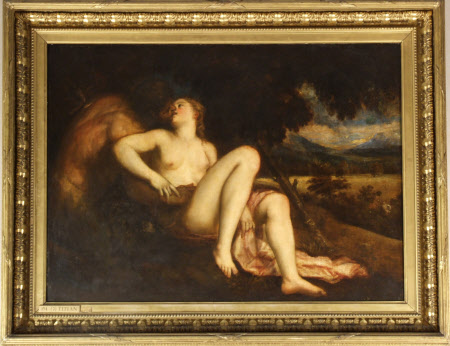 Category
Art / Oil paintings
Date
circa 1570
Materials
Oil on canvas
Measurements
965 x 1308 mm (38 x 51 1/2 in)
Place of origin
Italy
Order this image
Collection
Petworth House and Park, West Sussex (Accredited Museum)
NT 486193
Caption
This painting is very damaged and so a secure attribution to Titian is difficult to establish. It is unlikely that this represents a specific god, goddess, or episode. The characters are non-specific, and the picture is intended to evoke of the mood of a classical, pastoral idyll. This sort of scene was inspired by Ancient poets, such as Theocritus, but also contemporary writers who sought to emulate the Classics, such as Bembo. Scenes of this type became popular in sixteenth century Venice, and were initially found in manuscript illustrations and painted furniture decoration. They would have been displayed in the private cabinets of wealthy collectors, the nudity only excused by the pseudo-Classical subject-matter. The landscape in the background is certainly similar to those painted by Titian, notably the blue peaks of the mountains beyond, which evoke the landscape of his native town, Pieve di Cadore.
Summary
Oil painting on canvas, Nymph and Faun, attributed to Titian (Pieve di Cadore 1488/90 - Venice 1576), circa 1570. The full-length figure of a naked woman, seated on the ground, turned to the right, leaning back and kissing a kneeling Faun on the left. Landscape with a distant horizon on the right. Called Mars and Venus in the 1652 inventory of the 10th Earl of Northumberland, it has been suggested that it was free study (a version of which is at the Kunsthistorisches Museum, Vienna). It was given its present title by 1671.
Provenance
Acquired, perhaps via the artist Anthony van Dyck (1599 - 1641) at his posthumous sale, by Algernon Percy, 10th Earl of Northumberland (1602-1668) who also aquired Titian's Perseus and Andromeda (Wallace Collection) and The Vendramin Family (National Gallery); in the collection of the Earl of Northumberland at Suffolk House by 1652 as 'Mars and Venus' & 167 as 'Venus and Satyr'; in the collection of the Earl of Egremont at Egremont House, Piccadilly London by 1764 and thence by descent, until the death in 1952 of the 3rd Lord Leconfield, who had given Petworth to the National Trust in 1947, and whose nephew and heir, John Wyndham, 6th Lord Leconfield and 1st Lord Egremont (1920-72) arranged for the acceptance of the major portion of the collections at Petworth in lieu of death duties (the first ever such arrangement) in 1956 by H.M.Treasury.
Credit line
Petworth House, The Egremont Collection (acquired in lieu of tax by HM Treasury in 1957 and subsequently transferred to the National Trust)
Makers and roles
attributed to Titian (Pieve di Cadore 1488/90 - Venice 1576), artist
References
Tietze-Conrat, 1956: E.Tietze-Conrat, 'Archaeologia Tizianesca', Arte Veneta, 1956, pp.82-85, pl.88 Wethey 1971 H. Wethey, The Paintings of Titian. II. The Portraits, London 1971, "X-29. Nymph and Satyr. Plate 222. Remastered - Bosch to Bellotto: An Exhibition of Petworth's European Old Masters (exh cat) (Andrew Loukes) Petworth House, West Sussex, 9 January - 6 March 2016, cat. 22, p. 11-12
View more details