Mercury
attributed to John Nost I (Mechelen c.1655 – London 1710)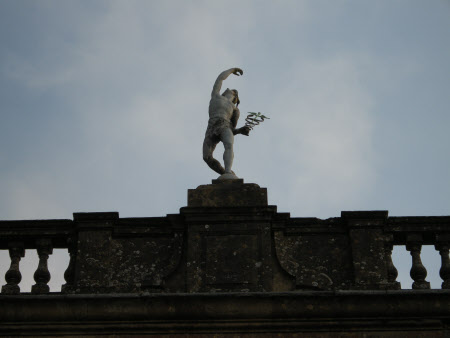 Category
Art / Sculpture
Date
circa 1700
Materials
Lead and bronze
Measurements
1940 mm (Height)
Place of origin
London
Order this image
Collection
Dyrham, Gloucestershire (Accredited Museum)
On show at
Not on show
NT 454563
Caption
Lead statue of Mercury, the messenger god and patron of skill, eloquence and commerce, and so appealing for a government and colonial administrator such as William Blathwayt. Believed made in London by John Nost in around 1700 when he was active supplying garden sculpture for William III and other courtiers, such as a similar Mercury made for Melbourne Hall, Derbyshire, between 1704-1710. The statue is based on the famous bronze figures by Giambologna, who created four versions from 1563.
Summary
Lead statue of Mercury attributed to John Nost I (d.1710), c. 1700, after Giambologna (Giovanni Bologna 1524-1608) Flying Mercury (Louvre). Mercury stands naked, apart from a winged helmet on his head and a piece of fabric tied around his waist which covers his genitals. He stands poised on his left leg upon a small dome, his right leg extended behind him as if in flight. His right arm is raised above his head and his face is turned upwards towards his hand. A feathered wing can be seen on each ankle. In his left hand he holds a 'caduceus', a winged staff with two entwined snakes, a symbolic object usually included in representations of Mercury. Remnants of gold leaf indicate that the statue was originally gilded in full, now painted grey. The statue was added to the West pediment of Dyrham Park by William Blathwayt (?1649-1717) during his extensive renovations to the house between 1692-1704.
Provenance
Put in place on the west side of the roof of Dyrham Park by William Blathwayt (?1649-1717) during his extensive remodeling of the house between 1692 and 1704. Purchased by the Ministry of Works through the National Land Fund and transferred to the National Trust for Dyrham Park in 1956.
Credit line
National Trust Collections (Dyrham Park, The Blathwayt Collection. Acquired by the Ministry of Works via the National Land Fund in 1956, and transferred to the National Trust)
Makers and roles
attributed to John Nost I (Mechelen c.1655 – London 1710), sculptor after Giambologna (Douai 1529 - Florence 1608), sculptor
References
National Trust (Great Britain), Dyrham Park., 1981, p. 31
View more details