Tea table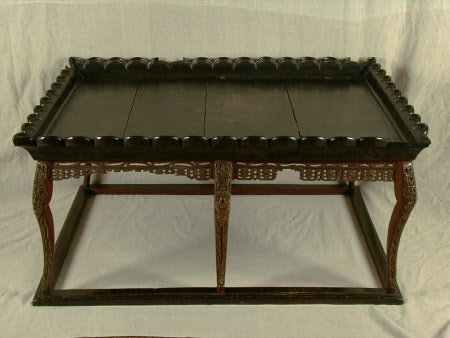 Category
Furniture
Date
1670 - 1699
Materials
Black and red lacquer
Measurements
height 595mm, width 1210mm, depth 840mm
Place of origin
Java
Order this image
Collection
Dyrham, Gloucestershire (Accredited Museum)
NT 452980
Summary
A red and black lacquer and gilded tea table, Javanese, late 17th century The rectangular tray top originally decorated with a landscape scene, now very worn and with a waved shaped raised edge. The tray held on a stand with a pierced carved gilded apron and six cabriole legs with blind carved detail and joined by a floor level edge stretcher. Some losses to the apron and edge of the tray.
Full description
Two similar pieces of Javanese lacquer furniture are at Ham House (NT nos. 1140033 and 1140034). See: De Bruijn, Emile 'Javanese tables in pride of place at Dyrham Park and Ham House' ABC Bulletin Spring 2013 pgs.11-13 'The 17th and the beginning of the 18th century. At this time the Dutch East India Company had a well-established global trade network, with the city of Batavia on Java as its Asian hub. Presumably these items of furniture were imported either officially or privately through the Dutch East India Company, although no evidence of this has yet come to light. In the case of Dyrham Park there was certainly a strong Dutch connection. William Blathwayt (?1649-1717), the builder of the house, had spent extended periods in Holland, spoke Dutch, was familiar with Dutch painting and collected Delft blue and white glazed earthenware. This 'hollandophile' outlook, as well as his efficiency as a civil servant and minister, made Blathwayt useful to the Dutch King William III, who kept him on as Secretary at War following the Glorious Revolution in 1688. In William's employ Blathwayt continued to make visits to Holland, where he had his own apartment in the palace of Het Loo.' The Ham House table has been raised on a European barley-twisted and ball-footed base. Presumably it was felt that these tables, originally made in the context of the floor-sitting culture of Java, needed to be heightened to fit in with the habits of chair-sitting Europeans. A raised Javanese lacquer table can also be seen in a painting depicting a family at tea dated to about1680 and attributed to Roelof Koets II (c.1650-1725) which came up at auction in Amsterdam in 2004; Sotheby's 02-11-04 lot no.58. Two tables, also raised on European stands, which are very similar to the Ham example survive at Schloß Charlottenburg in Berlin, where they are currently placed in a bedchamber (inv. nos. SPSG IV 2843 and 2844).7 Little is known about how and for whom they were originally acquired, but they would seem to date from the time of Friedrich Hohenzollern, Elector of Brandenburg and King in Prussia (1657-1713), and his second wife Sophie Charlotte von Hannover (1668-1705). The palace was originally built as a relatively small country retreat for Sophie Charlotte in 1695-99.
Provenance
Listed as 'a large tea table' in the Balcony Room in the 1703 Dyrham inventory. Indigenous collection purchased by Ministry of Works and given to Dyrham Park in 1961.
References
Bruijn (de) 2013, Emile de Bruijn, "Javanese tables in pride of place at Dyrham Park and Ham House", ABC bulletin 27, Spring 2013, pp.11-13. Rowell 2013 Christopher Rowell (ed.), Ham House 400 Years of Collecting and Patronage, Yale, 2013, p.124
View more details