William Augustus Bowles (1763-1805), as a Native American (Creek) Indian Chief
Thomas Hardy (1757–1804)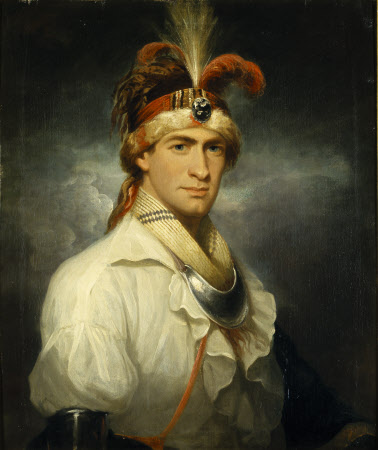 Category
Art / Oil paintings
Date
1790 (sitter in England) - 16 Mar 1791 (mezzotint)
Materials
Oil on canvas
Measurements
749 x 622 mm (29 1/2 x 24 1/2 in)
Place of origin
England
Order this image
Collection
Upton House, Warwickshire (Accredited Museum)
On show at
Upton House, Midlands, National Trust
NT 446698
Caption
Bowles was born in Maryland in 1763. He joined the British forces in America at an early age, but was dismissed from his post. He took refuge with the Creek Indians, learned their language, married a chief's daughter, and lived the life of an adventurer, known as Estajoca. The unorthodox and romantic dress he wears in the portrait is illustrative of his unconventional life. In 1781 he was reinstated by the British forces, and commanded the Creeks in General Arthur Campbell's defence of Pensacola. Later, in 1790, he came to England, where he was to promote a mad-cap scheme for the invasion of Mexico. He was twice captured by the Spanish: the first time he escaped to Sierra Leone, but the second time, in 1799, was fatal. He was imprisoned in the Moro Castle at Havana and died there in 1805.
Summary
Oil painting on canvas, Augustus William Bowles (1763-1805), as a Native American (Creek) Indian Chief by Thomas Hardy (1757- c.1804), 1790. A half-length portrait, body turned to the right, left arm slightly extended holding a satchel and a cloak over it, head facing; he wears a racoon skin cap with jewel and aigrette feathers and a jewel over the forehead, an open white shirt with Native American elbow bracelet, and a short head scarf/belt (wampum) around his neck over which hangs a plain gorget.
Provenance
Anonymous sale, Christie's, 19 July 1946, lot 110, as the "Portrait of a Red Indian Chief", by Beechey: bought by 'Barnes' for 125gns (see Lievens's Priest, the Mill said to be by Rembrandt, & the copy of Duyster: this appears to have been the name that Christie's clerk bid for Lord Bearsted under); 2nd Viscount Beartsted after 1946; given with Upton House to the National Trust by Walter Samuel, 2nd Viscount Bearsted (1882 – 1948), in 1948, shortly before his death
Credit line
Upton House, The Bearsted Collection (National Trust)
Makers and roles
Thomas Hardy (1757–1804), artist previously catalogued as attributed to George Romney (Dalton-in-Furness 1734 – Kendal 1802), artist previously catalogued as attributed to Sir William Beechey RA (Burford 1753 – Hampstead 1839), artist
References
Honour 1995 Hugh Honour, The New Golden Land: European Images of America from the Discoveries to the Present Time, New York, 1995, p.134 & fig.128 The European Vision of America, The Cleveland Museum of Art, &c. (Hugh Honour), 1976-77, under no.187 (the Met's example of Grozer's mezzotint).
View more details