The Macdonald Children
Sir Henry Raeburn, RA (Stockbridge 1756 – Edinburgh 1823)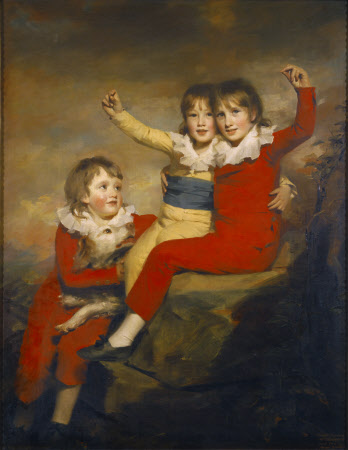 Category
Art / Oil paintings
Date
circa 1798 - 1800
Materials
Oil on canvas
Measurements
1431 x 1137 mm (56 1/2 x 44 3/4 in)
Place of origin
Scotland
Order this image
Collection
Upton House, Warwickshire (Accredited Museum)
On show at
Upton House, Midlands, National Trust
NT 446695
Caption
The eldest of the Macdonald children, Reginald George (known as Ranald), is shown sitting on a rock with his brother, Robert. The youngest brother, Donald, is shown standing by their side. It has been suggested that they are enacting a 'childish parody of Highland dance.' All the children are wearing the fashionable 'skeleton' suits that had become popular in the 1780s. They were called as such because of their close fit and because the lower and upper halves connected together with buttons. Reginald (1788-1873) succeeded as 19th Chief of Clanranald and 7th of Benbecula at the age of five. Later in his life, he was forced to sell all his estates because of financial difficulties.
Summary
Oil painting on canvas, The Macdonald Children: Reginald George Macdonald later 19th Chief of Clanranald and 7th Chief of Benbecula (1788-1873) with his brothers Robert Macdonald (d.1864) and Donald Macdonald (d.1837) by Sir Henry Raeburn RA (Stockbridge 1756 – Edinburgh 1823), inscribed Sir Henry Raeburn RSA pinxt (on left) and also inscribed: Ranald Macdonald of Clanranald and two younger brothers (on right), circa 1800. The eldest, Reginald George, sits on a rock with his brother Robert, each with an arm about the other's waist, in the act of snapping their fingers over their heads; the former dressed in scarlet with white collar and stockings, the latter wearing a lemon-coloured dress, wide blue sash and white collar; the yougest boy, Donald, stands by their side, wearing scarlet and caressing a dog.
Provenance
Sir Cuthbert Quilter, 1st Bt (1841–1911), of Bawdsey Hall, Suffolk; F. E. Hills in 1895; his sale, Christie's, 2 July 1920, lot 39; bought by Davis on behalf of Sir Marcus Samuel, 1st Viscount Bearsted (1853–1927); given to the National Trust by his eldest son, Walter Samuel, 2nd Viscount Bearsted (1882–1948) in 1948
Credit line
Upton House, The Bearsted Collection (National Trust)
Marks and inscriptions
On the right: Ranald Macdonald of Clanranald and two younger brothers On the left: Sir Henry Raeburn, R. S. A., pinxt.
Makers and roles
Sir Henry Raeburn, RA (Stockbridge 1756 – Edinburgh 1823), artist
References
Armstrong 1901 Sir Walter Armstrong, Sir Henry Raeburn, with an introduction by R. A. M. Stevenson, and a biographical and descriptive catalogue by J. M. Caw, New York, 1901, pp.90, 91 & 107, and pl.XXVII Pinnington 1904 Edward Pinnington, Sir Henry Raeburn, RA, London, 1904, p.278 Caw, 1909: Sir James Lewis Caw, Masterpieces in Colour: Raeburn: London, 1909, reproduced p.73 Greig 1911 James Greig, Sir Henry Raeburn, R.A. His Life and Works With a Catalogue of his Pictures, London, 1911, pp.XXXIV & 51, reproduced p.XX Rimbault Dibdin, E. Raeburn / 1925., p.139 Pope-Hennessy 1939 John Pope-Hennessy, The Royal Academy Exhibition of Scottish Art, The Burlington Magazine for Connoisseurs, vol.LXXIV, no.431, February 1939, pp.66-68 and 71, p.68 Raeburn bi-centenary exhibition, National Gallery of Scotland, Edinburgh, Arts Council, 1956, pp.23-4 Gore 1964 F. St John Gore, Upton House, The Bearsted Collection: Pictures National Trust, 1964, p.24, no.63 & pl.Ib Irwin 1975 David & Francina Irwin, Scottish Painters at Home and Abroad 1700-1900, London, 1975, p.159 Upton House, Warwickshire, [National Trust; Gervase Jackson-Stops], 1980, reprinted 1982, revised 1985, reprinted 1987 & 1988, p.16 Upton House, Warwickshire, 1996 [National Trust; Simon Murray], 1990, revised 1996, p.32, illus. p.31 (1990 edition); p.32, illus. p.32 (later editions) Mackie 1993 David Mackie, Raeburn: Life and Art, unpublished PhD thesis, Edinburgh University, 1993, pp.605-7 Upton House, Warwickshire, 2003: [National Trust; Oliver Garnett], 2003, p.21, illus. p.22
View more details