William Pitt the Younger
Joseph Nollekens, RA (London 1737 – London 1823)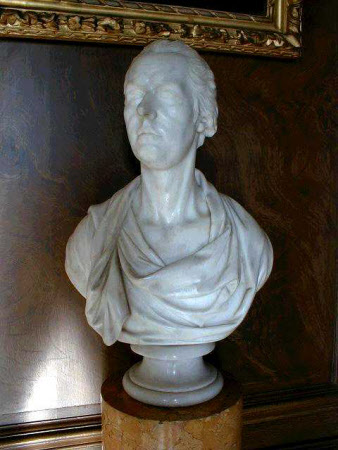 Category
Art / Sculpture
Date
1810 (signed and dated)
Materials
Carrara marble on marble socle
Measurements
700 x 420 x 210 mm
Place of origin
London
Order this image
Collection
Belton House, Lincolnshire (Accredited Museum)
NT 436765
Summary
Carrara marble on turned marble socle, The Right Hon. William Pitt the Younger MP (1759-1806), Joseph Nollekens, RA (1737–1823), signed and dated 'Nollekens Ft 1810'. A portrait bust of William Pitt, head turned to proper right, wearing a cloak draped over over proper right shoulder.
Full description
William Pitt the Younger was Tory prime minister of Great Britain during the French Revolutionary and Napoleonic Wars. He is remembered for being Britain's youngest prime minister, gaining tenure in 1783 at the age of 24. He held the post for a second time from 1804 to his death in 1806. Nollekens' well-known bust is derived from Pitt's death mask, cast by the sculptor himself on the prime minister's deathbed, and also from a portrait by John Hoppner (see copy at National Portrait Gallery, London, NPG 697). Nollekens was obliged to use secondary sources for the bust because Pitt never granted the sculptor a sitting. Allegedly he had been so outraged by Nollekens' direct petition to the King for an inscription to finish his Three Captains monument at Westminster Abbey (the sculptor had been waiting fourteen years) that Pitt vowed never to sit for him or to recommend him (Smith 1829, I, p.370). Within a year of the prime minister's death, however, Nollekens had taken 52 orders for marble busts of Pitt (Farington, VIII, pp.3059-60), which eventually rose to 74 orders, each priced at 120 guineas (Smith 1829, II, p.43). There are several versions in museums worldwide, including those at the Royal Collection (RCIN 35429), the Victoria and Albert Museum (A.11-1925), and the Metropolitan Museum of Art, New York (1974.209). A letter from Nollekens to John Cust, 1st Earl Brownlow (1779-1853) records that the Belton version was sent from London 'by the Grantham Waggon' to Belton on 8 August, 1810 (Brownlow Papers, Lincolnshire Archives, BNLW 2/2/3/4). The Annual Account for 1810 shows that it was paid for along with Nollekens' 'Bust of the Late Lord Brownlow' (NT 436762). In the same year Cust also ordered a portrait bust of himself (NT 436768). Nollekens sold 600 casts of the Pitt bust, at 6 guineas each. They were often marketed alongside copies of his 1801 bust of Charles James Fox (1749-1806), Pitt's Whig rival: the two becoming 'stock pieces' in his repertoire (see, for example, the pair at Ickworth: NT 852213.1 and NT 852214.1). The bust's success went on to win Nollekens a high-profile commission for a statue of Pitt erected in 1812 at the Senate House, Cambridge, for which the sculptor was paid 3000 guineas (Williams 1831, I, p 280). In the years to come Nollekens' bust was often drawn on for likenesses of Pitt, from Sir Thomas Lawrence's celebrated portrait (Royal Collection Trust, RCIN 400645) to commemorative medals and cameos. Alice Rylance-Watson October 2018
Provenance
Acquired 1810 by John Cust, 1st Earl Brownlow (1779-1853); purchased with a grant from the National Heritage Memorial Fund (NHMF) from Edward John Peregrine Cust, 7th Baron Brownlow, C. St J. (b.1936) in 1984.
Credit line
Belton House, The Brownlow Collection (acquired with the help of the National Heritage Memorial Fund by the National Trust in 1994)
Marks and inscriptions
Truncation, rear: Nollekens Ft 1810
Makers and roles
Joseph Nollekens, RA (London 1737 – London 1823), sculptor
References
Smith 1829: John Thomas Smith, Nollekens and His Times[...], Second Edition, In Two Volumes, London 1829, vol.I, p.370, vol.II, p.43 Farington 1922-8: James Greig (ed.), Joseph Farington, The Farington Diary by Joseph Farington, R.A., London [1922-28], vol.VIII, pp.3059-60 Williams 1831, D.E. Williams, The Life and Correspondence of Sir Thomas Lawrence Kt [...], In Two Volumes, London 1831, vol.I, p.280
View more details