Lady Adelaide Chetwynd-Talbot, Countess Brownlow (1844-1917)
Sir Frederic Leighton, Lord Leighton PRA (Scarborough 1830 – Kensington 1896)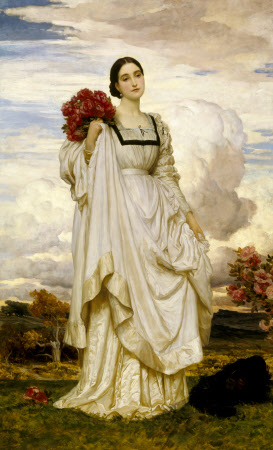 Caption
Leighton was influenced by the purely decorative ideals of the Aesthetic Movement which swept through Europe during the late nineteenth century. In this portrait, a youthful Lady Adelaide is disengaged from the viewer as if in a reverie. Her billowing, white Aesthetic dress, in a Renaissance style, sets up a visual and sensual scheme with the voluminous white clouds in the sky behind her.
Summary
Oil painting on canvas, Lady Adelaide Chetwynd-Talbot, Countess Brownlow (1844-1917) by Sir Frederic Leighton, Lord Leighton PRA (Scarborough 1830 – Kensington 1896), circa 1879/80. A full-length portrait of a young woman, standing, turned slightly to the left, gazing to the left, wearing a long white dress and holding a bouquet of flowers (red roses) to her right shoulder in her right hand. Formal parkland setting, at Ashridge in Hertfordshire, occupying the lower part of the painting but the majority of the background is taken up with large white clouds in a blue sky. Painted in the garden of Ashridge Park Hall. Adelaide was the youngest of three daughtesr of Henry John Chetwynd-Talbot, 18th Earl of Shrewsbury and Lady Sarah Elizabeth Beresford. She married Adelbert Wellington Brownlow Cust, 3rd Earl Brownlow (1844-1921), son of John Hume Egerton, Viscount Alford and Lady Marianne Margaret Compton, on 22 June 1868 at Ford Castle, Northumberland. They lived at Belton and Ashridge Park, Herefordshire, She died at Carlton Terrace, London, England, after a long illness, without issue. Her sisters became Countess of Pembroke and Countess Cowper respectively.
Full description
Various descriptions of Lady Brownlow's appearance have survived; one, from Mrs Gladstone in 1875 of the Countess apparently wearing the dress seen in this painting: '...at teatime today in white embroidered with gold regular toga sort of thing, and tonight with red beads, white handkerchief on her head. Oh lovely." In 1893 Lady Paget described Lady Brownlow as the 'most beautiful of three sisters, every one of them the salt of the earth. She was seated between Lady Lothian and Lady Pembroke, the former in trailing black and the latter in trailing white draperies. Lady Brownlow was in sober grey of the same make, and they looked like the Three Fates. They all asked questions in high-pitched voices." Lord and Lady Brownlow were considerable patrons of the arts; he was a trustee of the National Gallery and was responsible for commissioning George Frederic Watts to make a memorial statue to Tennyson in Lincoln; together they were patrons of the Home Arts and Industries Association, with which Mr and Mrs G F Watts, John Ruskin, William Morris and William de Morgan were also involved, and the object of which was to provide artistic work for the poor and disadvantaged. It was in one of their houses that Lord Charles Beresford coined the sobriquet 'The Souls', for the intellectual and aristocratic coterie amongst which they moved. (Both of these accounts of Lady Brownlow are quoted from Jane Abdy and Charlotte Gere's The Souls, 1984).
Provenance
Commissioned by the sitter's husband, Adelbert, 3rd and last Earl Brownlow (1844- 1921), 1879; thence by descent; acquired by National Trust with Belton House in 1984
Credit line
Belton House, The Brownlow Collection (acquired with the help of the National Heritage Memorial Fund by the National Trust in 1984)
Makers and roles
Sir Frederic Leighton, Lord Leighton PRA (Scarborough 1830 – Kensington 1896), artist
Exhibition history
The Cult of Beauty: Aesthetic Movement in Britain, Musée d'Orsay, Paris, 2011 - 2012 The Cult of Beauty: Aesthetic Movement in Britain, Legion of Honor, Fine Arts Museum of San Francisco, 2011 - 2012
References
Liberating Fashion: Aesthetic Dress in Victorian Portraits (ed. Rhian Addison and Hilary Underwood), Watts Gallery, 16 February- 7 June 2015, fig. 24, p. 37
View more details