Chinese wallpaper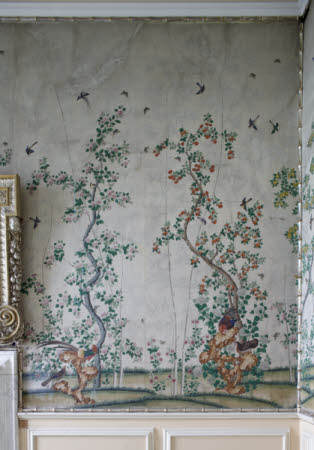 Category
Architecture / Features & Decoration
Date
circa 1830 - circa 1860
Materials
Watercolour on paper
Place of origin
Guangzhou
Order this image
Collection
Belton House, Lincolnshire (Accredited Museum)
NT 434774
Summary
Chinese wallpaper depicting flowering trees and plants, bamboo and rocks, with various birds, against a white background, painted in watercolours on paper, in the Bamboo Bedroom.
Full description
The bamboo is white, which either indicates that it was painted with a pigment that has now faded, or that it was a deliberate stylistic feature. In at least one place a Chinese numeral is visible at the bottom of the sheet (probably used by the painters as an aid when lining up the scenery). The wallpaper is similar in style to the wallpapers in the State Bedroom at Penrhyn Castle (NT 1422110), the Chinese Bedroom at Belton House (NT 433859), the Chinese Room at Ickworth (NT 856001) and the Crimson Bedroom at Nostell Priory (NT 959652) – they may all have been made by the same workshop. The wallpaper is framed by a silvered faux bamboo fillet. See Emile de Bruijn, Andrew Bush and Helen Clifford, Chinese Wallpaper in National Trust Houses, Swindon, 2014, cat. 4, pp. 16–7; Emile de Bruijn, Chinese Wallpaper in Britain and Ireland, London, Philip Wilson Publishers in collaboration with the National Trust, 2017, pp. 198–201 and 217–8.
Provenance
The wallpaper appears to have been hung in 1861 by the estate foreman, Mr Lowe, under the supervision of Marian, Viscountess Alford (1817–88). The silvering of the fillet appears to date from about 1930. Purchased by the National Trust as part of the contents of Belton House from Edward Cust, 7th Earl Brownlow, with the help of a grant from the National Heritage Memorial Fund, 1984.
View more details