Queen Victoria at her spinning wheel
Sir Joseph Edgar Boehm, RA (Vienna 1834 - London 1890)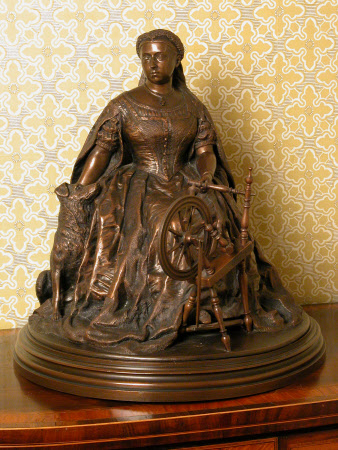 Category
Art / Sculpture
Date
1869 (inscribed)
Materials
Bronze
Measurements
420 mm (Height)
Place of origin
Isle of Wight
Order this image
Collection
Hughenden, Buckinghamshire (Accredited Museum)
NT 428774
Summary
Bronze on circular bronze base, Queen Victoria (1819 - 1901) at her spinning wheel, Sir Joseph Edgar Boehm RA (Vienna 1834 - London 1890), 1869, signed and dated on back of chair 'Boehm fecit | Osborne 1869'. A domestic portrayal of Queen Victoria at a spinning wheel, with her collie 'Sharrp' seated at her proper right side. She wears a crown, a widow's cap, a necklace with a pendant cross, a bodice and long dress and looks out to proper right. The Queen is seated in an upholstered armchair surmounted by a tiny crown.
Full description
The original bronze statuette after which this copy was made was commissioned by Queen Victoria in 1869, at her Isle of Wight residence, Osborne House (Royal Collection Trust, RCIN 2021). Numerous copies were subsequently ordered, produced in bronze and silver plate by the Birmingham foundry Elkington & Co. and in plaster (see RCIN 15980, 26321, 34132). This bronze copy was presented by Victoria to Benjamin Disraeli (1804-81) at his final audience on relinquishing office in 1880. Boehm is first recorded in Victoria's journal as having visited Osborne House on 21 January 1869 to model 'Andrew', the Princess Louise's favourite horse. Developing a friendly acquaintance with the Queen, in part owed to their mutual love of horses, Boehm then began the model for this statuette, just a day later. By mid-February the bronze had been cast. The Queen was delighted with Boehm's flattering 'home-spun' depiction, and promptly commissioned a further thirteen works from the sculptor in 1869 alone, the most prestigious being a full-size marble statue with Sharp at her side installed in the Grand Vestibule at Windsor Castle (RCIN 35336). This began Boehm's twenty-two year association with the Royal Family, resulting in a continuous stream of commissions until the sculptor's death in 1890. Alice Rylance-Watson January 2019
Provenance
Presented by Queen Victoria to Disraeli at his final audience on relinquishing office in 1880.
Credit line
Hughenden Manor, The Disraeli Collection (The National Trust)
Marks and inscriptions
Rear, on the back of the Queen's chair: BOEHM, Osborne 1869
Makers and roles
Sir Joseph Edgar Boehm, RA (Vienna 1834 - London 1890), sculptor
References
Stocker 1988: Mark Stocker, Royalist and Realist: The Life and Work of Sir Joseph Edgar Boehm, Michigan 1988, pp.79-114
View more details