Fan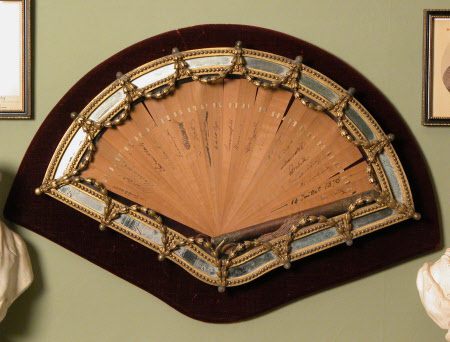 Category
Objets de vertu
Date
13 Jul 1878
Materials
Cherrywood, Gilt, Glass, Velvet
Measurements
14 x 22 in
Order this image
Collection
Hughenden, Buckinghamshire (Accredited Museum)
NT 428696
Caption
This cherrywood fan was presented to Benjamin Disraeli, Earl of Beaconsfield at the conclusion of the Congress of Berlin. In June of 1878, the German Chancellor, Otto van Bismarck, drew the leaders of Europe together to discuss ways to curb Russian aggression towards the Ottoman Empire in the eastern Mediterranean. Queen Victoria expressed her dismay at Disraeli travelling so far, but for the elder statesman, the lure of performing what might perhaps be his final diplomatic role was too strong. Despite his ailing health, Disraeli rose to this most crucial occasion, securing concession after concession from the Russians. As the Congress drew to a close in mid-July, the international prestige of Disraeli and his British administration reached new heights. He wrote to the queen that 'he had assisted in bringing about a settlement which will probably secure the peace of Europe for a long time'. So delighted with the resolution, the Ottoman delegate, Mahomet Ali, presented his fan to Disraeli as a keepsake, but only after the other Congress members each signed a blade of the fan. Today, the fan reminds us that lasting resolutions are as elusive now as they were nearly 140 years ago.
Summary
Cherrywood fan in gilt and mirror fan frame edged with beading and swags. Glazed. On red velvet mount. The fan was taken to the Congress of Berlin by Mahomet Ali, signed by all members of the Congress, and presented by Sir Alexander R. Murray, K.C.I.E., C.B.E.
Provenance
Presented by Sir Alexander Murray.
View more details