The Grasmere Rushbearing
Frank Bramley, RA (Sibsey 1857 – Chalfort Hill 1915)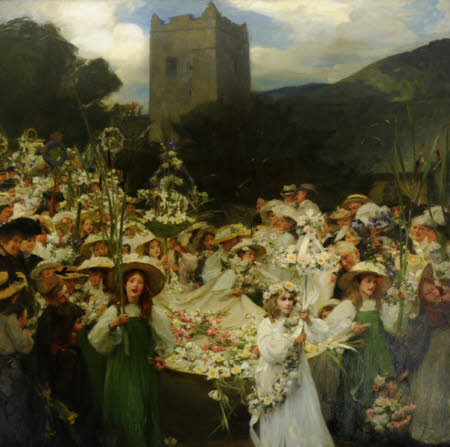 Category
Art / Oil paintings
Date
1901 - 1905 (signed and dated) (exh RA)
Materials
Oil on canvas
Measurements
3048 x 2896 mm (120 x 114 in)
Place of origin
Grasmere (England)
Order this image
Collection
Grasmere, Cumbria
NT 419408
Caption
Rushbearing is an annual festival that started in mediaeval times when parish churches still had earthen floors, originally for the purposes of cleanliness and insulation. It largely died out when flagstones were introduced but the ceremony was revived in the 19th century in many villages throughout England. It still takes place in Grasmere in the Lake District on or near to St Oswald's Day (5th August). New rushes, or 'sweet flag' and garlands of flowers, on a cart or poles, are brought by the young villagers in a procession, accompanied by music and dancing. William Wordsworth, the Romantic poet, who lived in Grasmere between 1799 and 1813, was particularly fond of the event. Frank Bramley, an artist of the Newlyn School, settled in the village in 1900 and the following year began to paint this large picture for which all 57 characters sat for their portraits. It was exhibited at the Royal Academy in London in 1905 to great acclaim. It was purchased from the artist with local donations in 1913 and is the first painting acquired by the National Trust at a time when it did not own buildings with collections.
Summary
Oil painting on canvas, The Grasmere Rushbearing by Frank Bramley, RA (Sibsey 1857 – Chalfort Hill 1915), signed and dated, bottom right, in black: Frank Bramley 1905.
Full description
The artist is probably best known for 'A Hopeless Dawn' (1888, Tate Britain), the title of which comes from another local resident, John Ruskin's 'The Harbours of England'. He settled at Tongue Ghyll in Grasmere with his wife, also an artist, Katherine Graham in 1900. Previously he had attended the Lincoln School of Art from 1873 to 1878. Between 1884 and 1895 he joined the artists' colony in Newlyn, Cornwall after studying with Charles Verlat at the Koninklijke Academie voor Schone Kunsten in Antwerp and a period in Venice. He exhibited at the RA between 1884 and 1912 and became an RA in 1911. His paintings are often imbued with an emotional and narrative content that particularly appealed to the public of his time and with his recognisable brushwork applied in thick and colourful paint The Grasmere Rushbearing, a huge 10 x 9 ½ foot painting, still in the Village Hall in Grasmere, is a perfect example. The painting was begun in 1901 and signed and dated 1905 when it was also exhibited at the Royal Academy. It depicts the traditional local ceremony and procession of villagers to St Oswald's Church which still continues to this day on the saint's day, August 5, in Grasmere. In the background is the 'Lion and the Lamb' and the square tower of St Oswald's Church. In the foreground is the rush sheet which occupies a prominent place in the rushbearing procession. Each individual sat for their portrait, totalling 57. The queen is Rosie Baisbrown. The maids of honour are Irene Wilson, Nellie Baisbrown, Nelly Sanderson, Nora Grisedale, Mable Satterthwaite and Bessie Langhorn. The oval faces and auburn hair the Wilsons show the typical characteristics of dales children. All the children are depicted with their mouths open singing the Rushbearer's Hymn. The shaggy head of old Tom Harrison represents one of the old yeoman addressing a remark to the children, there is the grey-haired old Miss Cannon along with Bishop Ware, Mrs Jefferies, Mr Sam Grisedale amongst others. Many of their descendants still live in the Grasmere. It was left behind in the village in January 1913 by the artist who needed to leave his home due to ill health. He offered his painting (estimated at £2,000 even then) to a committee for £500, as long as it was to be held in trust. Canon Hardwicke Drummond Rawnsley (1851 - 1920), one of the founders of the National Trust who moved to Allan Bank (NT), Grasmere in 1915 and who wrote the hymns: "The hymn for St Oswald", "The hymn for the Rushbearers" and "The hymn for the Rushbearing" was nominted in charge of the committee. The appeal was launched on 30th January 1913. Within three weeks the money was raised; 215 subscribers came forward and contributed to the fund, with the initiation of Miss Badley and asked the National Trust, with a recently granted private Act of Parliament (1907), to protect it from being alienated from Grasmere. Sir Robert Hunter, the Trust's chairman at the time and one of the original three founders, agreed and a local committee, The Rector, Mr Murray Wilson, Miss Eleanor Simpson (later Rawnsley's second wife whom she married in 1918), Miss Margaret Sumner and Canon Rawnsley were nominated to be in charge of its care. As he explained in his unveiling speech in April 1913: 'The next question was as to the trustees in whose hands the picture should be placed. A trust as you know is a very difficult matter to arrange, for unfortunately trustees die. But it chanced there was a trust in existence that is humanly speaking immortal, that cannot be moribund, and this trust has behind it an Act of Parliament, and its powers are regulated by that Act. It is a trust well-known in this country and called the National Trust. Many of the larger subscribers to the pictures expressed the hope that the National Trust would see its way to hold the picture so as to prevent its ever being alienated from Grasmere.' The National Trust for Places of Historic Interest or Natural Beauty was founded in January 1895, by three Victorian philanthropists: Miss Octavia Hill (1838- 1912), Sir Robert Hunter (1844 - 1913) and Canon Hardwicke Rawnsley (1851 - 1920) whose concern was first and foremost for the rural areas which they felt were being eroded by increasing industrialisation and urbanisation and their vision, very much in keeping with the ideals of John Ruskin and William Morris, encompassing social values and spiritual well-being aimed to provide: 'everlasting delight to the people of these islands'. It was not until the new National Trust Act of 1937, that the Trust's purposes were also extended to: 'the preservation of furniture, pictures and chattels of any description having national and historic or artistic interest' and the Trust's collections of paintings began to be acquired with country houses. Meanwhile, nearly a quarter of a century earlier, in a small village in the heart of the Lake District, the Trust had acquired its first ever painting and by a contemporary artist Key of painting on inside of wooden cabinet (PCF photo): 1.Rosie Baisbrown, 2.Nelly Baisbrown, 3.Eva Wilson, 4.Willie Wilson, 5.Irene Wilson, 6.Nelly Sanderson, 7.Bessie Longhorn, 8.Bessie Wilson, 9.Willie Wilson, 10.Ada Satterthwaite, 11.John Sattertwaite, 12.Kathleen Peel, 13.George Hall, 14.Miss Richardson, 15.Mrs Jefferies, 16.Violet Hayes, 17.Helen Read, 18.Lily Peel, 19.M. J. Dixon, 20.Dorothy Kendal, 21.Emily Smith, 22.Daisy Hayes, 23.Nelly Thompson, 24.Gladys Wilson, 25.Mary Craghill, 26.Mabel Satterthwaite, 27.Nora Grisedale, 28.Eugenie Peel, 29.Miss Jean Graham, 30.Mrs Graham, 31.Polly Green, 32.Tom Harrison, 33.Mrs Green, 34.Mrs Bramley, 35.Venus, 36.Bishop Ware, 37.Mr Garside, 38. Mrs Garside, 39.Tom Sanderson,40. Mr Graham, 41.Lotty Baldry, 42. Bessie Baldry, 43.Mr Roby, 44.Miss Cannon, 45.Miss Eleanor Simpson, 46.Mrs Jacob Gillbanks, 47.Mrs Hayes, 48.Mr Hayes, 49.Mrs Simpson, 50.Reverend H. Fletcher, 51.Dr Johnston, 52.Reverend Jennings, 53.George Wilson, 54.Arthur Baisbrown, 55.Mr Fuller, 56.J Hodgson (tailor) and 57.Gladys Wilson. See also Primrose Day 1885, Tate Britain, T03962 by the same artist
Provenance
Bought from the artist, after raising a public subscription, and presented to the village of Grasmere whilst in the care of the National Trust by Canon Hardwicke Rawnsley (1851-1920), one of the three founders of the Trust, in April 1913
Marks and inscriptions
On stretcher and on canvas strips added at edges: Frank Bramley // Cajon No. 31 Ingleses Label on stretcher: LIVERPOOL / 1905 / DICKSEE & Co.
Makers and roles
Frank Bramley, RA (Sibsey 1857 – Chalfort Hill 1915), artist
References
Adams 2011 Tania Adams, Painting in Focus, The PCF Newsletter, July 2011, http://www.artuk.org/discover/stories/artwork-in-focus-the-grasmere-rushbearing
View more details