Landscape with Birds
probably Aubusson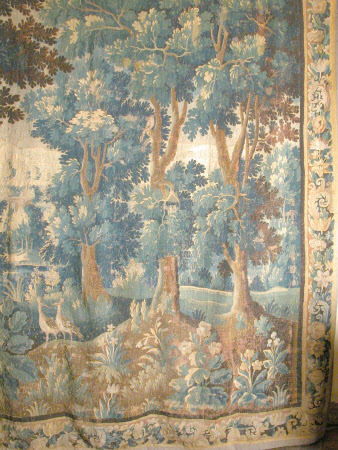 Category
Tapestries
Date
circa 1680 - circa 1720
Materials
Tapestry, wool and silk, 4 warps per cm
Measurements
2896 x 2870 mm
Order this image
Collection
Baddesley Clinton, Warwickshire (Accredited Museum)
NT 343391
Summary
Tapestry, wool and silk, 4 warps per cm, Landscape with Birds, probably Aubusson, c. 1680-1720. A landscape tapestry with two small birds in the centre foreground. Three large trees take up the centre and right hand side of the tapestry, their thick trunks and leafy boughs filling the entire height of the scene, while to the left there is a distant landscape view with small buildings dotted among the hills. In the foreground a variety of flowers and plants grow, and two wading birds with long beaks and crests on their heads stand near the base of the left-hand tree, looking at one another. Two smaller birds are perched in the trees. The four borders are composed of scrolling acanthus leaves and various leaves and flowers on a light brown ground, with acanthus-leaf decorations at the corners. There is a double band of dark brown and yellow around the inside of the border, and around the outside a yellow band followed by galloon that has now faded to grey but was originally light blue.
Full description
The foreground plants, large background trees, distant buildings and the pair of foreground birds are all typical features of verdure tapestries woven in both France and the Netherlands in the seventeenth and early eighteenth centuries. This tapestry can be attributed to the French weaving centre of Aubusson on the basis of the style in which it is executed, and the design of the border. Similar patterns of flowers and scrolling acanthus leaves are found on a number of Aubusson tapestries, for example a group of verdures in Wawel Royal Castle, Cracow (Hennel-Bernasikowa 2000, cat. nos. 45, 53, 54), and a number of other examples in French museums and private collections (Chevalier, Chevalier and Bertrand, pp. 54-56). In addition the Aubusson workshops often wove their galloons in blue (see for example the signed Aubusson tapestry in the Great Hall at Baddesley Clinton, inv. 343385). (Helen Wyld, 2011)
Provenance
At Baddesley Clinton since at least 1940; bought from Thomas Weaving Ferrers with the house by the National Land Fund in 1979 and transferred to the National Trust.
Credit line
Baddesley Clinton, The Ferrers Collection (The National Trust)
Makers and roles
probably Aubusson, workshop
References
Chevalier, Chevalier and Bertrand, 1988: Dominique Chevalier, Pierre Chevalier and Pascal-François Bertrand, Les Tapisseries d'Aubusson et de Felletin 1457-1791, Paris 1988 Hennel-Bernasikowa, 2000: Maria Hennel-Bernasikowa, Gobeliny XV-XIX wieku w Zamku Królewskim na Wawelu (Tapestries at Wawel Royal Castle 15th-19th centuries), Cracow 2000
View more details