Y Beibl Cyssegr-lan.. Sef yr Hen Destament, a'r Newydd
William Morgan (1545 - 1604) Bishop of Llandaff and St Asaph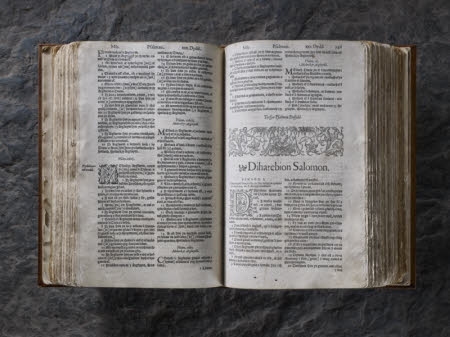 Category
Books
Date
1588
Materials
Folio volume, letterpress on paper, bound in blind panelled boards.
Measurements
29.6 x 20 x 8.8 cm
Place of origin
London
Order this image
Collection
Chirk Castle, Wrexham (Accredited Museum)
NT 3204929
Caption
This Welsh translation of the Bible was a change-making book for the Welsh people and for the survival of the Welsh language. Published in 1588, following years of careful translation from the Hebrew and Greek, it was an important legacy of the European Protestant Reformation, bringing the word of God to the people. Although 1,000 Welsh Bibles were published, only about 20 survive, and this copy was held at Tŷ Mawr Wybrnant, the birthplace of its original translator, Bishop William Morgan (c.1545–1604). Welsh language and culture were under threat in Wales following the Acts of Union in 1536 and 1543, so this book – although evangelical in its core purpose – helped to ensure the continued daily use, standardisation and survival of the Welsh language to the present day.
Summary
Full description
The most important book in the history of Wales, this first complete Welsh translation of the Bible secured a language and helped define a nation. Its publication was the consequence of the emergence of European Protestantism, the long repression of Welsh culture following the military conquest of Edward I in 1282-3 and the Acts of Union in 1536 & 1543, and the desire of a group of internationally-connected Welsh intellectuals to bring the Word of God directly to the Welsh people. The product of ten years' labour by Bishop William Morgan, who translated directly from Hebrew and Greek, the bible was a beautiful and powerful work which both established Welsh as a learned language of Europe and made it a legitimate voice of the church. But it was also accessible and poetic literature which became the keystone for a living vernacular and standardised grammar and orthography. These combined effects are credited with saving the Welsh language and its intrinsically linked cultures. Of the 1000 bibles originally printed only around twenty survive. This copy was held at Ty Mawr Wybrant, Morgan's birthplace in rural Wales, before moving to Chirk Castle in 2020. (Dominic Chennell 2019 & Nicola Thwaite 2021)
Bibliographic description
vi, 555 leaves ; folio. Imperfect: wanting several leaves, including title-page, all supplied in facsimile; many leaves with extensive lamination (applied in early twentieth century?). Provenance: slip of paper pasted on upper flyleaf with nineneenth-century ownership inscription, label of the Tavenant Bookshop, Oxford, and price in pencil: £7/10/0; seventeenth and nineteenth-century annotations on New Testament title-page; anecdotal evidence ascribes twentieth-century ownership to Owen Wynn Richards, sometime of New York; bequeathed by him to Coleg Harlech in the 1960s; purchased 2014 from Coleg Harlech with National Trust legacy funds, donations from the Dyffryn Clwyd and Meirionnydd Associations, and local gifts. Binding: contemporary blind-tooled, panelled boards, heavily rubbed; modern rebacking; nineteenth-century spine label preserved on upper flyleaf.
Provenance
Purchased in 2014 from Coleg Harlech with National Trust legacy funds, donations from the Dyffryn Clwyd and Meirionnydd Associations, and local gifts.
Makers and roles
William Morgan (1545 - 1604) Bishop of Llandaff and St Asaph, translator
View more details