The works of Geoffrey Chaucer now newly imprinted.
Geoffrey Chaucer (1340?-1400)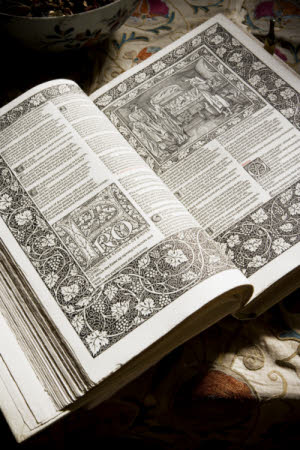 Caption
Hugely ambitious in its number of illustrations and rich decorative borders, The Works of Geoffrey Chaucer set a new standard for book design at the end of the 19th century. William Morris designed the title page, borders, inital letters and ornaments; Edward Burne-Jones created the woodcut illustrations. Considered the magnum opus of the Kelmscott Press, the Kelmscott Chaucer was the culmination of William Morris's vision for the ideal, finely crafted book. In founding the Kelmscott Press, Morris sought to revive the art of hand printing, derived from exemplars of medieval manuscripts and early printed books. The Press ran from 1890 until Morris's death in 1896, the same year the Kelmscott Chaucer was published.
Summary
Bibliographic description
ii, [2], 554 p. . ill.. (woodcuts) . fol.. Provenance: Presented with associated wooden box and unidentified coloured drawings (pro tem. framed and shown at Wightwick). -Presented to the National Trust by Mrs Ann Zwemmer, January 2007 (for provenance see file held by Libraries Curator) Binding: Nineteenth-century blind-tooled alum tawed pigskin binding, with wooden boards and silver clasps. The binding is by the Doves Bindery, one of 48 copies bound by Douglas Cockerell [Stamped: 'The Doves Bindery 1897'] - in John Dreyfus, 'The Kelmscott Press', in Linda Parry (ed.), William Morris (London: Philip Wilson, 1997) p. 310-341 (p. 336)
Makers and roles
Geoffrey Chaucer (1340?-1400), author Sir Edward Coley Burne-Jones (Birmingham 1833 - London 1898) William Morris (Walthamstow 1834 - Hammersmith 1896) Kelmscott Press, publisher Doves Bindery, binder
View more details