The Hare (for 'The Forest', a tapestry by Morris & Co.)
Philip Speakman Webb (Oxford 1831 - West Sussex 1915)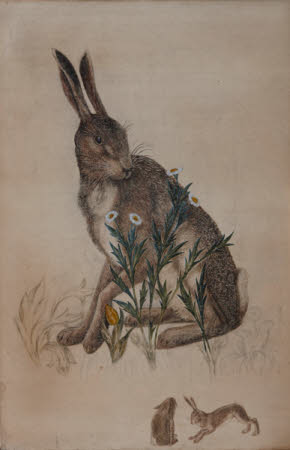 Category
Art / Drawings and watercolours
Date
1886 - 1887
Materials
Waterolour and pencil on paper
Measurements
870 x 570 mm
Place of origin
England
Order this image
Collection
Wightwick Manor, West Midlands (Accredited Museum)
NT 2900066.2
Caption
This picture of a hare was drawn by the architect and designer Philip Speakman Webb (1831-1915), a lifelong friend and associate of William Morris (1834-1896) who was responsible for much of the internal decoration at Wightwick Manor. The picture is one of a set of four that were preparatory studies for inclusion in a tapestry known as 'The Forest' that was designed by Morris and which can be seen at the Victoria and Albert Museum in London. The drawing was originally owned by the Hodson family who resided at Compton Hall which was next door to Wightwick Manor.
Summary
Watercolour and pencil on paper, The Hare by Philip Speakman Webb (Oxford 1831 - West Sussex 1915), 1886. A preparatory study or cartoon (traces of grid lines show they were scaled up) for a motif in the tapestry known as 'The Forest' designed by William Morris, Philip Webb and John Henry Dearle, woven at Merton Abbey, owned by Aleco Ionides and now in the Victoria & Albert Museum, London. Webb demostrates his knowledge of natural history with accurate renditions of Wild Tulip, Daisy and Corn Camomile. Below right are two smaller versions of the same animal. This drawing is one of a set of four (originally five but the whereabouts of the peacock is unknown) - see also National Trust inventory numbers 2900066.1, 2900066.3 and 2900066.4.
Provenance
Sydney Cockerell (1867 - 1962) in 1896; Laurence W. Hodson (1863-1915) in 1900 (exh at Morris centenary in 1934 at V&A) and thence by descent; sold at Dreweatt Neate, Donnington Priory, 27 March 2013, lot 117; purchased by the National Trust from H. Blairman & Sons with the assistance of grants from the Art Fund, the V&A Purchase Grant Fund, the Monument Trust, the Mander Trust and a number of individual gifts, 2013.
Makers and roles
Philip Speakman Webb (Oxford 1831 - West Sussex 1915), artist
References
Gallagher 2014 Jane Gallagher, "Four Beautiful Beasts Philip Webb and the making of Morris's 'The Forest' tapestry" in arts building collections Bulletin, National Trust, winter 2013-14, pp. 1-4 at www.nationaltrust.org.uk/abcbulletin
View more details