Dog cart
Morgan and Co. Ltd.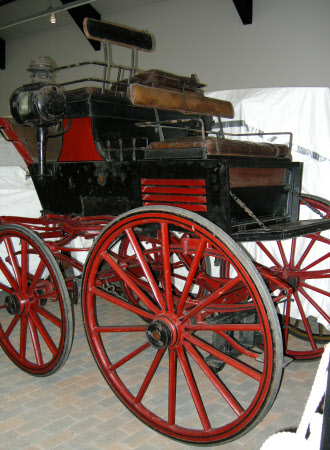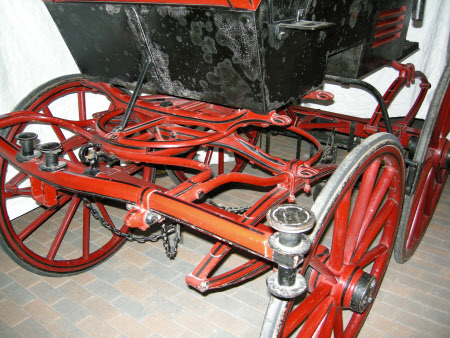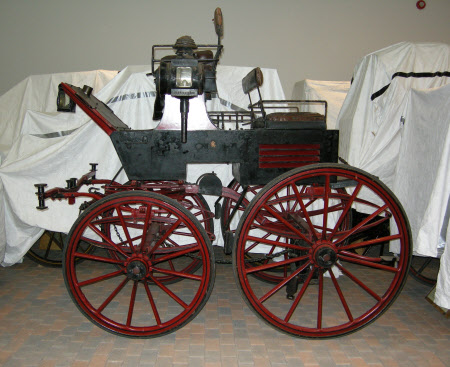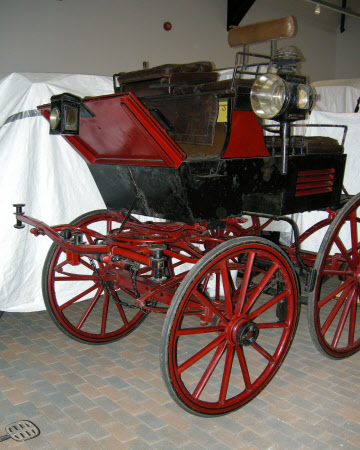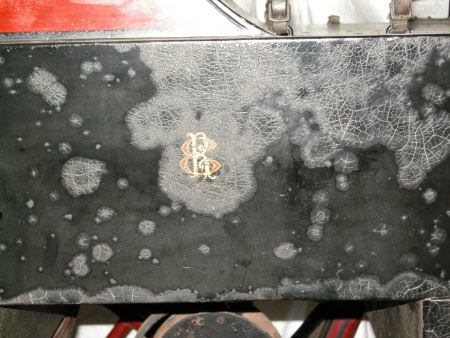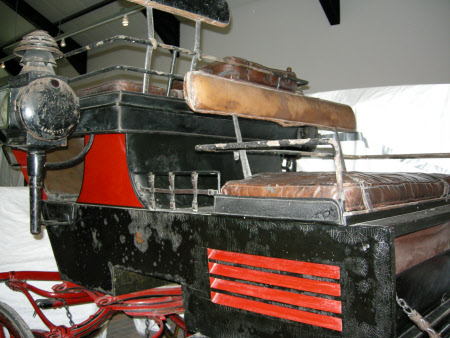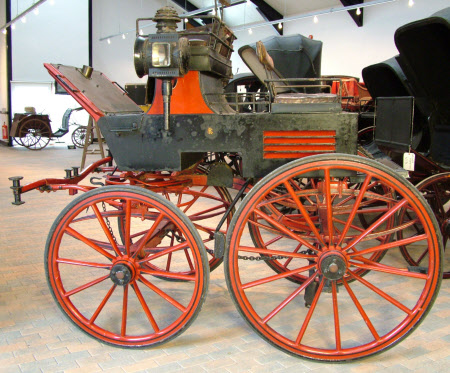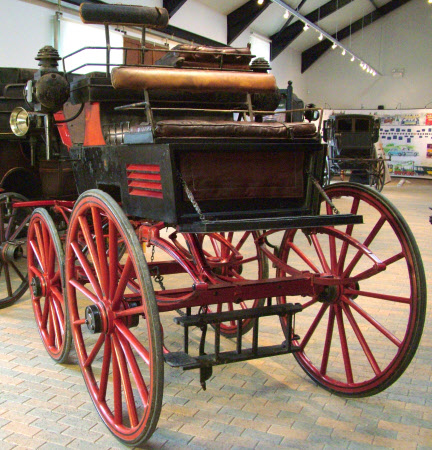 Category
Carriages & other vehicles
Date
1880
Materials
Painted wood body with pigskin upholstery and four iron shod wheels.
Measurements
195 x 249.5 x 161.5cm (6ft 4 3/4in x 8ft 2 1/4in x 5ft 3 1/2in)
Place of origin
London
Order this image
Collection
National Trust Carriage Museum (Accredited Museum)
NT 272875.1
Caption
Dog carts were the ultimate, large, sporting, four-wheeled carriage. They were designed to be owner driven but carry multiple passengers with room for the dogs in the boot; the louvered sides of which provided ventilation.
Summary
Dog Cart built by Morgan and Co. Ltd., of London, circa 1880. Dog Cart (four wheels) for a single, tandem, pair or team of horses. The body is on full elliptic springs and is in good, original condition. The interior trim is in brown pigskin and with three cushions. There are two candle lamps (not original to the carriage and on loan from the Science Museum), a centre pole, shafts and ladder. Also displayed are two umbrellas and wicker umbrella holder, clock and a lamp on the dash board. The carriage is painted in red livery with black lining, black body.
Full description
Dog carts were so named because they were originally used for carrying sporting dogs in the boot, the louvered sides of which provided ventilation. First built at the beginning of the 19th century as two-wheeled vehicles, they were later built with four wheels. They carried four passengers sitting in pairs, back to back, and were so useful for all country pursuits that they were found in every country house and used well into the motor age, many of the later examples never being used for the purpose for which they were originally designed. This carriage, the ultimate large sporting four-wheeled dog cart, was built by Morgan & Co. Ltd., London, and is on loan from the trustees of Colonel Ernest Ryan who was photographed driving it and featured in an article in the autumn 1942 edition of the magazine 'Riding'. It is very unusual for many reasons including the perch undercarriage in combination with elliptic springs, and the fact that it could be pulled by a single horse, a pair, two horses in tandem, or a team of four.
Marks and inscriptions
On brass plates on all stocks. : MORGAN AND Co. LTD. * LONDON GOLD MEDAL On front offside axle components.: JOSH RICHARDS & COMPY SPRING HILL WORKS On front nearside axle components.: JOSH RICHARDS & COMPY SPRING HILL WORKS On rear offside axle components.: JOSH RICHARDS & COMPY SPRING HILL WORKS On rear offside axle components.: JOSH RICHARDS & COMPY SPRING HILL WORKS On side panels.: ER Painted on the dial of the dashboard clock.: GLORIA AND TAGE
Makers and roles
Morgan and Co. Ltd., coachbuilder
View more details