Miss Frances Lyde Browne holding Music and a Wreath
Pompeo Girolamo Batoni (Lucca 1708 – Rome 1787)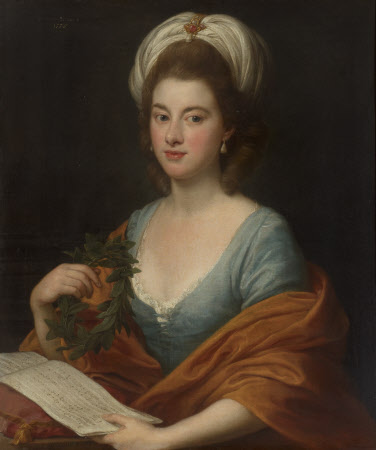 Caption
At its most edifying, the Grand Tour was seen as a means of shaping the creative, intellectual and cultural sensibilities of aspiring gentlemen. In its less refined moments, it was seen as an opportunity for rich young men to sow their wild oats whilst indiscriminately nabbing works of art. But where are women to be found in this quintessentially masculine portrayal? While it is true that the Grand Tourist was more often than not a young man, women made up a percentage, albeit a small one, of visitors who flocked to the continent. Certainly, the experience of Europe for women was different from that of men. While some intrepid women travelled on their own, most women who made the tour did so in the company of their husbands, and in some instances, their fathers. Such was the case of Miss Frances Lyde Browne, pictured here by Pompeo Girolamo Batoni, perhaps the most sought after portraitist in 18th-century Rome. We know that Frances visited Italy in 1776-7 with her father, Lyde Brown, the antiquarian and collector. Sadly, not much else is known about Frances, although we can surmise from Batoni's portrait that she was musically inclined. Depicted in the guise of Saint Cecilia, the patron saint of music, Frances holds a music sheet and a laurel wreath, a symbol of distinction. Unlike Batoni's 'swagger' portraits of young British men, where the pretence of conquest, connoisseurship and ostentation is of principal concern, Frances is portrayed in a preternatural state of calm. For women of Frances's age, travel to Europe offered opportunities and experiences denied to them at home: personal and intellectual liberty, freedom from conventional ideals of femininity and domesticity or escape from the expectations of marriage. We can imagine that for Frances, Europe offered the opportunity to join an accelerated learning scheme in taste and manners that might otherwise be denied to her. We don't know the details of her travelling, what she saw or who she met. She left no published work such as the illustrious Mary Wollstonecraft, or enjoyed the title of 'Queen of the Bluestockings' like Elizabeth Montagu, but she does belong to that rare group of ladies of the Grand Tour to be painted by Batoni.
Summary
Oil painting on canvas, Miss Frances Lyde Browne holding Music and a Wreath by Pompeo Girolamo Batoni (Lucca 1708 – Rome 1787), signed in black, bottom left: P. BATONI. P. ROMA. 177 [7?] and inscribed in gold, top left: Frances Browne / 1778. A half-length portrait of a young woman, seated to the left, head and eyes turned to the right, dressed in a light blue bodice with an orange mantle and wearing a turban. She holds sheets of music [decipherable?] on a pink cushion with a gold tassel with her left hand and holds up a laurel wreath over it with her right. She accompanied her father, the 18th-century antiquities collector, Lyde Browne (d. 1787), on his second visit to Rome between 1776 and 1778 where she sat to Batoni, the leading Roman portrait painter of the period. The financier, antiquarian, and collector, Lyde Browne, FSA (d. 1787), visited Italy with his wife in 1753 and with his family in 1776 – 77. On the second visit, he is recorded as arriving in Venice on 16th May 1776; by 18 December he was in Rome, where Thomas Jones waited on him and his family. There is no further record of him there, according to Brinsley Ford's A Dictionary of British and Irish Travellers in Italy 1701 – 1800, ed. John Ingamells, New Haven & London, 1997, pp.141 – 42, so it seems likely that the picture was painted in 1777, despite the inscription identifying the sitter, with the date 1778 (although it is also always possible that the picture was not completed until that year). Portraits of female English sitters by Batoni are something of a rarity. The young woman presumably had aspirations to be recognised for the quality of her singing, in which she seems to have been indulged by her father, given that she alone appears to have been painted by Batoni, and in this guise. Mrs. James Alexander, by contrast, who was painted in 1777 in the same sort of turban holds a sprig of myrtle, a symbol of marital love or fidelity (see Clark & Bowron, 1985, no. 401).
Provenance
By descent in the family of the sitter's brother (via Lyde Browne's son), also Lyde Browne (?1759 – 1803), whose second son, by his wife Margaret Barwell, Colonel Lyde Browne, commander of the 21st Fusiliers (who was killed putting down Emmett's Rebellion, 1803), married Dorothy Riou; their only daughter and heiress, Charlotte Riou Browne (d.1875), who in 1826 married Moses George Benson, J.P., D.L., of Lutwyche Hall, Shropshire (1797 – 1871); to the successive heads of the Benson family of Lutwyche Hall; to Ralph Benson (b. 1919), London, eldest son of Major George Reginald Benson (1888 - ?); his sale Christie's, London, 17th November 1967, lot 108; bought by Thos. Agnew & Sons, London, from whom acquired by Langton Iliffe, 2nd Lord Iliffe (1908-1996) and his wife Renée, Lady Iliffe (1917-207); accepted in lieu of inheritance tax and allocated to the National Trust for display at Basildon Park, 2010.
Marks and inscriptions
Verso: on stretcher: old Agnew's label, No. 33993, and more recent store label, with stock no.: WA 2915; small label with printed blue no.: 12528; small label, with ink no.: WO / 16068; Christie's stencil: XL 697; in white chalk: XL 697 OMP and 3H Verso: on frame: small printed label: 3862; in white chalk: XL697
Makers and roles
Pompeo Girolamo Batoni (Lucca 1708 – Rome 1787), artist
References
Clark and Bowron 1985 Anthony M. Clark & Edgar Peters Bowron (ed.), Pompeo Batoni A Complete Catalogue of his Works with an Introductory Text, Oxford 1985, no.408, p.346 & pl.366
View more details