Saint Lawrence holding his Gridiron and crowned by a Putto-angel
attributed to Juan Luis Zambrano (1598 - 1639)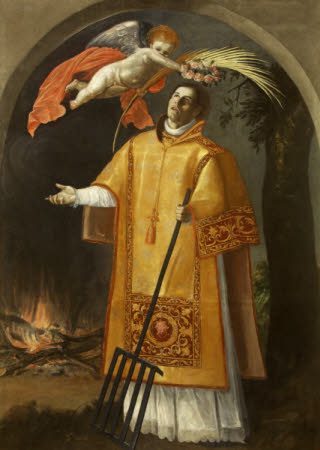 Caption
Saint Lawrence was a Christian martyr of Spanish birth so it is appropriate he should be painted by a Spanish artist here. He is shown wearing a golden dalmatic dress which refers to his having been ordained by Pope Sixtus II. A putto holding a martyr's palm and a wreath flies above him. When the Pope himself was arrested in Rome in 258, he ordered Lawrence, his deacon, to give the church's treasures to the poor and when asked by the city's prefect, Lawrence refused to give them up, so he was condemned to a roasting. Lawrence is holding his attribute, the gridiron, a symbol of his martyrdom, and behind are the flames of the torturer's fire. According to the story he is said to have declared: "See, I am done enough on one side, now turn me over and cook the other."! He has since also become patron saint of cooks.
Summary
Oil painting on unlined canvas, Saint Lawrence holding his Gridiron and crowned by a Putto-angel, attributed to Juan Luis Zambrano (1598 - 1639), 1630. The saint stands wearing a chasuble of cloth of gold, holding his attribute the gridiron in his left hand. Below are the flames of the torturer's fire, whilst a putto holding a martyr's palm and a wreath flies above.
Provenance
Purchased by Manuel Williams for William Gibbs from Don Francisco Romero Balmaseda of Seville in 1853 and thence by descent; purchased by the National Trust from the estate of the late George Richard Lawley Gibbs, 2nd Baron Wraxall (1928 – 2001) with the assistance of the NHMF, Art Fund and donations from members and supporters in 2002
Credit line
Tyntesfield, The Gibbs Collectin (National Trust)
Marks and inscriptions
Recto: with label at centre front of frame 'ZAMBRANO 1630' .
Makers and roles
attributed to Juan Luis Zambrano (1598 - 1639) , artist previously catalogued as attributed to Francisco de Zurbarán (Fuente de Cantos 1598 - Madrid 1664), artist
View more details