A View of Seville from the Guadalquivir River with the Geraldo Tower
Manuel Barrón y Carrillo (Seville 1814 -Seville 1884)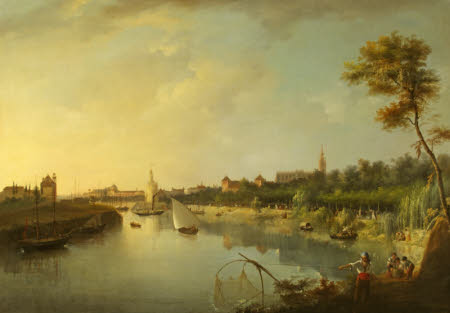 Summary
Oil painting on canvas, A View of Seville from the Guadalquivir River with the Geraldo Tower by Manuel Barron Y Carrillo (Seville 1814 -Seville 1884), signed and dated 'Manuel Barron/Sevilla 1846'.
Provenance
Frost and Reed (no. 233 78); purchased by the National Trust from the estate of the late George Richard Lawley Gibbs, 2nd Baron Wraxall (1928 – 2001) with the assistance of the NHMF, Art Fund and donations from members and supporters in 2002
Credit line
Tyntesfield, The Gibbs Collection (National Trust)
Marks and inscriptions
Verso: 1) label with the following information - F.R. It is important that this label should never be destroyed. The evidence it bears of the registered stock number has in the past proved to be of the very great value for purposes of identification and authenticity. Artist, Manuel Barron Y Carrillo. Title, Seville from the River, with the Geraldo Tower signed and dated 1846. Registered number 23378 Verso: 2) Second label with the following, Frost and Reed Ltd, London, England.
Makers and roles
Manuel Barrón y Carrillo (Seville 1814 -Seville 1884) , artist
View more details