A Recumbent Lion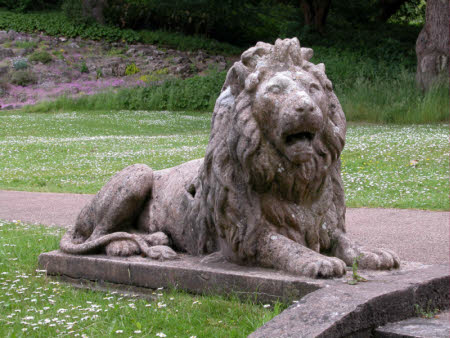 Category
Art / Sculpture
Date
Unknown
Materials
Cement
Measurements
890 x 1540 x 660 mm
Order this image
Collection
Dyffryn House and Gardens, Vale of Glamorgan
NT 1682803.1
Caption
A cast stone statue of a recumbant lion.
Summary
One of a pair of cast cement recumbent lions. This statue sits to one side of the steps. The cast cement appears to be hollow and there is a large hole to the flank of the lion's body. Both of these statues are cracked.
Provenance
Previously owned by Glamorgan County Council. Makes up part of the chattels at Dyffryn House and Gardens transferred to National Trust ownership as part of the lease agreement of 2012. It was agreed all moveable chattels left by the council would become the property of the National Trust.
View more details