The Madonna and Child with the Infant John (The 'Fries' Madonna)
Andrea del Sarto (Florence 1486 – Florence 1530)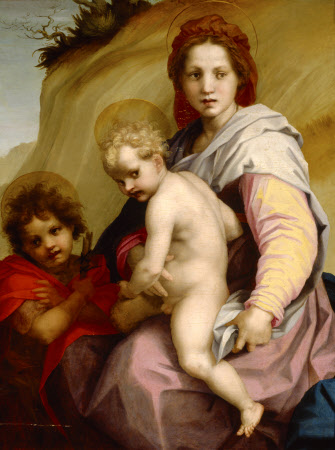 Summary
Oil painting on panel, The Madonna and Child with the Infant John the Baptist (The 'Fries' Madonna) by Andrea del Sarto (Florence 1486 – Florence 1530), circa 1520/21. The painting depicts the Virgin Mary with the naked Christ Child, turning to the viewer, at the left is the young Johnn the Baptist in red drapery, curly-haired, with his hands holding a cross. In the background is a massive cliff with buildings set in the landscape. Goethe saw it in the Fries collection and considered it 'an incredible beautiful picture; without having seen it, one could not conceive such a thing'.
Full description
It is an indication of the canonical status enjoyed by Andrea del Sarto's various treatments of the themes of the Madonna and Child or the Holy Family, that, like Raphael's, each should have its own sobriquet, denotative either of its original location, or of the most illustrious collection through which it has passed, or of some distinctive feature in it: for example, the Madonna di Porta a Pinti (the original fresco was the centrepiece of a tabernacle in Florence, and has perished; one of the innumerable copies has served as an overmantel in the Queen's Bedchamber at Ham House since the 17th century); the Madonna Corsini (acquired from the collection of the Duke of Buckingham by the 10th Earl of Northumberland, and still in that of Lord Egremont at Petworth); or the Madonna del Sacco (Chiostro dei Morti, Ssma. Annunziata, Florence; so named from the great bolster on which St Joseph rests; a graphite drawing of this by David Paton has also been at Ham since before 1683). It is a further reflection of this status that most of them (including this picture) exist in numerous versions, and that sometimes it is a contentious business to decide which is the eponymous original, and which are the subsequent copies. In the present instance, the name is that of the - relatively late - first-known, successive owners of the picture, Counts Josef (1765-88) and Moritz (1777-1826) Fries. Nothing is known of its earlier history, and - prior to the revelation of significant pentimenti in the Christ Child's leg and the contours of his face by John Brealey's cleaning of the picture in 1969 - there was neither universal assent to its autograph status, nor agreement over its - or the presumed lost original's - dating. Of those who have known the painting at first hand, H. Guinness (1899) dated it to 1517-18 ; Sydney Freedberg (1963), who relegated it to the status of a copy, dated the - for him - lost original to c.1520, between the Charity of 1518 in the Louvre and the likewise lost Madonna di Porta Pinti of 1521 ; John Shearman (1965) to c.1521, around the same time as the fresco of the Tribute to Caesar of 1521 in the Villa Medici at Poggio a Caiano, again by analogy with the Madonna di Porta Pinti, but also with the Pietà of c.1519-20 in the Kunsthistorisches Museum in Vienna ; and Antonio Natali & Alessandro Cecchi (1989) to around the same date, on the basis of similar comparisons. Raffaele Monti (1965), by contrast - if he has seen the painting - would even deny a picture of this composition by Andrea has ever existed, seeing it instead as by his 'Maestro sartesco n.1', operating in the master's bottega in the period between 1510 and 1520, and basing himself on little more than a design by the latter . Following the logic of their position, both Freedberg and Monti also dismiss as a copy or a pastiche the drawing in the Uffizi of the Virgin's sleeved left arm and hand that Berenson (who also accepted the painting) and Shearman regard as autograph . Such extreme divisions of opinion over the authorship even of the original of a Sartesque composition are almost unique. The reasons for them may in part reside in the work itself, which, if Shearman is right, belongs to a time of transition and assimilation in Andrea's career, after his return from France, when he was responding to and participating in: "the major event in Central Italian painting in the twenties, the rapprochement between the schools of Rome and Florence"; prior to the outright ascendancy in the latter of Roman maniera, and when he was, in particular, assimilating influences from Michelangelo's Sistine Ceiling. What is strikingly new, and peculiar to Andrea del Sarto, is the movement given to the eyes and figures of this traditional grouping (St. John the Baptist was the patron saint of Florence, so often associated with the Madonna and Child), by the suggestion of some intruder - almost, as it were, at the spectator's elbow (so the Devil?) - come to alarm them. But it may also be the fact that the picture is tucked away in a country collection, and has never been exhibited in a defining context - nor exhibited at all since 1955 - that may help to account for its disparagement or neglect, notwithstanding Ellis Waterhouse's and Kenneth Garlick's ringing affirmations in 1955 that it was: "One of the least known major Italian works in England", and: "The single most important picture [in the exhibition ... the only picture in this country outside the National Gallery and the Wallace Collection which gives any real indication of Del Sarto's powers" . Its original reception was very different from its current neglect. Goethe's Italian Journey includes, under 16 July 1787, the passage: "Count [Joseph] Fries buys a great deal, including a Madonna by Andrea del Sarto for 600 zecchini. Last March Angelica [Kauffman] had already offered 450 for it - would have given the whole sum, had her attenter [vigilant] husband [Antonio Zucchi] not had some objections. Now they both regret it. It is an incredibly beautiful picture; one can't conceive of such beauty, without having seen it." Josef, Graf von Fries (1765-1788) was the considerably older of the two sons of the immensely rich banker, merchant, and manufacturer, Johann, Reichsgraf von Fries (1719-85), founder of the family bank, and himself something of a connoisseur. He was in Rome from 1785 to 1787, where he was painted by Angelica Kauffman beside the model of the Theseus and the Minotaur that Canova carved for him. He preened himself on his connoisseurship, which was in fact very slender: so much so that his combination of pretention and gullibility gave rise to the expression in Rome: "E un secondo conte di Fries"; and that he became the subject of a chapter entitled 'Le présomptueux dupé' in Joseph Gorani's Mémoires secrets et critiques des cours &c. ... de l'Italie . Already taken ill in Italy, he died in the family Schloss at Vöslau shortly after his return to Austria. His much younger brother Moritz, Graf von Fries (1777-1826) was his heir, and also showed an interest in art from an early age. He bought massively (though he too became the dupe of a dealer who fobbed off a dud Van der Werff on him as the original), and he and his wife, Theresa, née Princess Hohenlohe-Waldenburg, kept a celebrated salon in their palace on the Josephsplatz in Vienna, frequented by artists and writers - and by participants in, and visitors to, the Congress of Vienna, which actually met in it. His outgoings outran even his enormous income, however, and between 1815 and 1819 the bank ran at a loss. In 1819 his wife died. From that point on he seems to have begun to sell things, at first privately, and then by anonymous auctions of pictures, prints and books, in Amsterdam and Vienna in 1824 and 1825. The next year Fries & Co. declared bankruptcy; Count Moritz's English partner, Mr. Parish, drowned himself in the Danube; certain pictures were sold at auction, by Artaria in Vienna, by Nöe in Paris, and twelve at Christie's; and he himself died in Paris. In 1828 the remains of the by then utterly depleted collections were sold in Vienna . The fate of the Andrea del Sarto in all this is a little obscure . It was first recorded by Bertuch in the Fries Palace in Vienna in the winter of 1805/6, as the picture engraved by Morghen . The 4th to 6th editions of Johann Pezzl's guides to Vienna, of 1816 to 1823, briefly name it and a number of other pictures - the 6th edition mentioning the rumour that the whole collections might be sold abroad - but the 7th edition (1826) no longer contains anything about them . In 1821 and 1823 the Andrea del Sarto was again given individual mention, as being in the second room of the Palace, by F.H. Böckh ; whilst in 1828 Friedrich Rochlitz retrospectively singled it out in his description of the Fries collection in the first part of his 'Briefe aus Wien vom Jahre 1822', when he too had sensed the doom hanging over the collection, chiefly to criticise Morghen's misrepresentation of it . It does not feature in the list of 42 major pictures from the collection that Count Moritz received permission to export in February 1824 , suggesting that by that date it had already been sold. But to whom? The fact that what was apparently the present picture is already mentioned as: "Attualmente nella collezione di Lord Castlereagh in Londra" in Biadi's book on Andrea del Sarto in 1829 , and that Lord Londonderry, who - as Lord Stewart - was ambassador in Vienna from 1814 to 1822, is specifically named, along with the French ambassador, the duc de Caraman, and other noted collectors such as the Freiherr Speck von Sternberg of Lützschena, as a direct buyer from Count Moritz has led to the not unnatural presumption that Lord Londonderry bought it when in Vienna. Theodor Frimmel, however, on the leads provided by whose quite remarkably informed Lexikon der Wiener Gemälde-Sammlungen almost all the above is based (not a picture in or from Vienna seems to have stirred without his knowing; it is a tragedy that his Lexikon never got beyond the letter 'L') categorically states that it had passed into the hands of the Lind family, and that , when he wrote, it belonged to Herr Sektionsrat im K.K. Ministerium für Kultus und Unterricht, Dr. Carl Lind, on the walls of whose home it was to be seen . His description of it, however, and the fact that neither he nor the owner (who claimed to have proof of its provenance, and owned numerous other pictures from the Fries collection) believed its traditional ascription to Andrea del Sarto, demonstrates that it was a copy, and not even one of the present picture, but a partial version of the lost Madonna Barbadori . The transmission to Charles William, Baron Stewart - after the suicide of his half-brother, Robert, Viscount Castlereagh, 2nd Marquess of Londonderry (1769-1822) in August 1822, 3rd Marquess of Londonderry (1778-1854) - thus seems assured. But there are still anomalies in this provenance. The first mention of this painting in British hands is that of Biadi in 1829, who calls the owner 'Lord Castlereagh'. It seems surprising that Biadi, writing in Florence, should have known of a private transaction between Moritz, Count Fries and the 3rd Marquess of Londonderry, and the latter was in fact never Lord Castlereagh (nor can this have meant his eldest son, the future 4th Marquess [1805-1872], since the picture was later to belong, not to him, but to his half-brother, Earl Vane, subsequently 5th Marquess [1821-1884]. Biadi can only have meant the celebrated statesman, and the fact that he calls him Lord Castlereagh would seem to indicate that his information must have dated from the time before he briefly succeeded as Marquess in 1821. Yet no less than three authors testify to the presence of the picture in Count Fries's collection in 1822 or later. Biadi, therefore, must simply have been recording a garbled rumour of the acquisition of the picture by the 3rd Marquess of Londonderry, which confused him with his better-known half-brother (who does not seem to be known as a collector, though he had himself been in Vienna for the Congress in 1814-15, when he could have seen and admired the picture). Tempting though it is to think that Fries sold the picture directly to Londonderry, this is unlikely to have been the case, since he had returned to London some two years before the sale took place. It seems instead to have been one of those whose sale passed through the hands of the great picture-dealing branch of the print-publishing family Artaria that was based in Mannheim . For there is a rather intriguing note in Palmerini's catalogue (1824) of Morghen's engravings, that shows just the part that prints played in the commerce of works of art, which was written at the very moment when the painting was on the market: "Count de Fries owns the picture, and owned the copper-plate, which he has now ceded to Artaria of Mannheim, who have had it printed in Paris". In other words, Mortiz, Count Fries handed over the plate that had been privately engraved for his brother Josef in Rome by Morghen (corresponding to its first state, which bears the name of artist and engraver, but no more), so that Artaria could use it to puff the picture for sale in Paris, the then centre of the European art-market (corresponding to the second state of the print, to which the name and arms of Fries as owner have been added) . In fact, however, the sale was to be made, not in Paris, but to Lord Londonderry back in London. And, at the same time, he must have been sold the two great marble sculptures carved by Canova for Josef, Count Fries, the Theseus and the Minotaur and the Dancing Nymph; for all three were noted in Londonderry House (the sculptures, but not the painting, with their provenance given) by J.D. Passavant when he made his tour of English collections in 1831 . After his death, his eldest son by his second marriage, to the great heiress, Lady Frances Vane-Tempest, George, Earl Vane (a title conferred on his father, with special remainder to him), subsequently 5th Marquess of Londonderry, seems to have sold the picture privately to Baron Lionel de Rothschild, some time before 1870 . Quite why he should have done so is not clear, but it may be that, before the death of his mother in 1865, and after his own succession to the Londonderry title in 1872, he had all the expense of supporting the vast Londonderry establishments of Londonderry House, Wynyard Park, Mount Stewart, Seaham Hall, and elsewhere, without full access to the equally vast revenues necessary to support them. A private sale to Rothschild was a perfect (and well-tried) way of raising money without éclat. Lit: K. Bertuch, Bemerkungen auf einer Reise aus Thüringen nach Wien im Winter 1805 bis 1806, Weimar, 1808, p.148; Joh. Pezzl, Beschreibung von Wien, Vienna, 4th (1816) to 6th (1823) edns.; F.H. Böckh, Wiens lebende Schriftsteller, Vienna, 1821; do., Merkwürdigkeiten der Haupt - und Residenz-Stadt Wien, Vienna, 1823; Fr. Rochlitz, Für ruhige Stunden, Leipzig, 1828, vol.I, p.129; Luigi Biadi, Notizie inedite della vita d'Andrea del Sarto, Florence, 1829, p.149; J.D. Passavant, Kunstreise durch England und Belgien, Frankfurt-am-Main, 1833, p.78; A. Reumont, Andrea del Sarto, 1835, p.84; J.D. Passavant, Tour of a German Artist in England, 1836 [reprint 1978], p.178; J.P. Richter, Zeitschrift für Bildende Kunst, N.F., vol.V, 1894, p.150 ; H. Guinness, Andrea del Sarto, 1899, pp.69 - 70 & pl.opp.p.62; Fritz Knapp, Andrea del Sarto, Bielefeld & Leipzig, 1907, pp.118-20 & fig.95, p.102; Crowe and Cavalcaselle, Painting in Italy, 1914, vol.VI, p.198, no.1 ; S. Reinach, Répertoire des Peintures, 1918, vol.I, p.223; F. Knapp, Andrea del Sarto, 1928, pp.98-99 & 114 & pl.80; B. Berenson, Italian Pictures, 1932, p.18; I. Fraenckel, Andrea del Sarto, 1935, pp.106, 166; idem., article in Thieme-Becker, Künstler-Lexikon, 1935, vol. XXIX, p.474 ; E.K. Waterhouse, The Burlington Magazine, vol. XCVII, Sept. 1955, p.295; K. Garlick, The Connoisseur, vol. CXXXVI, July 1955, p.39; B. Berenson, Florentine Pictures, 1963, p.7; The Ascott Collection, The National Trust, 1963, No.36, pp.24-25 & illus. (entry by F.St. John Gore) (revised 1974; reprinted 1980); S.J. Freedberg, Andrea del Sarto, 1963, vol.I, pp.91-93, no.45, vol.II, fig.95; J. Shearman, Andrea del Sarto, 1965, vol.I, p.89, pl. 85a, vol.II, p.247, no.58; Raffaele Monti, Andrea del Sarto, Milan, 1965, p.126 & fig.350; Antonio Natali & Alessandro Cecchi, Andrea del Sarto, Florence, 1989, no.37, p.86. Exh: Royal Academy, Winter, 1870, no.110; Early Italian Art, New Galleries, 1893, no.214; Italian Art, Birmingham City Art Gallery?, 1955, no.2. Notes: (i) H. Guinness, Andrea del Sarto, London, 1899, p.69-70 & pl.opp.p.62. (ii) S.J. Freedberg, Andrea del Sarto, Princeton, 1963, no.45: vol.I, pp.91-93; vol.II, pl.95. (iii) John Shearman, Andrea del Sarto, 1965, no.58: vol.I, p.89 & pl.85a; vol.II, p.247. (iv) Antonio Natali & Alessandro Cecchi, Andrea del Sarto, Florence, 1989, no.37, p.86. (v) Raffaele Monti, Andrea del Sarto, Milan , 1965, p.126 & fig. 350. n.30, p.236. (vi) Uffizi, no.6432F: Freedberg, pp.92-93; Monti, fig. 351; Shearman, vol.I, pl.85b, vol.II, p.354. The drawing is not included in Anna Maria Petrioli Tofani's - admittedly selective - Andrea del Sarto:Disegni, Florence, 1985, heavily biased towards drawings in the Uffizi though this is; but she did include it, with a ringing affirmation of its authenticity, in her section of exh. cat. Andrea del Sarto 1486-1530:Dipinti e disegni a Firenze, Palazzo Pitti, Florence, 1986-87, no.30, p.236. (vii) Reviews of the Birmingham exhibition of Italian painting in the Burlington and Connoisseur respectively: see Literature. (viii) Goethe, Die Italienische Reise, Gedenkausgabe, Zurich, vol.II (1950), p.406. (ix) J. Gorani, Mémoires secrets et critiques des Cours .... &c. de l'Italie, Paris, 1793, vol.II, pp.242-48. The Ascott picture, however, shows that Gorani's condemnation was excessive. (x) For the collections of Count Fries and esp. their dispersal, see Frits Lugt, Les marques des collections de dessins & d'estampes, Amsterdam, 1921, no.2903, pp.535-36. Sir Thomas Lawrence was given first pick of Fries's drawings by one of his English creditors, W. Mellish. (xi) What follows is taken largely from Theodor von Frimmel, Lexikon der Wiener Gemäldesammlungen, Munich, vol.I (1913), pp.408-439, checked against and quoted from, where possible, his printed sources. (xii) C. Bertuch, Bemerkungen auf einer Reise aus Thüringen nach Wien im Wimter 1805 bis 1806, Weimar, 1808, p.148. (xiii) Joh. Pezzl, Beschreibung von Wien, Vienna, 1816, 1820, and 1823. The original editions cited by Frimmel were inaccessible in London, but the French translations (xiv) Wiens lebende Schriftsteller, Vienna, 1821, cited by Frimmel (pp.420-21) apparently contains the same text as his Merkwürdigkeiten von Wien, Vienna, 1823, which Frimmel quotes in extenso. (xv) Published in Für ruhige Stunden, Leipzig, 1828, vol.I, p.129. Rochlitz also has a very interesting observation about Fries's innovatory - one might say Biedermeier - hanging of his pictures, with a good distance between them, and with the small ones in little shadow-boxes, to kill distracting reflections. (xvi) Frimmel, op.cit., pp.422-24. (xvii) Luigi Biadi, Notizie inedite della vita d'Andrea del Sarto, Florence, 1829, p.149. (xviii) J.K.E. Hoser, Catalogue Raisonné, oder beschreibendes Verzeichnis der .... Hoser'schen Gemälde-Sammlung, Prague, 1846, p.XXI, note b. (xix) Frimmel, op.cit., vol.I, pp.422 & 432-33. (xx) Freedberg, no.41 & Shearman, no.49. The Lind picture sounds as if it was a variant like that in the Kunsthistorisches Museum, with only the Madonna and Child and John the Baptist, and with added landscape background: KHM Inv. 7794, first recorded in the collection in 1772. Another version like that in the Kunsthistorisches Museum - the Lind picture? - was deaccessioned by the Boston Museum of Fine Arts at Sotheby's, New York, 22 May 1992, lot 128. (xxi) For which, see esp. Helmut Tenner, Mannheimer Kunstsammler und Kunsthändler, Heidelberg, 1966, pp.126-59. Hoser (loc.cit.) makes it clear that it was the Mannheim rather than the Vienna branch of the family that, with M. Nöe of Paris, acted as middlemen over the disposal of the Fries pictures. (xxii) Niccolò Palmerini, Opere d'Intaglio del Cav. Raffaelo Morgen, Florence, 1824, p.138, no.124. I am most grateful to Antony Griffiths for finding and showing to me in the Print Room of the British Museum these two states of the print, still in the volumes originally formed by Morghen's "intimate friend, Signor Paruti of Venice", complete with complementary volumes of explanatory text - apparently the very ones on which Palmerini drew. (xxiii) Originally published in the Kunstblatt, and then gathered together in his Kunstreise durch England und Belgien, Frankfurt-am-Main, 1833, p.78; the first part of which was translated by Elizabeth Rigby (the future Lady Eastlake) as: Tour of a German Artist in England, 1836 (reprint 1978), p.178. (xxiv) To judge from a letter of Anthony de Rothschild's of [ ..... ] 1937 to H. Isherwood Kay of the National Gallery, there appears to have been evidence that the picture was sold to Baron Lionel by the 5th Marquess of Londonderry when he was Earl Vane (a title bestowed upon his father, the 3rd Marquess, with special remainder to him; his half-brother, the 4th Marquess, inherited the Irish titles and estates, whilst he inherited this title and all the English estates and chattels, including, on the death of his mother in 1865, the vast Vane-Tempest legacy in the North of England): i.e. some time between 1854 and 1872 (or, in fact, 1870, when it was Baron Lionel who lent it to the Winter Exhibition at the Royal Academy). Kay, in his reply of 20th October, made suggestions for fleshing out the transmission of the picture from the Fries to the Londonderry collection, and added in a postscript that Ellis Waterhouse had just noted that Goethe referred to Count Johann [sic] Fries's acquisition of the picture in Rome. Sydney Freedberg's statement that the picture was acquired from Lord Northbrook appears to have been an assumption, based on the existence of another version of the Fries Madonna known to have belonged to the latter, and made in ignorance of the actual Londonderry provenance.
Provenance
Bought in Italy, for 600 zecchini, around 1785-87 by Josef, Graf von Fries (1765-88), Rome and Schloss Vöslau (documented in a letter from Johann Wolgang von Goethe, 16th July 1787); Moritz, Graf von Fries (1777-1826), Fries Palast, Josefsplatz, Vienna (first recorded there in winter of 1805/6); Artaria & Fontaine (print-publisher), Mannheim; Charles William, Baron Stewart, later 3rd Marquess of Londonderry (1778-1854), Londonderry House, London (before 1822)[not Lord Castlereagh, his half-brother, and 2nd Marquess of Londonderry, as stated elsewhere]; his son, George, Earl Vane, later 5th Marquess of Londonderry (1821-1884); by whom sold to Baron Lionel de Rothschild (1808-1879), after 1854 and before 1870; thence by descent to Anthony de Rothschild (1887-1961), Ascott; by whom given with the house, grounds, and most of the contents of the showrooms, in 1949.
Credit line
Ascott, The Anthony de Rothschild Collection (National Trust)
Makers and roles
Andrea del Sarto (Florence 1486 – Florence 1530), artist
Exhibition history
In Trust for the Nation, National Gallery, London, 1995 - 1996, no.43
References
Biadi 1829 Lugi Biadi, Notizie inedite della vita d'Andrea del Sarto, Florence, 1829, p. 149 Reumont 1835 A. Reumont, Andrea del Sarto, 1835, p. 84 Passavant 1836 M. Passavant, Tour in England, 1836, I, p. 171 Crowe and Cavalcaselle 1914 J.A. Crowe and G.B. Cavalcaselle, A History of Painting in Italy, Umbria, Florence and Siena from the second to sixteenth century, VI, Sienese and Florentine Masters of the sixteenth century, London, 1914, VI, p. 198 Knapp 1928 Fritz Knapp Andrea del Sarto, 1928, pp.98-9, 114, pl. 80 Berenson 1932 Bernard Berenson, Italian Pictures of the Renaissance, Oxford, 1932 , p. 18 Freedberg 1963 S. J. Freedberg, Andrea del Sarto, 1963, I, pp. 91-2, no. 45; II, fig.95 Shearman 1965 John Shearman, Andrea del Sarto, 1965, I, p. 89, pl. 85a, II, no. 58 In Trust for the Nation: Paintings from National Trust Houses (exh cat) (Alastair Laing) The National Gallery, London, 22 November 1995 - 10 March 1996 Zapletalová 2014 Jana Zapletalová, 'Andrea del Sarto's Madona at Opočno' , The Burlington Magazine, Vol. CLVI, no. 1337, August 2014, pp. 510-517, as a high quality copy of a lost original (!) Waterhoudse 1955 E. K. Waterhouse, 'The Italian exhibition at Birmingham', The Burlington Magazine 97, 1955, pp. 292-95 Natali and Cecchi 1989 A.Natali and A. Cecchi, Andrea del Sarto, Catalogo completo dei dipinti, Florence 1989, p. 86, no. 37 Brigstocke 1996 Hugh Brigstocke, 'National Trust Paintings. London', The Burlington Magazine, 138, 1996, pp. 142-43 Natali 1998 A. Natali, Andrea del Sarto, Maestro dell 'maniera moderna', Milan 1998, p. 137, fig. 127 Ascott, Buckinghamshire, Scala, 2008 by John Martin Robinson and others [pictures entries by Karin Wolfe on basis of Gore entries, 1963 with contributions from Alastair Laing] , no. 89
View more details