Itinerant Musicians
Jan Steen (Leyden 1626 – Leyden 1679)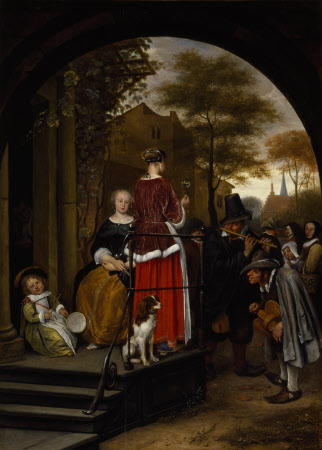 Category
Art / Oil paintings
Date
1659 (signed and dated)
Materials
Oil on panel
Measurements
476 x 343 mm (18 3/4 x 13 1/2 in)
Place of origin
Leiden
Order this image
Collection
Ascott Estate, Buckinghamshire
NT 1535111
Caption
A female figure looks out over a gathering of street musicians performing at her doorstep. Although we only see her from the back, it is clear that she is the mistress of the house. She dons a fur-trimmed satin jacket, her hair is fashionably coiffed and she holds a wine glass. These pictorial elements come together to delineate her from the more humbly dressed, and far less affluent musicians before her.
Summary
Oil painting on panel, Itinerant Musicians by Jan Steen (Leyden 1626 – Leyden 1679), signed and dated, on base of column, lower left: J. Steen (JS in monogram), 1659. A doorway of a house at the top of three steps, seen thruogh an arch, are two ladies, one of whom is seated and wears a yellow and balck dress, and the other who stands with her back to the spectator holding a glass of wine and wearing a scarlet skirt and jacket edged with fur; a child, playing a drum, sits beside them; at the right one peasant is playing a flute, and a second, carrying a hurdy gurdy, peers at a dog seated on the steps; in the background other figures and buildings.
Provenance
John Jeffreys Pratt, 2nd Earl and 1st Marquess of Camden (1759-1840); Marquess of Camden sale, Christie's, 12 June 1841, lot 44; bought C. J. Nieuwenhuys (1799 - 1883); Charles Heusch (c. 1777 - 1848) by 1842; at whose sale Baron Leopold de Rothschild (1845 –1917) bought en bloc; thence by descent; accepted in lieu of inheritance tax by HM Government and allocated to the National Trust, 2000.
Credit line
Ascott, The Anthony de Rothschild Collection (National Trust)
Marks and inscriptions
Recto: 90, in bottom right hand corner
Makers and roles
Jan Steen (Leyden 1626 – Leyden 1679), artist
Exhibition history
Vermeer and the Masters of Genre Painting: Inspiration and Rivalry, National Gallery of Art, Washington, USA, 2017 - 2018, no.19.3
References
Ascott, Buckinghamshire, Scala, 2008 by John Martin Robinson and others [pictures entries by Karin Wolfe on basis of Gore entries, 1963 with contributions from Alastair Laing] , no. 26 Smith 1842 John Smith, Supplement to the Catalogue Raisonné of the Works of the Most Eminent Dutch, Flemish and French Painters, London, 1842 Westrheene, 1856: J. van Westrheene, Jan Steen, The Hague, 1856, p. 130, no. 137 Hofstede de Groot 1907-28 Cornelis Hofstede de Groot, Beschreibendes und Kritisches Verzeichnis der Werke der hervorragendsten Holländischen Maler des XVII Jahrhunderts,1907-28 Martin 1954, W. Martin, Jan Steen 1954, p. 79 Waiboer 2017: Adriaan E. Waiboer (ed.), Vermeer and the masters of genre painting: inspiration and rivalry (ex cat), Dublin: National Gallery of Ireland; Washington: National Gallery of Art; Paris: Musée du Louvre; New Haven: Yale University Press, 2017, 19.3
View more details