Peasants carousing outside, in front of an Inn
Adriaen van Ostade (Haarlem 1610 – Haarlem 1685)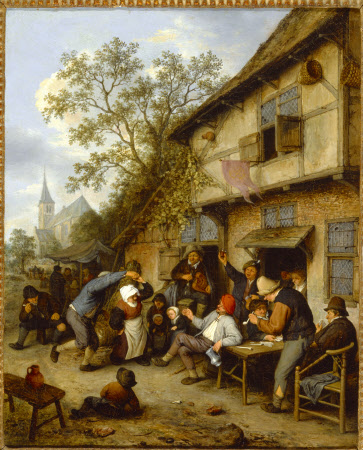 Category
Art / Oil paintings
Date
1670 (monogrammed and dated) - 1679
Materials
Oil on canvas
Measurements
476 x 381 mm (18 3/4 x 15 in)
Place of origin
Haarlem
Order this image
Collection
Ascott Estate, Buckinghamshire
NT 1535101
Caption
This lively and humorous scene depicts peasants enjoying their leisure in the beer-making city of Haarlem. A couple dance to the music of a hurdy-gurdy player. Many paintings of the golden age of painting in Holland have a moralising tone which is only subtly referred to here by the church in the distance. Ostade's depiction of the group is affectionate and perhaps complicit rather than judgmental. Baron Lionel de Rothschild (1808-1879), a member the international banking dynasty collected fine works of the Dutch masters of the seventeenth century, many from the well-known collection of Willem van Loon (1794-1847).
Summary
Oil painting on canvas, Peasants carousing outside, in front of an Inn by Adriaen van Ostade (Haarlem 1610 –Haarlem 1685), signed and dated, on table bottom left: AV (in monogram) Ostade 167 [0 or 9]. A group of peasants are gathered round a cottage door; a couple are dancing to the music of a hurdy-gurdy player; at a table a man and a woman are playing cards, beside them a peasant is seated on an upturned barrel beating time to the music and holding a flagon, and another peasant stands by the table; in the doorway a man holds up his glass. The group in the foreground comprises fifteen figures. In the background is the village church, whose moral presence contrasts with the dissolute scene.
Full description
Haarlem was second only to Amsterdam in the number and quality of its artists in the 17th century; although, as with Amsterdam, these were a mixture of natives and incomers. What is more surprising is that, although Haarlem was one of the historic cities of Holland, it was not a great trading-centre, nor was it the seat of a university or of administration. It owed its prosperity to linen-weaving and brewing (i). It had, however, towards the end of the 16th century, become the locus of activity of two artists displaced from the Southern Netherlands by the religious and political upheavals of the later 17th century, Karel van Mander and Hendrik Goltzius, who came together with Cornelis van Haarlem in 1583 to form - however informally, and with whatever exact purpose - an 'academy'; whilst its guild, like that of Delft - another city productive of artists - retained its vitality in the 17th century, undergoing a significant reform in 1631 (ii) . It may have been the quality of artistic training, and the emphasis on craft specialisation and standards that these two phenomena imply, that help to account for the extraordinary variety of branches of painting that Haarlem-based artists mastered, or even established. The most famous of these branches was landscape - from the pioneering drawings of actual sites by Goltzius, to the paintings by the most famous Dutch landscape-artist, Jacob Ruisdael, whose productions even included a topographical speciality known as 'haarlempjes' ; whilst the most celebrated single native artist was Frans Hals, despite his executing virtually nothing but portraits, or character studies on the scale of portraits. The names and specialities of those who pushed through the guild reform of 1631 gives as good an idea as any of the calibre and variety of what one hesitates to term a 'school', simply because they lack the common denominator of style which that word implies: the history-painter Salomon de Bray, the landscape-painter Pieter Molyn, the portrait-painter Hendrik Pot, the still-life painter Willem Claesz. Heda, and the delineator of churches, Pieter Saenredam. Not represented amongst these was one of the most influential of the incomers, Adriaen Brouwer (Oudenaerde 1606-Antwerp 1638) - despite the fact that, as precociously as in 1627, he had been hailed by a fellow-member of the local literary society, De Wijngaertranken, as "the world-famous Haarlem painter" - nor was his speciality: interior scenes of low life. No doubt - since the tradition is that he himself partook somewhat over-enthusiastically in the life that he portrayed - he would scarcely have welcomed the drudgery and tedium of committee-work; and anyway, by the winter of 1631/32 he was in Antwerp, where he was to have such an influence on the young Teniers. When Brouwer first came to Haarlem - though there is conflicting evidence as to whether this was before or after the first record of him in Holland, which was in Amsterdam in 1625 - he was reputedly a pupil of Frans Hals. If this is true, and if it was after 1625, it is just possible that he was a fellow-pupil of Ostade's, whom Houbraken asserts to have studied with Hals around 1627; though, since Pieter Nootmans was already hailing Brouwer - with whatever exaggeration - as "world-famous" in March of that year, any co-pupillage would have to have been earlier than that. There is, however, no evidence that Ostade was a precocious as Brouwer - or as his younger brother, Isack (1621-1649), was to be - since the first record of him as an artist only dates from 1632, albeit already for a commission from outside his native Haarlem. Ostade had no need to have been a fellow-pupil in Hals's studio to be influenced by Brouwer. His earliest identifiable paintings - including, apparently, the three signed and dated 1632 that have not been seen since the 19th century, the earliest now known is of 1633 - are unthinkable without that artist, and it was not until the 1640s that he began to develop his own distinctive themes and manner (iii). From the outset, however, his touch was more precise, and his figures were more individualised, than those of Brouwer (iv). In the later 1630s he had already begun to paint outdoor scenes, and in the 1640s his tavern scenes too developed a new spaciousness, and a more affectionate and detailed portrayal of their protagonists and clutter. One of the earlier high points of this kind of composition, which, once evolved, he was never thereafter to forsake, is The Dance at an Inn, out of which he created a masterpiece in three different media: as an oil painting on panel, signed and dated 1652 (The Toledo Museum of Art) ; as a pen-and-wash drawing derived from this, in preparation for an etching (Musée Condé, Chantilly) ; and as the undated etching itself, which has been called Ostade's 'Hundred Guilder Piece', since it was the largest and most ambitious that he ever undertook, some three years after Rembrandt's masterpiece (v) . The present picture is - or was - dated 1670 (vii) . It used sometimes to be maintained that Ostade's powers declined from around 1670 , but there is no real indication of this. Once he had established what he wanted to say, and the means of saying it, his powers of both invention and observation - since he persisted in drawing figures from the life right up until the last - enabled him to make ever fresh variations on his chosen themes. His Couple of Boors dancing in a Tavern, of which there is a finished watercolour of 1673 in the Teylers Museum in Haarlem , and variant oil paintings of 1673 (last seen at auction in Paris in 1931) and 1675 (in the Harold Samuel Collection, The Mansion House, London), amply demonstrate this; as does the Interior of an Inn with Boors playing Cards of 1674(?), which is also at Ascott , and which shows no falling off as compared, for instance, with the Boors before a tavern fireplace of 1668 at Polesden Lacey (vii) . Dancing - but in the open - is also the pretext for the present picture. As Ostade presents it - or seems to present it - that is an innocent enough occupation; part of the charm of his pictures is, indeed, that he does not caricature his protagonists' faces by making them grimace (though he does obviously select 'boor' types of face), or moralise in a heavy-handed way. Nonetheless, the concatenation of dancing - condemned by preachers as a "vain, rash, unchaste" activity ; drinking - and with abandon, as exemplified by the man in the doorway raising his glass, and the other with a whole flagon in his hands, slumped by the table; smoking - which was almost invariably associated in its pernicious effects with drinking, whether in portrayals of Boors smoking by Brouwer or in Still Lifes with Pipes and Glasses by Jan Jansz. van de Velde III - since, as Constantijn Huygens humorously observed, each inexorably drove indulgers to the other, reciprocally ; card-playing; and that most depraved of musical instruments, the hurdy-gurdy: all these would alone be enough to indicate that the picture might have been expected to evoke a self-righteous glow (unless it aroused complicity!) in its owner. But, over and above these, the distant view of the church, the figures making their way from and to it, and the flag over the tavern door (instead of where it should be, on the church tower): all these imply, just as in Ostade's etchings of The Fiddler and the Hurdy-Gurdy Boy and The Village Festival under the Great Tree (which has a similar couple dancing outside the door of the Tavern) , a corruption of the original occasion for the day off work and the celebrating - a church festival - a corruption that is, what is more, being extended to the goggling young children. As with many of the finest Dutch pictures, the first record of this picture goes back to an auction in Holland in the eighteenth century (it is exceptionally rare for any provenance of a Dutch 17th-century picture to be traceable back to a picture's first owner). In this case, it was in the sale of Count van Wassenaar-Obdam at The Hague in 1750. Unlike many such pictures, it did not then find its way to France, but remained in Holland, where Smith recorded it in the "choice" collection of Jonkheer Willem van Loon (1794-1847). By the time of his death, when it was inherited by his widow, Jonkvrouw Agatha van Winter van Loon (1793 -1877), this comprised some eighty-two Dutch and Flemish 17th-century paintings, largely acquired at auction or by private purchase. When his widow died, their nine surviving children appear to have made a private offer of the collection to the Rothschilds, who bought it en bloc. This itself was not unusual in the context of the time (and Baron Lionel had already made just such a purchase of the Heusch Collection); what was unusual for the Rothschilds, is that it was divided between members of the English and the French branches of the family. The lion's share seems to have gone to Baron Lionel, and the rest to Baron Edmond, though one or two pictures seem to have been sold or given away . Baron Lionel died within a year of the purchase - but not before the present picture had been hung in the drawing room of 148, Piccadilly - whereupon his share of the collection was divided, along with the rest of his pictures, amongst his three sons, Nathaniel (subsequently created Lord Rothschild), Leopold and Alfred. This division took place in 1882 on the basis of a list - and, presumably, valuations - drawn up by the art-dealers Frederick & Charles Davis of 47 Pall Mall - the second of whom was to supply the text (of a very general order) for the catalogue of Alfred de Rothschild's collection. The acquisition of the van Loon collection meant that all three brothers could pride themselves on owning Dutch pictures of great distinction, to which Alfred, alone of the brothers, continued to add. Most of Alfred's finest pictures were left by him to Almina, Countess of Caernarvon, who promptly sold them at Christie's, despite his wish: "that she will regard them all as heirlooms". Nathaniel's share was largely sold by his grandson in 1937, when he gave up 148 Piccadilly. Thus only that part of the portion of the collection that was left to Leopold de Rothschild, that was given with Ascott to the National Trust by Anthony de Rothschild, survives as testimony to one of the greatest concentrations of fine Dutch pictures in Britain in the 19th century. Notes: (i) The idea of studying Dutch painting by centres of production is relatively recent, so that there is not, so far as I am aware, any book on Haarlem painters, nor any exhibition comparable to that for Dordrecht painters in the 17th century: De Zichtbaere Werelt, Dordrechts Museum, 1992-93. For the specific case of landscape, see Christopher Brown's catalogue, cited in note 4. Christopher Wright's exhibition at the Birmingham City Museums and Art Gallery in 1989, Dutch Painting in the Seventeenth Century: Images of a Golden Age in British Collections, was, however, organised by centres of production, and contains a useful overview of Haarlem's contribution, pp.80-104. (ii) see Jakob Rosenberg & Seymour Slive, Dutch Art and Architecture 1600-1800 (The Pelican History of Art), 3rd (revised) edn., Harmondsworth, 1979, pp.23 & 429-30, n.23, for a useful summary of this issue. (iii) For two differing interpretations of this, see E. Taverner & Salomon de Bray and the 'Reorganisation of the Haarlem Guild of St. Luke in 1631', Simiolus, vol.VI (1972-73), pp.50-66; and Svetlana Alpers, The Art of Describing, Chicago, 1983, pp.113114. (iv) In this context, see esp. Christopher Brown's pioneering exhibition at the National Gallery, London, in 1986, Dutch Landscape:The Early Years:Haarlem and Amsterdam 1590-1650, esp. pp.21-22, 24-34, 57-62, 63-71, 131-185, & 199-220. (v) As this term suggests, Ruisdael had in fact left Haarlem around 1656, to settle in Amsterdam, where these - to Amsterdam burghers - 'foreign' views, with their novel panoramic effects (some of which may in fact depict Alkmaar), were probably all painted between about 1669 and 1675 (see esp. exh. cat. Masters of 17th-century Dutch Landscape Painting, Museum of Fine Arts, Boston, &c., 1987-88, esp. pp.49-53, 437-38, & 463-65. (vii) A good example is the Drinkers and Fighting Children of 1634 in the Sarah Campbell Blaffer Foundation: cf. Christopher Wright, A Golden Age of Painting, San Antonio, 1981, pp.136-37; and exh. cat. Masters of Seventeenth Century Dutch Genre Painting, Philadelphia Museum of Art, &c. 1984, no.89. (viii) Exh.cat.cit., 1984, no.90. (ix) Bernhard Schnackenburg, Adriaen van Ostade. Isack van Ostade: Zeichungen und Aquarelle, Hamburg, 1981, cat.72, vol.I, & vol.II. (x) Exh.cat. Adriaen van Ostade:Etchings of Peasant Life in Holland's Golden Age, Georgia Museum of Art, University of Georgia, 1994, no.117. (xi) So read on both occasions by Smith and Waagen; Schnackenburg, op.cit., vol.I, p.142, Nr. 305 & vol.II, pl.42, fig. 305, also prefers the date of 1670 for the picture, and for the drawing for the Dancing Couple in the British Museum. (xii) Hofstede de Groot (xiii) Exh.cat. From Michelangelo to Rembrandt:Masters drawings from the Teyler Museum, 1989, no.95, also reporting the oil painting of the same year, which was in a Paris sale, 9 March 1931, lot 33. (xiv) Peter C. Sutton, Dutch and Flemish Seventeenth-century Paintings:The Harold Samuel Collection, Cambridge, 1992, no.50. (xv) [St. John Gore et al.], The Ascott Collection, 1963, The National Trust, no.2. (xvi) [St. John Gore], Polesden Lacey, The National Trust, 1964, no.49, exh.cat. Dutch Art and Scotland:A Reflection of Taste, National Gallery of Scotland, Edinburgh, 1992, no.42. (xvii) see Sutton, 1992, p.146 & n.10. (xviii) Exh.cat.cit., 1984, no.21; Peter Sutton, op.cit., 1992, no.75. (xix) Exh.cat.cit., 1994, pp.68 -69. (x) Exh.cat.cit., 1994, no.108 -10 and 113 -114. (xi)see Michael Hall, 'The English Rothschilds as Collectors', in exh. cat. in Georg Heuberger (ed), The Rothschilds, (2 vols.) Sigmaringen and Woodbridge, Frankfurt-am-Main 1994. (From Alastair Laing, in Trust for the Nation, 1995)
Provenance
Count van Wassenaar-Obdam (1692 - 1766); his sale, The Hague, 19 August 1750, lot 39 (bought by Brouwer); by 1829, in the collection of Jonkheer Willem van Loon (1794-1847); his widow, Jonkvrouw Agatha Winter van Loon (1793-1877); by whose children sold the collection en bloc in 1878 to Baron Lionel de Rothschild (1808-1879), who hung it at 148 Piccadilly; by inheritance to his son, Leopold de Rothschild (1845-1917), by whom kept at Gunnersbury Park; his son, Anthony de Rothschild (1887-1961), by whom kept at Ascott, and given with the house and grounds to the National Trust in 1949
Credit line
Ascott, The Anthony de Rothschild Collection (National Trust)
Makers and roles
Adriaen van Ostade (Haarlem 1610 – Haarlem 1685), artist
Exhibition history
In Trust for the Nation, National Gallery, London, 1995 - 1996, no.62
References
Smith 1829-42 John Smith, A Catalogue Raisonné of the Works of the Most Eminent Dutch, Flemish, and French Painters, 8 vols and supplement, London, 1829-42, Vol. 1, no. 201 Smith 1842 John Smith, Supplement to the Catalogue Raisonné of the Works of the Most Eminent Dutch, Flemish and French Painters, London, 1842, no.191 Hofstede de Groot 1907-28 C. Hofstede de Groot, A Catalogue Raisonné of the Most Eminent Dutch Painters of the Seventeenth Century, 8 vols., London, 1907-28, III, no. 800 Ascott, Buckinghamshire, Scala, 2008 by John Martin Robinson and others [pictures entries by Karin Wolfe on basis of Gore entries, 1963 with contributions from Alastair Laing] , no. 24 Schnackenburg 1981 Bernhard Schnackenburg, Adriaen van Ostade and Isack van Ostade: Zeichnungen und Aquarelle, Hamburg, 1981, , vol.I, p.142, under no.305.
View more details