Jacob and Esau
Oudenaarde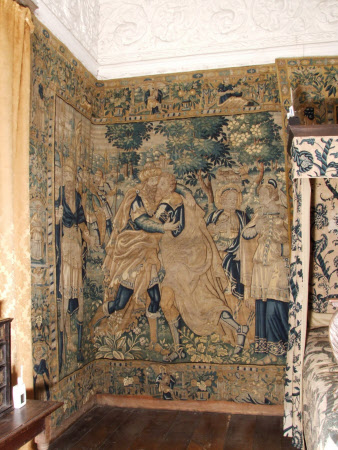 Category
Tapestries
Date
circa 1560 - circa 1580
Materials
Tapestry, wool and silk, 4 warps per cm
Measurements
3.15 m (H); 3.84 m (W)
Place of origin
Oudenaarde
Order this image
Collection
Chastleton House, Oxfordshire (Accredited Museum)
NT 1430620.1
Summary
Tapestry, wool and silk, 4 warps per cm, Jacob and Esau from a set of three of the Story of Jacob, Oudenaarde, c. 1560-1580. The tapestry shows the twin brothers Jacob and Esau embracing as they are reunited after many years. Esau, on the left, is accompanied by his band of soldiers, and Jacob, on the right, is accompanied by his wives and children. The borders include a number of small figures between bunches of leaves and fruit, with a decorative band at the inner and outer edge. The figures include a crowned King holding a sceptre; Minerva, wearing armour and a helmet; Prudence, seated and holding a mirror; and King David, playing a harp and with a sunburst around his head.
Full description
This is the third tapestry in the 'Story of Jacob' set at Chastleton. As Jacob approached the land of Edom with his family, he sent forth a messenger to find his brother Esau who lived there. The messenger returned and reported that Esau had 400 soldiers, which frightened Jacob so much that he split his household in two, so that if they met Esau would only be able to smite one half of it. When the two brothers finally did meet however it was a joyful reunion, "and Esau ran to meet him, and embraced him, and fell on his neck, and kissed him: and they wept." (Gen. 33:4). The three tapestries in the Fettiplace Room tell part of the story of Jacob, following the book of Genesis. Jacob and his twin brother Esau were born when their parents Rebecca and Isaac were entering old age, having been married for twenty years. Esau was the first twin to emerge, and was hairy all over; Jacob emerged second, holding on to his brother's heel. Esau grew up to be a hunter, but Jacob was a quiet man. Jacob bought Esau's birthright (the right to be considered the firstborn) for a mess of pottage, and with the help of their mother Rebecca he deceived their ageing and blind father into giving him the blessing that was meant for Esau, as the eldest son. Esau was angry and resolved to kill his brother, so Rebecca arranged for Jacob to be sent away to the land of her brother Laban in search of a wife. Jacob served his uncle Laban loyally for seven years, looking after his flocks, hoping for the hand of his daughter Rachel. But Laban deceived Jacob and gave him his elder daughter Leah instead, so Jacob was forced to serve another seven years for Rachel. Jacob finally took his wives and livestock and left Laban's house, the subject of the first tapestry at Chastleton. The second tapestry, that hangs between and over the two doors, shows Jacob and Laban making a sacrifice and vowing not to harm one another, and the third tapestry, to the left of the bed, shows Jacob and his brother Esau being reunited after many years. The tapestries are not signed. Ingrid de Meûter has attributed the set to the town of Oudenaarde, based on the distinctive design of the narrow decorative bands at the inner and outer edges of the borders (de Meûter 1998). The style, colouring and execution are all typical of Oudenaarde in the second half of the sixteenth century. The early history of the 'Jacob' set at Chastleton is unknown, but it is possible that they were among the tapestries recorded in Walter Jones's inventory of 1633. This inventory included "three large peeces of Arras" in the Fettiplace room at Chastleton, valued at £25: a price perhaps too low for the 'Jacob' series, which would still have been relatively new in 1633 (Marsden 2000). (Helen Wyld, 2012)
Provenance
Possibly acquired for Chastleton by Walter Jones, before 1633; thence by descent and bequest to Allan Clutton-Brock (1904-1976) and his wife Barbara Foy; acquired by The National Heritage Memorial Fund and transferred to The National Trust in 1991.
Credit line
Chastleton House, The Whitmore-Jones Collection (acquired by The National Heritage Memorial Fund and transferred to The National Trust in 1991)
Makers and roles
Oudenaarde, workshop
References
Marsden, 2000: Jonathan Marsden, "The Chastleton inventory of 1633." Furniture History 36.2000: pp.23-42. de Meûter et al., 1999: Ingrid de Meûter, Martine Vanwelden et al., Tapisseries d'Audenarde du XVle au XVllle Siècle, Tielt 1999 De Meûter, 1998: Ingrid de Meûter, 'Flemish Tapestries of the 16th and 17th Centuries in Great Britain and their Connection with Oudenaarde', Bulletin de liaison du Centre International d'Étude des Textiles Anciens [CIETA], 75 (1998), pp. 97-109
View more details