Purity of Heart
Pompeo Girolamo Batoni (Lucca 1708 – Rome 1787)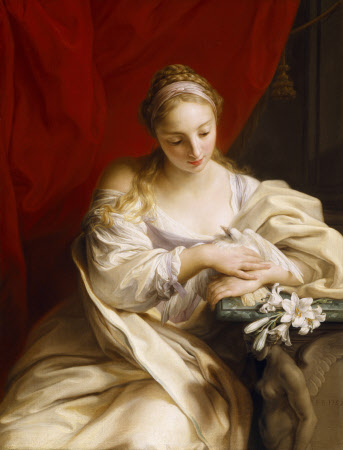 Caption
This is an allegorical representation of one of the eight Beatitudes, from the Sermon on the Mount. "Blessed are the pure in heart: for they shall see God" is symbolised by a woman wearing white for purity, clutching a dove to her heart, and with lilies emblematic of the Immaculate purity of the Virgin. Yet Batoni was following Cesare Ripa's Iconologia (Rome, 1603) for its pictorial representation. It and its companion, Meekness, were probably commissioned in Rome by Sir Matthew Fetherstonhaugh of Uppark, when on the Grand Tour with his wife and some of their relatives. The idea may have come from one of the party: his clergyman brother, Utrick, subsequently Rector of Harting.
Summary
Oil painting on canvas, Purity of Heart by Pompeo Girolamo Batoni (Lucca 1708 – Rome 1787), signed (on base of table), lower right (on sphinx-fronted support) P. B. 1752. A personification of the sixth Beatitude, 'Blessed are the pure in heart; for they shall see God' as related in the Bible: Matthew 5: 8. A girl seated, three-quarter length, wearing a white dress and cloak and holding a dove; her left arm is resting on a green marble topped console with caryatid support. The lily symbolises purity, the dove is the Christian symbol of the Holy Ghost. The meaning of the Sphinx under the table is unclear, except that they were thought to have been witnesses of the Incarnation. With its pendant, Meekness, NT 138294, perhaps commissioned by, or given to, Sir Matthew's brother, the Reverend Utrick Fetherstonhaugh, who was a member of the party in Rome.
Full description
Since they have been at Uppark, these two pictures have always like Batoni's portraits of the Fetherstonhaughs and their kin in other rooms, hung in the upper register of the Saloon, so that they almost seemed to take their place as additional members of the family . It can only have been their hanging in this way, and that fact that England is - at least nominally and in much of its schooling - a Protestant country, that account for the singular imagery of these two pictures having always been taken for granted. As was first recognised by the late Tony Clark and Pete Bowron , they represent personifications of the Second and Fifth of the Beatitudes, from the Sermon on the Mount: "Blessed are the meek: for they shall inherit the earth .... Blessed are the pure in heart: for they shall see God" . These authors also saw that the personification of each Beatitude - by a young woman holding lamb, signifying meekness or gentleness, for La mansuetudine; and by another, clutching a dove to her heart, with lilies on the table, for La mondezza di cuore - was taken from Cesare Ripa's Iconologia . What does not seem to have been realised is how rare -despite the availability of the formulae provided by Ripa - such painted depictions of Beatitudes were at any time , and how exceptional such single-figure personifications are in Batoni's oeuvre. Nor how curiously they consort with the portraits of Sir Matthew and his kin, with their various mythological attributes - of Adonis or Meleager, Diana, Apollo, Flora, and the like: it was this association that must help account for their previously having been viewed in entirely secular terms, as 'Innocence' and 'Love'. The explanation for this unusual commission is perhaps to be found in the composition of the group of travellers in the Fetherstonhaugh party in Rome, all of whom were painted by Batoni - amongst his earliest English sitters - some more than once , probably in two sets: one for Sir Matthew, and one for Lascelles Iremonger or Benjamin Lethieullier. In addition to Sir Matthew and his wife, née Sarah Lethieullier, it comprised her younger brother, Benjamin, and their older half-brother, Lascelles Iremonger. But it also included Sir Matthew's younger brother, Utrick , and his future wife, the sixth daughter of Dr. Durnford, the Vicar of Harting (the parish into which Uppark fell), Katherine , who was travelling as Lady Fetherstonhaugh's companion. Although there is nothing in his dress in Batoni's portraits to indicate that Utrick was at this time in Holy Orders, he was so, having been ordained deacon in 1740 and priest in 1742. By this period he was the pluralist Rector of Oxted in Surrey and Stanford-le-Hope in Essex, to which he was to add the Rectory of Harting - into which parish Uppark fell - in 1757. Stanford-le-Hope and Harting were both Fetherstone/Fetherstonhaugh livings, which Utrick for some reason gave up in 1773. At some point, he also became Chaplain to the Bishop of Hertford. Given that Sir Matthew's interests would appear, by contrast, to have been entirely political, scientific, and economic - he was M.P. successively for Morpeth (1755- 61) and for Newcastle (1761-74), Fellow of the Royal Society, and towards the end of his life took an active interest in the Grand Ohio Company and its attempt to found a colony to be called Vandalia (1769-1775), in honour of which he got Henry Keene to build a folly called the Vandalian Tower - it further seems reasonable to suppose that Utrick might have suggested that this unusual commission be given to Batoni. The resulting pictures must later have presided somewhat incongruously over the revels of Sir Harry and his cronies - if the old story that his mistress, Emma Hart (later Lady Hamilton) danced on the dining-room table is unfounded, the Prince of Wales is documented as a frequent guest, with his entourage of dogs and jockeys - Sir Matthew's other major acquisition on his travels, Luca Giordano's set of six canvases of the Story of the Prodigal Son, would have been more appropriate. They each have a purity of style as well as of content, that makes them far more convincing harbingers of Neo-Classicism than either Batoni's own, more conventional, history-pictures and altarpieces, or Vien's earliest gôut grec Maidens and Priestesses, which actually postdate them by a whole decade . It further seems likely that Batoni, who was personally devout - and indeed left his family virtually destitute, despite his huge earnings from portraying travelling British milords and other Grand Tourists, because of the extent of his charitable donations in his lifetime - would have welcomed a commission of this sort. It is untrue to say, as one eminent scholar of the 18th century has said, whilst rightly singling out Purity of Heart (which he calls Innocence), as an embodiment of "Batoni's style at its finest", that: "almost nothing is said, but the means of expression are exquisitely competent" . Only lack of attention to the picture's true subject could account for the failure to see the way in which the artist has transcended Ripa's use of symbols, so as not just to characterise Purity, but actually to create a convincing physical embodiment of it. (i) They are shown in these positions in hanging plans of c.1820 that were, regrettably, destroyed in the fire of 1989, but which had, fortunately, been photographed by the Furniture Department of the Victorian and Albert Museum previously. (ii) Exh. cat. Pompeo Batoni, Kenwood, 1982, no.46. (iii) Matthew, V:5 and 8. (iv) Iconologia, 1603 edn., Rome: "Fanciulla, che tenga fra le braccia in atto di accarezzare un picciolo & mansueto agnello ...." (p.37). Not to be confused with the secular virtue of Mansuetudine, whose symbol is (ibid., p.304): "Donna coronata d'olivo, con un Elefante accanto, sopra del quale posi la man destra". Yet for the Fifth Beatitude, Batoni preferred the secular personification of Purità: "Giovanetta, vestita di bianco, con una Colomba in mano", (ibid., p.421) - adding the Madonna's lilies for good measure - to that specifically for the Beatitude: "Una donna, che sparga lagrime di pianto, sopra un cuore che tiene in mano" (ibid., p.39), which may have seemed altogether too extravagant and lachrymose to the English. Innocenza, on the other hand, has a personification of its own: "Verginella, vestita di bianco, in capo tiene una ghirlanda di fiori, con un' Agnello in braccio" (ibid., p.235). (v) The Lexikon der Christlichen Ikonographie Freiburg im Breisgau, (s.v. 'Seligpreisungen', vol. IV [1972], col.s 148-49) cites no post-medieval examples. The only painted depiction of the full set of eight Beatitudes from the 17th or 18th century known to this writer, was that painted by Le Sueur for the chapel in the hôtel of président Brissonnet in Paris, of which just two, Justice and Meekness (shown as a seated young woman, feeding a lamb with its paws in her lap), survive: cf. Alain Mérot, Eustache Le Sueur, Paris, 1987, nos. 100-103, pp.244-48 & figs. 317 & 318). It would be interesting to know whether Brissonnet had Jansenist leanings, to account for such unusual imagery. Occasional instances of single Beatitudes occur - a painting of Meekness by Biliverti was, for instance, sent by Cardinal Leopolde de'Medici to the Emperor, and is now in the Kunsthistorisches Museum in Vienna (Inv.No.292); another, of uncertain attribution, has been in the Pitti Gallery since at least 1663 (A. John-Rusconi, Cat., 1937, p.263, no.420) - but they do not, by and large, seem to have been a part of the Bible of which the Catholic Church encouraged visual representation. An autograph replica of Batoni's Meekness (Clark & Bowron, cat.no.169) also has a British provenance. A copy of unknown origin in the Pallavicini collection in Rome is incongruously paired with a copy of a lost Cleopatra by Batoni (F. Zeri, Cat,, 1959, nos. 23 & 24). (vi) Clark & Bowron, 1985, nos. 154-163, pp.252 -54 & pls. 144-53 (v) For whom, see John & J.A. Yenn, Alumni Cantabrigenses, Cambridge, Part 1, vol.II (1922), p.135. Prolonged propinquity had predictable consequences. As Sir Matthew wrote in October 1753 to Horace Mann: 'My bror. that was abroad with me has married Miss Durnford (un mariage d'Amour). I hope they will be happy, tho' Prudence [not a Virtue painted by Batoni!] was a little neglected". (P.R.O.: SP 105/310. I am most grateful to John Ingamells for communicating this to me, in advance of its use in the Brinsley Ford Dictionary of the British in Italy in the 18th century. (vii) Traditionally called Charlotte, but, as a letter from Miss Lynn Allen of 7 Sept. 1982 pointed out, Charlotte married Robert Raynor of Docking, Norfolk, whereas Katherine married Utrick Fetherstonhaugh. Clarke & Bowron call Dr. Durnford Rector of Harting, but this cannot have been the case, since Utrick succeeded too the Rectorship, whereas Dr. Durnford went on, as Vicar, to tutor the young Harry Fetherstonhaugh (b.1754; cf. Margaret Meade-Fetherstonhaugh & Oliver Warner, Uppark and its People, London, 1964 (paperback 1988), p.37. (viii) See Thomas W. Gaehtgens & Jacques Lugand, Joseph-Marie Vien, Paris, 1988, nos. 175-87. (ix) Clark & Bowron, op.cit., pp.19-22. (x) Michael Levey, Rococo to Revolution, London, 1966, p.175 & pl.III, p.174. (adapated from pre-publication version of Alastair Laing, In Trust for the Nation, exh. cat., 1995)
Provenance
Possibly commissioned by Benjamin Lethieullier (1728/9-1797), Sir Matthew Fetherstonhaugh,1st Bt MP (1714-1774) or The Reverend Utrick Fetherstonhaugh (1717/18-1788) and possibly bequeathed to Sir Harry Fetherstonhaugh, 2nd Bt (1754-1846); thence by inheritance and descent until bought from the family in 1976.
Credit line
Uppark, The Fetherstonhaugh Collection (National Trust)
Marks and inscriptions
P B 1752 (signed and dated at right and base of table)
Makers and roles
Pompeo Girolamo Batoni (Lucca 1708 – Rome 1787), artist
Exhibition history
In Trust for the Nation, National Gallery, London, 1995 - 1996, no.55a
References
Gore 1965 F. St.John Gore, 'A Grand Tour Collection', Country Life, vol. CXXXVIII, 2 December 1965, p.1474, fig.3 Levey 1966 Michael Levey, Rococo to Revolution: Major Trends in Eighteenth Century Painting, London, 1966, p.175 & fig. p.174 Clark and Bowron 1985 Anthony M. Clark & Edgar Peters Bowron (ed.), Pompeo Batoni A Complete Catalogue of his Works with an Introductory Text, Oxford 1985, nos. 167 & 168, p.256 & pls. 157 & 158 Cohen 2004 Simon Cohen, 'Andrea del Sarto's monsters: the Madonna of the Harpies and human-animal hybrids in the Renaissance', Apollo, July 2004, pp.38–45)
View more details