Sir Harry Fetherstonhaugh, 2nd Bt (1754–1846)
Pompeo Girolamo Batoni (Lucca 1708 – Rome 1787)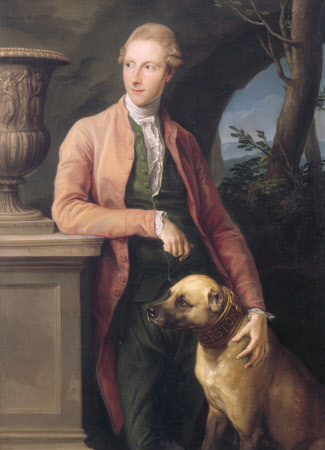 Caption
Pompeo Batoni's portrait of Sir Harry Fetherstonhaugh was painted when the sitter was about 22 years old. Fetherstonhaugh earned a reputation for being a witless playboy. He made the Grand Tour in 1775-76, and like his parents, was painted in Rome by Batoni, but on a grander scale.
Summary
Oil painting on canvas, a portrait of Sir Harry Fetherstonhaugh, 2nd Bt, MP (1754-1846) by Pompeo Girolamo Batoni (Lucca 1708 – Rome 1787), signed and dated, on socle of urn: POMPEO de BATONI. PINX. ROMÆ 1776. Fetherstonhaugh is depicted in three-quarter length, standing, right arm resting on the pedestal supporting a marble krater, wearing a plum-coloured coat, green waistcoat and breeches, his left hand on the shoulder of a bull mastiff. The mastiff's collar bears the middle seven letters (HERSTON) of its master's surname. The only child of Sir Matthew Fetherstonhaugh and Sarah Lethieullier, succeeding to his father's title and property at age 21 in 1774. The following year Sir Harry embarked on the Grand Tour, in the company of his uncle, the Reverend Utrick Fetherstonhaugh. Like his parents and uncle 25 years earlier, he was painted in Rome by Batoni, but on a larger scale and much more overtly as a Grand Tourist, even if the krater next to which he leans remains unidentified. In 1781 he installed the 16-year-old Emma Hamilton as his mistress near Uppark where she is said to have danced on his table as entertainment for his friends, only to rebuff her when she soon became pregnant with his child. It was not until 1825 that he took a wife, Mary Ann Bullock, a young woman who worked in the Uppark dairy, many decades his junior.
Provenance
Commissioned by the sitter; early 19th-century hanging-plans, in the Great Drawing Room: "2. Prodigal Son" [! – "Giordano" added by a later hand, not understanding the joke], in the overmantel; [not in H. R. Bolton's 1849 bill for cleaning]; 1874 inventory, in the Little Drawing Room [sic – or an error of transcription?]: "Oil Painting Sir Henry Featherstone by Pompeo Battoni"; thereafter, by inheritance and descent, until accepted in lieu of tax on the death of Admiral the Hon. Sir Herbert Meade-Fetherstonhaugh (1875-1964) in 1965; thereafter by inheritance and descent until acquired by the National Trust from the family in 1971.
Credit line
Uppark, The Fetherstonhaugh Collection (National Trust)
Marks and inscriptions
POMPEO de BATONI. PINX. ROMAE 1776 (signed and dated on base of urn)
Makers and roles
Pompeo Girolamo Batoni (Lucca 1708 – Rome 1787), artist
References
Clark and Bowron 1985 Anthony M. Clark & Edgar Peters Bowron (ed.), Pompeo Batoni A Complete Catalogue of his Works with an Introductory Text, Oxford 1985, p.339 Steegman 1948 J. Steegman, Burlington Magazine LXXXVLII, 1946, pp.55ff, no.71 Pompeo Batoni and his British Patrons, exh. cat. (listed by Edgar Peters Bowron & Francis Russell), Kenwood House, Hampstead, London 8 June - 30 August, 1982, p.91, no.59 Clark and Bowron 1985 Anthony M. Clark & Edgar Peters Bowron (ed.), Pompeo Batoni A Complete Catalogue of his Works with an Introductory Text, Oxford 1985, no.389, p.338–39, & pl.351 Rowell 2007: Christopher Rowell, 'French Furniture at Uppark: Sir Harry Fetherstonhaugh' and his Friends in Post-Revolutionary Paris', Furniture History XLIII (2007), pp.267-292 Emma Hamilton: Seduction & Celebrity (Edited by Quintin Colville), National Maritime Museum, Greenwich, London, 8 November 2016 - 17 April 2017, p.58
View more details