A View of Uppark
Pieter Tillemans (Antwerp 1684 – Suffolk 1734)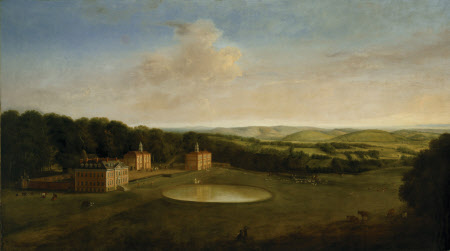 Category
Art / Oil paintings
Date
1728 - 1730
Materials
Oil on canvas
Measurements
1778 x 3150 mm (70 x 124 in)
Order this image
Collection
Uppark House and Garden, West Sussex (Accredited Museum)
NT 138254
Caption
This painting is one of two views Tillemans painted of Uppark Park. It shows the house and the stables, the latter of which were demolished after 1746 when plain Palladian blocks were built to the east and west beyond the north front. The surrounding landscape, including the vast expanse of grass and the large circular pond that divides the house from the wooded area below, shows the reduction of formality – previously, the garden had been made up of formal terraces.
Summary
Oil painting on canvas, A View of Uppark, by Pieter Tillemans (Antwerp 1684 – Suffolk 1734), circa 1728-30. The house is seen from the west surrounded by formal gardens and with a round pond in the centre of the South front. This shows the house built by the 1st Earl of Tankerville in around 1690 and the similar laundry and stable blocks in their original positions to the east of the main building.
Provenance
Probably painted in 1720s (with NT 138255) for Charles, 2nd Earl of Tankerville (1697 – 1753) of the second creation, who sold Uppark in 1747; accepted in lieu of tax on the death of Admiral the Hon. Sir Herbert Meade-Fetherstonhaugh (1875-1964) in 1965 and transferred to the National Trust by HM Treasury in September 1985.
Credit line
Uppark, The Fetherstonhaugh Collection (National Trust)
Makers and roles
Pieter Tillemans (Antwerp 1684 – Suffolk 1734), artist
References
Raines 1980 R. Raines, 'Tillemans... list of representative paintings', Walpole Society 1980, XLVII , p. 50, No 39 Harris 1979 John Harris, The Artist and the Country House. A History of Country House and Garden View Painting in Britain 1540-1870, London 1979, no. 255
View more details