Tavern clock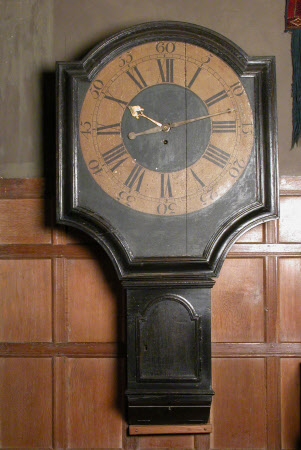 Caption
To raise money for the Napoleonic Wars, parliament brought in a tax on clocks which saw many people selling theirs and relying on the clocks in inns and taverns for the time.
Summary
Eight day, English tavern clock in black painted case. Single train, four pillar movement with anchor escapement. Ebonised oak and pine case with breach arch shield dial with Roman numeral and Arabic five minutes. Small break arch trunk door below. Lacquered copper hands. Painted label on inside door reading 'wind to left'. 'c.1785, from Braintree, Essex' (M. Jessup).
Provenance
Given to the National Trust with Snowshill Manor in 1951 by Charles Paget Wade.
Marks and inscriptions
wind to left
View more details